Warren Buffett Is Watching This Big Deal Very Closely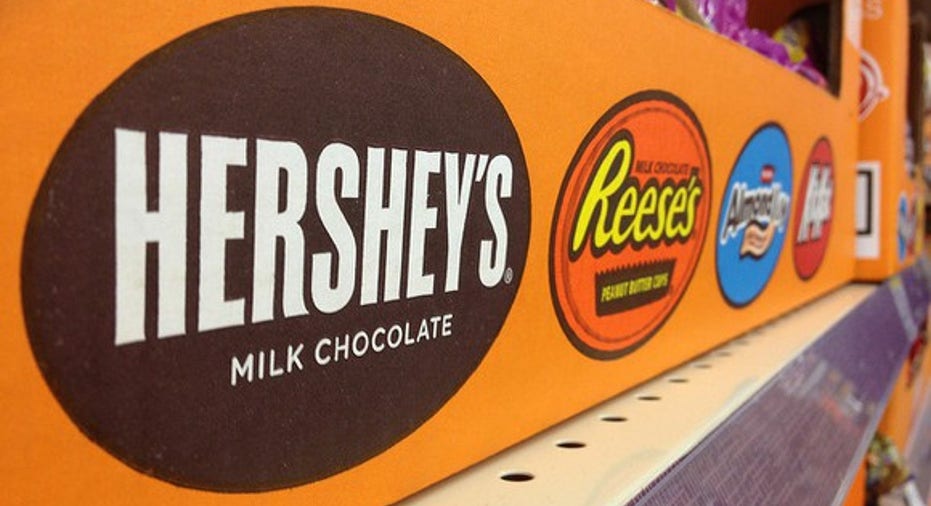 Image source: The Motley Fool.
Brexit: Is it over yet? U.S. stocks could put together four straight days of gains, with the benchmarkS&P 500and theDow Jones Industrial Average (DJINDICES: $INDU)up 0.35% and 0.26%, respectively, at 11:15 a.m. EDT on Friday. Still, the bond market is reminding us that all is not completely right in the world, as U.S. Treasury yields reached historic lows, with U.S. government able to borrow money over 30 years at roughly 2.2%. But that's the height of normalcy compared to Switzerland, where, as of this morning, the entire stock of government debt is trading at negative yields, with maturities stretching out to 2064! (See our Tweet of the day, below.)
Shares of Hershey Co are lower on Friday after gaining 17% yesterday on the announcementthe company had received (and rejected) a takeover offer from Mondelez International Inc valuing the Hershey, Penn.-confectioner at $107 per share.
Hershey-Mondelez: Warren Buffett is following this deal closely
"How much longer can Hershey defy the march of time? The confectioner is an anachronism," laments the Financial Times Lex column in today's paper. The company has summarily rejected Mondelez's $107 per share offer, stating "it provided no basis for further discussion."
Hershey's structure is a bit old-school: The Hershey Trust Company, chartered in 1905 to endow the Hershey Industrial School (now the Milton Hershey School), controls 81% of the chocolate maker's voting rights but just 8.3% of the common shares.
The trust is deeply conservative when it comes to deal-making. Since the turn of the century, it has forced Hershey to walk away from the altar twice: the last time in 2007, when it squashed what would have been a transformative deal with Cadbury plc (which was later absorbed by Mondelez).
Wary of this history, Mondelez has shown that it is sensitive to the trust's concerns, promising in a letter to Hershey's board to preserve local jobs. Mondelez's plan also has the combined company renaming itself Hershey and keeping Hershey as the headquarters for the chocolate activity.
Promises vs. a demonstrated track record
Which is where we get into Buffett's territory. Mondelez can make all the promises it wants, but it simply doesn't have Berkshire Hathaway'strack record of not interfering with a company's business after it has been acquired, leaving them with near-total autonomy. That could give Berkshire Hathaway a decisive, non-economic advantage in a sale (Berkshire, in any case, would refuse to participate in an auction).
Furthermore, we know Buffett is a fan of branded food and beverage companies, which have pricing power based on customer loyalty. At Berkshire's 2008 annual meeting, a shareholder asked Buffett to compare Berkshire's oldest non-insurance company, See's Candies (high profitability, low growth), to Swiss chocolate maker Chocoladefabriken Lindt & Spruengli AG (lower profitability, higher growth). Buffett replied:
On the other hand, perhaps Buffett will simply sit back and wait for his partners at 3G Capital to consolidate the confectionery business the way they have done with the global beer industry. According to the Financial Times, M&A bankers say Mondelez's bid reflects a concern that it could find itself the subject of interest from the Kraft Heinz Co, which is jointly controlled by Berkshire and 3G. As Buffett quipped in front of the Heinz stall at last year's annual meeting: "I like big deals, but they [3G Capital] really like big deals."
Tweet of the day
From our own TMFHousel:
The article Warren Buffett Is Watching This Big Deal Very Closely originally appeared on Fool.com.
Alex Dumortier, CFA, has no position in any stocks mentioned. The Motley Fool owns shares of and recommends Berkshire Hathaway (B shares). Try any of our Foolish newsletter services free for 30 days. We Fools may not all hold the same opinions, but we all believe that considering a diverse range of insights makes us better investors. The Motley Fool has a disclosure policy.
Copyright 1995 - 2016 The Motley Fool, LLC. All rights reserved. The Motley Fool has a disclosure policy.