Warning: Earnings Could Suffer Rare Contraction in 3Q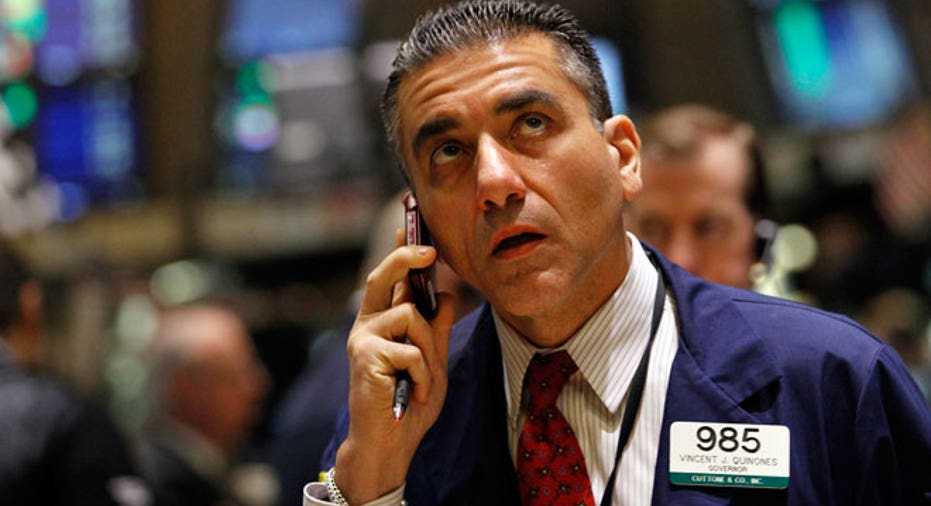 Earnings season may be about to kick off, but don't expect to hear much cheering on Wall Street.
Sapped by the lackluster global economy and the looming U.S. fiscal cliff, third-quarter corporate profits are projected to contract this earnings season -- the first year-over-year decline since the aftermath of the Great Recession in 2009.
The gloomy projections could further weigh on corporate hiring and come as U.S. stocks have already run up to multiyear highs thanks to easy-money policies from central bankers.
"The bar has been set fairly low. That could apply to the Jets/Houston game or to earnings season," said Peter Kenny, managing director at Knight Capital Group (NYSE:KCG). "It's telling us that all the central bank coordination in the world cannot provide demand."
Investors will get a first-hand look at the depressing earnings environment on Tuesday evening as aluminum maker Alcoa (NYSE:AA) is the first blue-chip company scheduled to hit the earnings stage. Analysts warn the Pittsburgh-based company is likely to disclose a breakeven quarter, down from earnings per share of 14 cents a year ago.
Earnings Shrinkage Ahead?
According to S&P Capital IQ, Wall Street analysts are currently projecting a 1.36% year-over-year decline in S&P 500 earnings to $25.10 -- the first dip since the third quarter of 2009.
By comparison, S&P 500 earnings jumped by a healthy 17.67% in the third quarter of 2011. However, corporate profit growth slowed to 8.35% by the fourth quarter of last year and then to 7.46% the next quarter.
"We're looking at numbers right now that are quite similar to what we saw during the Great Recession," said Christine Short, senior manager at McGraw-Hill's (NYSE:MHP) S&P Global Markets Intelligence.
Of course, companies tend to under promise and over deliver, meaning profits usually end up slightly higher than analysts had forecasted.
Also, earnings were projected to contract last quarter, too. That didn't happen, though just barely, as profits ended up a paltry 0.81%.
Still, Short said it is "somewhat alarming" that consensus estimates are still in the red this close to the start of earnings season.
In fact, they have largely moved in the wrong direction as analysts had been projecting a 3.25% increase in earnings as recently as July 2, according to S&P. Profits were seen rising 5.55% as of April 2 and back in January analysts were as optimistic as 7.41%.
Commodities Profits Feel the Pain
Blame for the negative forecasts largely lies on commodity-related sectors. Analysts are calling for a 16.49% plunge in energy-sector earnings and an even more disturbing 20.30% dive for materials sector bottom lines.
"These companies just aren't getting the pop from China that they were in 2011," said Short.
Underscoring that point, the World Bank slashed its forecast for gross domestic product growth in Asia on Monday to 7.2% from 7.6%. China's GDP is now seen slowing to 7.7% from 8.2%.
In all, five of the S&P 500's 10 sectors are forecasted to suffer a year-over-year decline in third-quarter earnings, including health care, telecommunication services and utilities.
Financial-services companies are expected to enjoy the largest bump in profits at 8.90%, compared with 4.83% for consumer discretionary and 3.59% for industrials. Yet earnings are seen rising just 2.32% for information-technology companies and only 1.87% for consumer staples.
At the same time, fewer companies are beating expectations this earnings season than normal.
According to S&P, just 15 of the first 26 companies to have reported third-quarter results have topped estimates, producing a beat rate of 58%, which is well below the 10-year average of 62%.
The revenue picture doesn't look much better for corporate America.
Wall Street anticipates top-line growth to slow to just 1.01% this earnings season, compared with the S&P 500's 10-year average of about 7%.
The tepid revenue forecasts should cause investors to "worry about margin pressure," said Short. "Clearly at some point companies need to start growing their top line."
Many companies missed Wall Street's revenue expectations last earnings season, causing some to question companies' accounting measures.
"There does seem to be a bit of accounting magic that comes to play here," said Short.
As always, Wall Street will be zeroing in on companies' forward guidance.
Last earnings season 72 of the 101 companies that gave third-quarter guidance issued negative outlooks, compared with 22 that were positive and seven that were in line, S&P said. That represents the highest negative-to-positive ratio since the fourth quarter of 2008, which was just as the financial crisis erupted.
It's not clear how a negative earnings season will factor into stock prices, but it's hard to see it helping the mood on Wall Street, especially given how much stock prices have climbed so far this year. The S&P 500 closed out last week up 16.17% year-to-date and nearly 27% from a year ago.
Still, some believe the pessimism about earnings season is overdone.
"Investors are focusing too much on potential negative 3Q growth," Brian Belski, chief investment strategist at BMO Capital Markets (NYSE:BMO), wrote in a note to clients. "Although we believe the market has gotten a little bit ahead of itself in recent weeks, we do not expect any sort of major pullback even if 3Q proves to be a weak reporting period."
One explanation for that reasoning is that the stock market is a forward-looking indicator and some believe the third quarter will mark the trough, or bottom, for earnings in the current cycle.
S&P says analysts are currently forecasting earnings to jump by 9.8% in the fourth quarter and 5.92% in the first quarter of next year. Every sector except utilities is seen posting year-over-year growth in the second quarter of 2013, producing a 10.61% rise for the S&P 500.
Furthermore, Belski said "earnings quality has improved" of late, pointing to a larger portion of earnings per share that is represented by cash earnings. Stronger earnings quality fuels higher price-to-earnings multiples, he said.