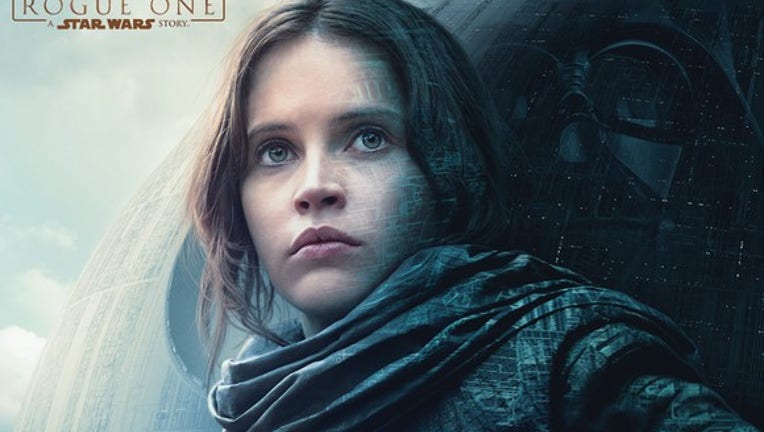 Image source: Disney.
The Walt Disney Company (NYSE: DIS) is having an absolutely magical year at the movies. With roughly $6 billion in global ticket sales year-to-date, Disney has already set a new company record at the worldwide box office, and annual sales in North America have also reached their highest point ever at more than $2.3 billion. With more than a month of 2016 remaining and big releases still on the horizon, the company is going to shoot far past its previous records.
Even more impressive, the House of Mouse is on track to have the best year at the movies of any company ever. Comcastcurrently holds that honor with its 2015 global box office take of $6.89 billion, but Disney is on pace to shatter that record and could see ticket sales surpass $8 billion. With lagging performance from the company's media networks division, the breakout box office performance could not have come at a better time.
The 2016 movie run so far
With Disney on pace to raise the bar to unseen heights, it's worth taking a look at the titles driving that outperformance and the franchise hits that often set up future winners down the road.
Star Wars: The Force Awakens came out at the tail end of 2015, but the picture's incredible success spilled into the current year and racked up more than $700 million in 2016 ticket sales. The company's next big hit came from March release Zootopia, which added another bankable franchise to the company's catalog and grossed over $1 billion. The Jungle Book also released in March and went on to shatter expectations, with worldwide ticket sales of more than $960 million.
That blowout first quarter was followed by a strong showing for the year's big Marvel event picture, Captain America: Civil War, which made its debut in April and went on to gross more than $1.2 billion. And after a 13 year wait, Pixar's June release ofFinding Dory also managed to top$1 billion.
That said, several films, including Alice Through the Looking Glass, The BFG, Pete's Dragon, The Good Dinosaur, and Bridge of Spies failed to deliver for the company. Following a quiet fall season, Doctor Strange has generated new momentum for the company after grossing more than $570 million as of Nov. 21.
A path to $8 billion?
Great reviews and strong word of mouth suggest DoctorStrange could add another $200 million or more in ticket sales before the year is out, which would bring the year-to-date total for 2016 to over $6 billion. But Disney's pipeline has more to deliver.
First is the Nov. 23 release ofMoana, which has enjoyed strong early reviews, plus the added benefit of beinga family-oriented release timed perfectly for the holiday season.
And that leaves arguably the most highly aniticipated release of the holiday season:Rogue One: A Star Wars Story, due in theaters on Dec. 16. WhileRogue One is unlikely to matchThe Force Awakens' $2.07 billion lifetime ticket sales, it should benefit from heightened interest interest in the Star Wars franchise and Darth Vader's big screen return to become one of the year's top pictures.
Together, these two films could very well push Disney to a monumental year of $8 billion at the box office. Even if ticket sales for both films come in lower than expectations, the company should still be able to top Comcast's record-setting 2015 performance.
What does 2016 mean for Disney?
This incredible year for the studio entertainment division is a resounding validation of its franchise model and a sign of the company's overall strength, even as troubles at ESPN and other key media networks properties are giving investors pause. The media networks segment may be the biggest at the company, generating 43% of revenue and 53% of operating income in fiscal 2016, but the strength of its films has the potential to lift the parks and resorts and consumer products businesses as well.
And in 2017, major releases include a live-action Beauty and the Beast, Guardians of the Galaxy Vol. 2, Cars 3, Thor: Ragnarok, a Pirates of the Caribbean sequel, and Star Wars: Episode VIII, a line-up that could once again deliver record numbers for the company.
The company's content library has proven to be reliable filling theater seats, driving park traffic, and selling toys and merchandise. So while the media networks situation should be watched closely by investors, there is still plenty of magic happening at Disney.
Forget the 2016 Election and find out why Walt Disney is one of the 10 best stocks to buy nowDonald Trump is the new president, and you're naturally wondering how best to protect your portfolio and profit in the process. Well, Motley Fool co-founders Tom and David Gardner have spent more than a decade beating the market. (In fact, the newsletter they run, Motley Fool Stock Advisor, has nearly tripled the market!*)
With their record of winning in up and down markets, David and Tom know how to invest profitably no matter who occupies the White House.
Tom and David just revealed their ten top stock picks for investors to buy right now. Walt Disney is on the list-but there are nine others you may be overlooking.
Click here to get access to the full list!
*Stock Advisor returns as of November 7, 2016
Keith Noonan has no position in any stocks mentioned. The Motley Fool owns shares of and recommends Walt Disney. Try any of our Foolish newsletter services free for 30 days. We Fools may not all hold the same opinions, but we all believe that considering a diverse range of insights makes us better investors. The Motley Fool has a disclosure policy.