Walmart makes a $16 billion bet on India's booming economy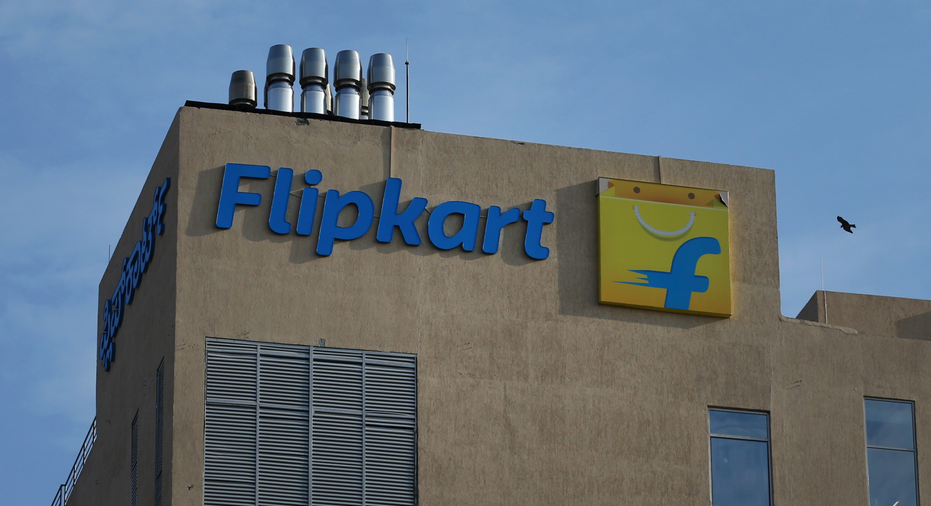 Walmart will soon reach shoppers in India's massive consumer market directly, as it takes control of the online retailer Flipkart that's known for its ubiquitous delivery drivers on motorcycles with oversized backpacks.
The $16 billion controlling stake, announced Wednesday, is the largest acquisition yet by the world's largest retailer.
India's hot economy makes it attractive to companies eager to sell goods to its massive population. Walmart and Amazon have pushed hard to catch up to Flipkart and to establish a substantial foothold in the country.
But instead of competing with Flipkart, Walmart has essentially taken over the company. It's a move that might have near-term losses but is part of a larger shift by Walmart to look toward the future. That includes its decision last month to sell its British unit, Asda, which primarily operated a chain of traditional supermarkets. Amazon, which operates an online marketplace in India, was reportedly in talks with Flipkart as well — but Walmart won it.
Flipkart had net sales of $4.6 billion in its latest fiscal year. That's a fraction of Walmart's latest annual revenue of $485.8 billion. But Walmart believes India, which has 1.3 billion people, could be among the world's top five e-commerce markets within the next five years.
"We are actively working to shape the portfolio of geographies and businesses we're in, in order to set the company up for success for another generation," Walmart CEO Doug McMillon said in a conference call Wednesday.
Shares of Walmart Inc. dropped more than 3 percent Wednesday as investors worried about the investment hurting profits.
Flipkart is, in some ways, an echo of Amazon. Founded in 2007 by two college friends and former Amazon employees, Flipkart began life as an online bookseller.
In a country where many still see paying online with credit or debit cards as risky, Flipkart earned millions of customers in its early years by allowing buyers to pay cash on delivery. It now allows for a variety of payments, from credit cards to gift cards to direct bank transfers.
Flipkart also focused early on mobile phones, and in 2016 became the first app in India to reach 50 million users.
The Bangalore-based company has acquired a string of other companies in recent years, from fashion e-commerce company Myntra to mobile payment firm PhonePe. Flipkart now has over 100 million registered users and more than 100,000 registered sellers. Flipkart's supply chain arm, eKart, serves more than 800 cities and makes 500,000 deliveries daily.
Foreign retailers, including Walmart, have faced years of political resistance to opening outlets in India, where mom-and-pop store owners wield enormous influence. Walmart's business in India was previously focused only on selling items directly to small businesses though its Best Price stores.
The Flipkart purchase gives Walmart far more influence in India — both politically and economically — and positions it to shift quicker into retail outlets if the regulatory landscape changes.
Walmart will own about 77 percent of Flipkart, with the rest held by some existing shareholders, including co-founder Binny Bansal, Tencent Holdings, Tiger Global Management and Microsoft Corp. The acquisition surpasses Walmart's $10.8 billion deal to buy Britain's Asda in 1999 and its acquisition two years ago of online retailer Jet.com for more than $3 billion.
The deal hasn't gone down well with the tens of millions of small store owners who for years used political muscle to slow the arrival of international retailers.
It is "a clear attempt to control and dominate the retail trade of India by Walmart," the Confederation of All India Traders said, adding that the deal would encourage predatory pricing, hurt Indian businesses and create an uneven playing field. The group says it represents 60 million businesses.
Meanwhile, Amazon is also still fighting hard in India, with founder Jeff Bezos crowing last month that Amazon.in had the most-downloaded shopping app in India for 2017. Jason Goldberg, senior vice president of commerce, at SapientRazorfish, a digital consulting agency, believes Amazon will now look to invest in or buy another local online retailer in India.
The global stakes for both Amazon and Walmart are high. "After this market, the markets get considerably smaller and the political impediments get greater," said Goldberg.
Walmart, which operates stores under various banners in 27 countries outside the U.S., has faced strong headwinds in its expansion.
In China, where more than 700 million people are online, it has struggled to compete with homegrown online giants like Alibaba Group Holding Ltd. and local retail chains like Sun Art Retail Group Ltd. Walmart opened its first store in China in 1996 and has just over 400 stores now. It also has a strategic alliance with Alibaba's rival, JD.com.
Walmart closed 60 stores in Brazil, 10 percent of its outlets, two years ago and is trying to restructure its business. In Mexico, Canada and Japan, it's won shoppers over time. In Chile, it worked closely with suppliers to coax them into its way of doing business.
____
AP reporters Tim Sullivan in New Delhi, India, and Damian J. Troise in New York contributed to this report.