Wall Street's Quiet Trading Streak Endures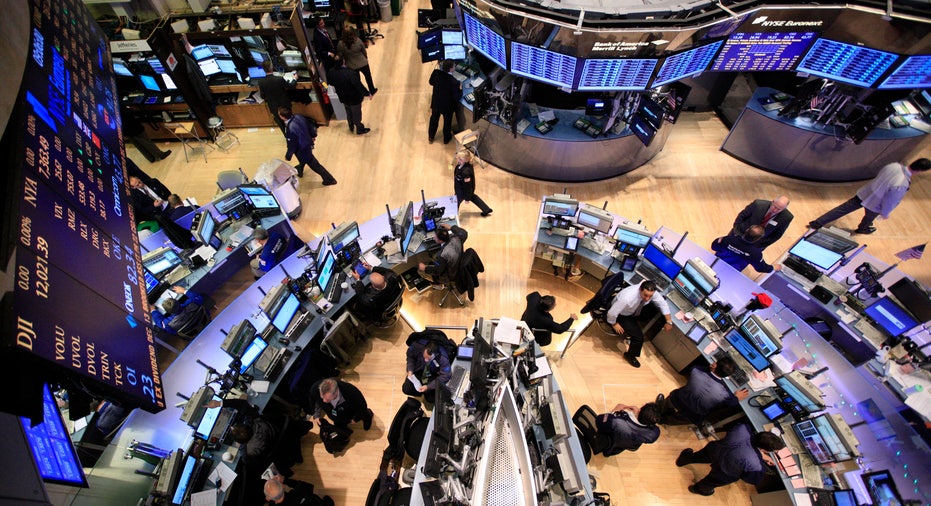 FOX Business: The Power to Prosper
The major market averages refused to budge more than a few points despite a slew of economic reports as trading volume remained unusually light.
Today's Markets
According to preliminary calculations, the Dow Jones Industrial Average climbed 4.5 points, or 0.03%, to 13107, the S&P 500 gained 1.2 points, or 0.08%, to 1410 and the Nasdaq Composite climbed 4.1 points, or 0.13%, to 3081.
Volume on the New York Stock Exchange came in below 3 billion shares for the eleventh time this month. The telecom and consumer discretionary sectors fared best on the day, while energy and utilities performed the worst.
Analysts pointed to Federal Reserve Chairman Ben Bernanke's speech at Jackson Hole, Wyo. on Friday and a European Central Bank meeting next month for reasons for the caution. Still, there was no lack of news to consider.
ECB President Mario Draghi wrote in an article in a German newspaper that "it should be understood that fulfilling our mandate sometimes requires us to go beyond standard monetary policy tools," according to the Wall Street Journal. Draghi has taken an increasingly dovish tone as the eurozone's debt crisis has began threatening big economies like Spain and Italy.
There were also several reports on the U.S. economy.
Economic activity expanded gradually across the Federal Reserve's 12 districts in July and early August, the central bank said in its anecdotal Beige Book report. The labor market held steady or showed only slight signs of improvement in most districts. Meanwhile, the housing sector, retail spending and credit conditions broadly improved.
A second reading by the Commerce Department on U.S. gross domestic product showed the economy expanded at an annualized rate of 1.7% in the second quarter, in line with economists' estimates and faster than an initial estimate of 1.5%.
Signed contracts for sales of U.S. homes rose 2.4% in July from June, topping the 1% expected and hitting the highest level since April 2010, according to the National Association of Realtors. Sales climbed 12.4% from year-ago levels.
Elsewhere, energy futures came under pressure after Hurricane Isaac largely spared U.S. offshore crude oil and natural gas production facilities. The benchmark oil contract traded in New York fell 77 cents, or 0.8%, to $95.56 a barrel. Wholesale New York Harbor gasoline dropped 1% to $3.094 a gallon.
In metals, gold dipped $5.10, or 0.31%, to $1,665 a troy ounce.
Foreign Markets
The Euro Stoxx 50 slipped 0.58% to 2428, the English FTSE 100 dipped 0.53% to 5745 and the German DAX slumped 0.5% to 6967.
In Asia, the Japanese Nikkei 225 rose 0.4% to 9070 and the Chinese Hang Seng inched lower by 0.12% to 19789.