Wall Street's Burning Netflix at Both Ends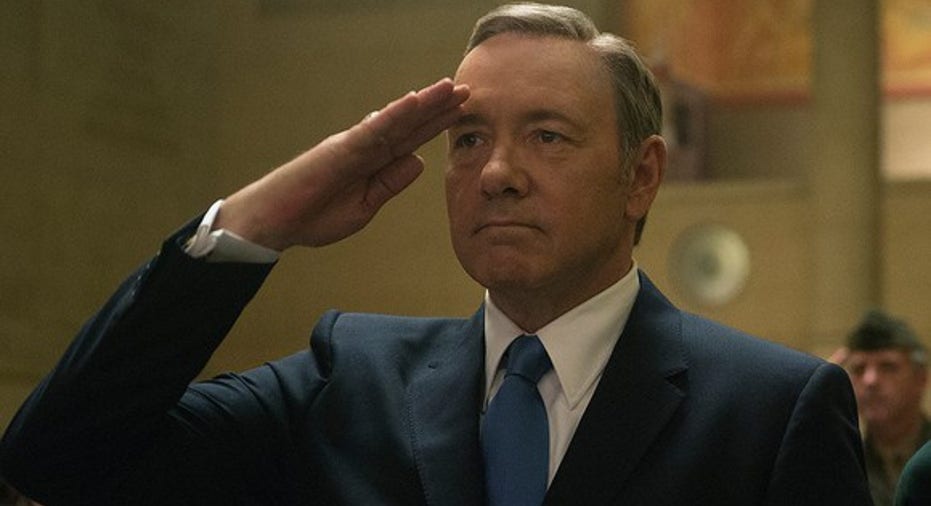 Image source: Netflix.
Analysts can't seem to agree on which wayshares ofNetflix are heading. The fast-growing provider of streaming video received a pair of analyst downgrades this week. However, another Wall Street pro gave it a bullish nod with an ambitious $150 price target.
Investors shouldn't necessarily worry about analysts at extreme ends of the optimism scale. That creates volatility, and volatility births opportunity. However, it goes without saying that anyone approaching Netflix as a long or short investment should brush up on both sides of the story. Let's kick off the narrative.
Netflix is going down
Jefferies downgraded Netflix from Hold to Underperform on Wednesday, concerned that stateside subscriber growth may be slowing at a pace below market expectations. The analysts feel that it will take longer than expected for Netflix to hit its 60 million to 90 milliondomestic long-term subscriber goal.
It's not a shock that U.S. growth began slowing. Only 2.2 million of Netflix's 6.7 million first-quarter additions were U.S., and the dot-com darling's outlook for the quarter that ended last week were pretty glum. Netflix is targeting just 2.5 million net additions for the second quarter with membership growth of just 0.5 million in its home market.
Jefferies is also concerned that studios will be reluctant to license their content through Netflix in the future, preferring to go with smaller players or studio-owned platforms. That would put more pressure on Netflix to continue cranking out compelling original programming. It's a bold call to make, especially since content that isn't on Netflix is likely to get lost among the glut of shows on smaller services.
The bearish move at Jefferies came a day after Needham analyst Laura Martin downgraded the stock, but her concern is stagnating international growth. Brexit and its impact on the UK and other European economies could slow Netflix overseas, a pretty big deal coupled with Jefferies' bearish argument about stalled U.S. growth.
Netflix is going up
A pair of analyst downgrades in a single week isn't encouraging, but there are some new hands grasping the other end of this tug-of-war rope.Guggenheim Securities analyst Michael Morris kicked off the abridged trading week by adding the stock to his firm's "Best Ideas" list with a $150 price target.
He argues that Netflix's value proposition and pricing power will save the day, as retold by TheHollywood Reporter. He points out how the "industry-low hourly consumption cost to the consumer" is underestimated by naysayers, but subscribers leaning more on the platform than linear television treat it withhigh regard.
Morris points out that last year,Netflix generated less revenue per average hour of content consumed than any content provider except Fox broadcast network. That may not sound savory for investors at first. It's hard to make money as the price leader. However, that also represents the pricing flexibility. It's fair to say that Netflix could be charging more than $9.99 a month several years from now, and still serving even more subscribers.
The bullish note out of Guggenheim followsCanaccord Genuity initiating coverage of Netflix late last week.Analyst Michael Graham is sticking a $120 price target and a "buy" rating on the stock, and he sees strong international growth resuming by the fourth quarter of this year.
There is a clear difference in opinion here. Some analysts see the stock moving lower. Some see the stock moving higher. Only one side can be right, and history has shown that it's not a smart wager to bet against what was the S&P 500's best performer of 2013 and again in 2015.
The article Wall Street's Burning Netflix at Both Ends originally appeared on Fool.com.
Rick Munarrizowns shares of Netflix. The Motley Fool owns shares of and recommends Netflix. Try any of our Foolish newsletter servicesfree for 30 days. We Fools may not all hold the same opinions, but we all believe thatconsidering a diverse range of insightsmakes us better investors. The Motley Fool has adisclosure policy.
Copyright 1995 - 2016 The Motley Fool, LLC. All rights reserved. The Motley Fool has a disclosure policy.