Wall Street Zooms Higher as Euro Tensions Calm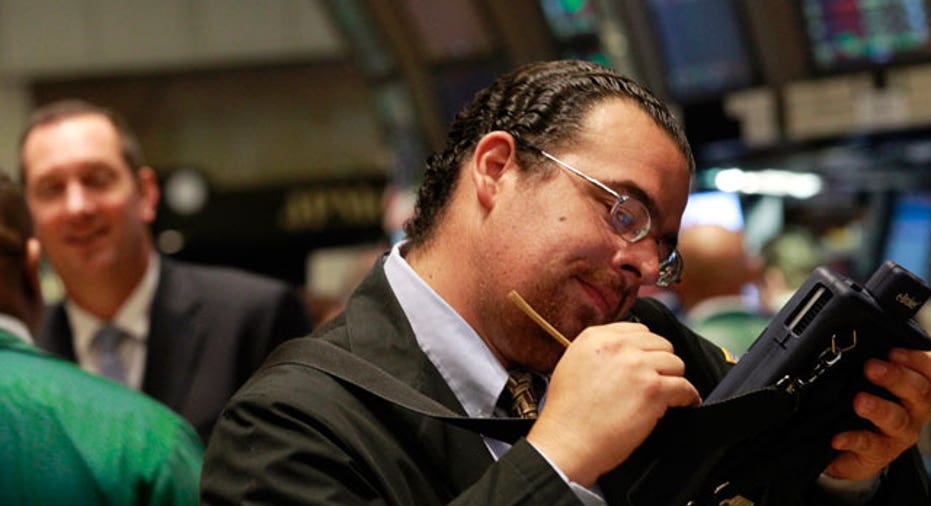 FOX Business: The Power to Prosper
The markets rallied across the board on Tuesday morning following steep gains in the prior session as traders roared back into to equities and commodities that had been beaten down last week amid concerns over Europe's sovereign debt crisis.
Today's Markets
As of 10:50 a.m. ET, the Dow Jones Industrial Average jumped 255 points, or 2.3%, to 11,286, the S&P 500 soared 27.4 points, or 2.4%, to 1,190 and the Nasdaq Composite rose 54.8 points, or 2.2%, to 2,571.
The rally was broad, but energy and financial issues performed the best by a wide margin, with blue chips like JPMorgan Chase (NYSE:JPM) and Chevron (NYSE:CVX) rallying. Volatility, meanwhile, plunged 6%, as tracked by the VIX index.
Additionally, traders were buying up stocks that took some of the most intense selling last week.  Indeed, three top-performing blue chips, Caterpillar (NYSE:CAT), Disney (NYSE:DIS) and Hewlett-Packard (NYSE:HPQ), have hit 52-week lows in the past week.
On the heels of a dismal week, the markets have staged a powerful rebound bid: the blue chips soared 272 points in the last session -- the best performance on a percentage basis in a month.  European shares, which were beaten down severely last week, also bounced back, with the Euro Stoxx 50, a euro zone blue-chip index, leaping 4.4% over the past two trading sessions.
The yield on the 10-year Treasury, which repeatedly touched historic lows amid the intense turmoil last week, has climbed in a sign of the return to riskier equity and commodities markets.  The benchmark bond recently yielded 1.966%, up from 1.905%, and in the range leading up to the Federal Reserve's monetary policy decision last week.
Worries that Greece may default on its debt, sparking a chain of events that could put pressure on other countries, and the euro zone's financial system, roiled the markets last week.  However, Greece's parliament is expected to vote on Tuesday on the last part of its austerity measures, a property tax that has been highly unpopular, but is crucial for securing a much-needed aid tranch next month. Officials from the European Union and International Monetary Fund have also broadly signaled that they are ready to take action to continue quelling the crisis.  However, many market participants remain very cautious as no solid statements have been made, and the situation remains fluid.
On the economic front, the S&P/Case-Shiller Home Price index was unchanged on a seasonally-adjusted basis from June to July, missing expectations of a 0.1% increase.  However, prices are down 4.1% from last year, better than the 4.4% economists anticipated. Many more forward-looking data points have pointed to continued weakness in the housing sector as stubbornly high supply, and tepid demand have left prices depressed.  Additionally, economists say, uncertainty over the state of the economy has weighed on would-be homebuyers.
Consumer confidence remained depressed in September, edging higher to 45.4 from 45.2, according to the Conference Board.  Additionally, the sub-index that tracks sentiment on how difficult it is to find a job hit the highest level since 1983.
Confidence is an important component in consumers' decision-making process, and is seen to factor directly into buying decisions.  These data are particularly crucial with just months to go before the key winter holiday season for retailers, such as Wal-Mart (NYSE:WMT) and Best Buy (NYSE:BBY).
The precious metal market has been particularly volatile of late.  Gold prices have nose dived $214.10 or 11.9%, over the past four sessions, pushing prices back to July levels.  Silver has seen even bigger losses, free falling 26% in three trading days. Both metals were sharply higher on Tuesday, with Gold climbing $76.10, or 4.8%, to $1,671 a troy ounce and silver soaring $3.32, or 11.1%, to $33.30 a troy ounce.
Energy markets were in the green as well, tracking a weaker dollar and a flight back into risky assets.  Light, sweet crude rose $3.51, or 4.3%, to $83.67 a barrel.  Wholesale RBOB gasoline gained 11 cents, or 4.3%, to $2.68 a gallon.
In currencies, the euro rose 0.5% against the U.S. dollar, while the greenback sunk 0.35% against a basket of world currencies.
Corporate News
Walgreen (NYSE:WAG) posted fiscal fourth-quarter profits of 57 cents a share, excluding a 30 cent after-tax gain from its sale of its pharmacy benefit division, topping analysts' estimates of 55 cents.
Foreign Markets
The euro zone Stoxx 50 soared 4.5% to 2,176, the English FTSE 100 gained 3.5% to 5,266 and the German DAX jumped 4.7% to 5,598.
In Asia, the Japanese Nikkei 225 jumped 2.8% to 8,610 and the Chinese Hang Seng gained 4.2% to 18,131.