Wall Street Whizzes Higher on Bernanke Remarks, AmEx Dividend Hike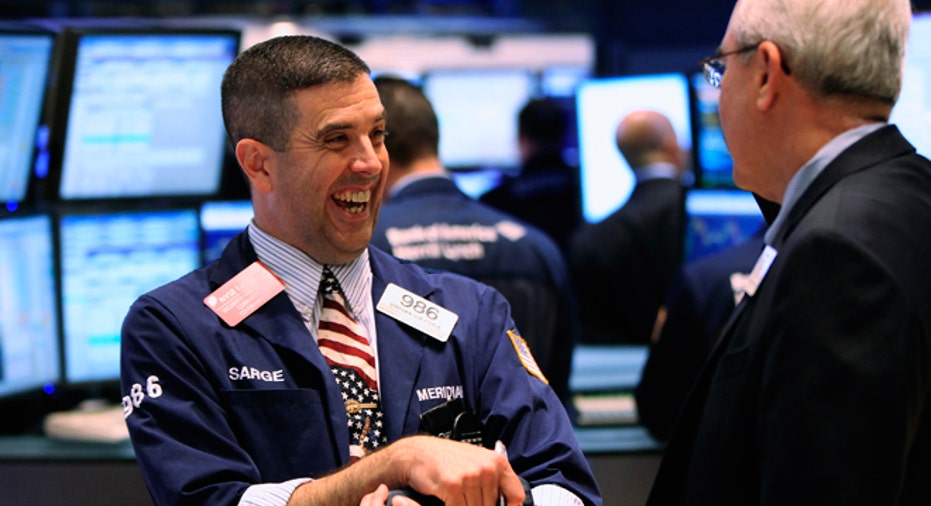 FOX Business: The Power to Prosper
A broad rally that was fueled by bullish commentary from Fed Chairman Ben Bernanke accelerated into the close on Monday after blue chip American Express revealed its first dividend hike since 2007.
Today's Markets
The Dow Jones Industrial Average climbed 161 points, or 1.2%, to 13242, the S&P 500 gained 19.4 points, or 1.4%, to 1417 and the Nasdaq Composite rose 54.7 points, or 1.8%, to 3123.
The broad S&P 500 now sits at its highest level since May 2008, while the tech-heavy Nasdaq its best since March 2000.
AmEx is increasing its quarterly dividend by 2 cents, or 11%, to 20 cents a share, marking the first increase since 2007. The blue-chip financial company's board also authorized a 150 million share buyback. The blue chip led the Dow higher, rallying more than 2% and also lifting fellow financial JPMorgan Chase (NYSE:JPM) by roughly the same margin.
Out of the 30 Dow components, only Verizon Communications (NYSE:VZ) ended in the red.
Looking at the broad markets, a slew of major sectors soared, with every major sector ending in the green. Among the best performers were industrial, basic material, technology, health-care and financial companies.
Bernanke Hints at Continued Monetary Easing
Federal Reserve Chairman Ben Bernanke sounded a more optimistic tone on the labor market in prepared remarks to the National Association of Business Economists on Monday. The Fed chief called the "notable" drop in the unemployment rate "good news," but cautioned that the market "remains far from normal."
As such, Bernanke hinted the the central bank will continue pushing hard on the economic accelerator in the long run as it has indicated in the past despite brighter economic data released recently.
"These arguments support the case for further policy action," analysts at Nomura wrote in a note to clients, noting that they expect another round of asset buying over the summer.
Pending home sales fell 0.5% in February from January, according to the National Association of Realtors. Economists were expecting contract activity to have climbed 1% for the month. Still, sales are up 9.2% on a year-to-year basis. While housing has shown more signs of life recently, it has been slow to recover as a result of tepid demand, high supplies and a still-challenging mortgage market. Investors will get a fresh read on home prices on Tuesday.
German Sentiment Data Top Expectations
In Europe, the closely-watched Ifo survey of business sentiment in Germany unexpectedly ticked higher to 109.8 in March from 109.7 in February. While the gain was small, it marked the fifth month in a row that sentiment across Europe's economic powerhouse improved.
The report "comes as a relief" following a disappointing reading on factory activity in Germany and throughout the rest of Europe last week, Jane Foley, Rabobank senior international currency strategist said in an interview with FOX Business on Monday.
Tempering the gains, however, was news that Spain's ruling party failed to secure a clear majority in a critical regional election. The country needs to pass tough austerity measures to lower its public debt level and keep sovereign bond markets calm. Foley said the tougher political climate means the government "may lose some of the power it has in driving through austerity."
Commodities markets were broadly to the upside. The benchmark crude oil contract traded in New York rose 15 cents, or 0.15%, to $107.03 a barrel. Wholesale New York harbor gasoline gained 0.93% to $3.417 a gallon.
In metals, gold jumped $23.20, or 1.4%, to $1,686 a troy ounce. U.S. Treasury bonds were to the downside. The 10-year yield rose 0.042-percentage point to 2.281%.
Foreign Markets
European blue chips rose 0.68%, the English FTSE 100 gained 0.82% to 5903 and the German DAX rallied 1.2% to 7079.
In Asia, the Japanese Nikkei 225 edged higher by 0.07% to 10018 and the Chinese Hang Seng was flat at 20669.