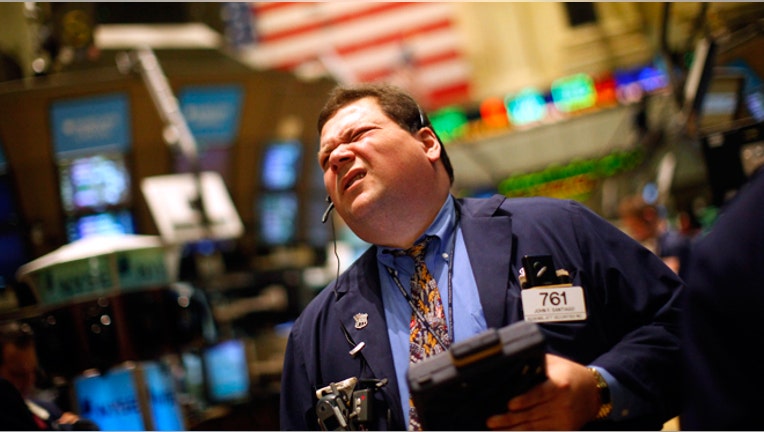 FOX Business: Capitalism Lives Here
The Nasdaq Composite plummeted 2.5% Friday as a broad swath of technology stocks nose dived. Broader markets sustained heavy losses as well, although the S&P 500 closed the week out with gains.
Today's Markets
The Dow Jones Industrial Average fell 160 points, or 0.96%, to 16412, the S&P 500 declined 23.7 points, or 1.3%, to 1865 and the Nasdaq Composite dipped 110 points, or 2.6%, to 4127.
For the week, the Dow rose 0.55%, the S&P 500 rose 0.4% and the Nasdaq slumped 0.67%
The technology sector was by far the worst performer on Friday, with a handful of big stocks like Google (NASDAQ:GOOG) stumbling. Many other online stocks like Yelp (NYSE:YELP) and Pandora (NYSE:P) also fell sharply. The biotech sector was another big loser, with the Nasdaq Biotechnology index crumbling close to 4%. The Nasdaq Composite experienced its worst selloff since early February.
Data Paint Mixed Picture
The economic sentiment on Wall Street is slowly shifting. Over the first two months of the year, the conversation revolved around harsh winter weather driving down jobs growth, construction, manufacturing and a slew of other sectors. However, economists are hoping the economy started warming up in March as the weather improved.
The Labor Department said the U.S. economy added 192,000 jobs in March, below the 200,000 jobs Wall Street anticipated. Job growth in the previous two months was also revised higher. The unemployment rate remained unchanged at 6.7% from the month prior, analysts expected it to fall to 6.6%. The labor force participation rate, which gauges the proportion of the working-age population employed or seeking employment, rose to 63.2%, from 63% in February.
"The US economy continues to create jobs at a good but not great pace that we should be seeing this far into the recovery," Peter Boockvar, chief market analyst at The Lindsey Group, wrote in an e-mail to clients.
"It is good enough however for the Fed to continue its taper, especially again at month end, but not good enough we believe to get the 3%+ GDP growth rate that we all hope for."
Echoing that sentiment, Douglas Coté, chief market strategist at ING wrote in an e-mail that "this report is consistent with a slowly improving U.S. economy."
Elsewhere, food-delivery service GrubHub debuted on the New York Stock Exchange, with its shares soaring to $40 from its IPO price of $26.
In commodities, U.S. crude oil futures climbed 85 cents, or 0.85%, to $101.14 a barrel. Wholesale New York Harbor gasoline rose 0.67% to $2.931 a gallon. Gold increased $18.90, or 1.1%, to $1,304 a troy ounce.