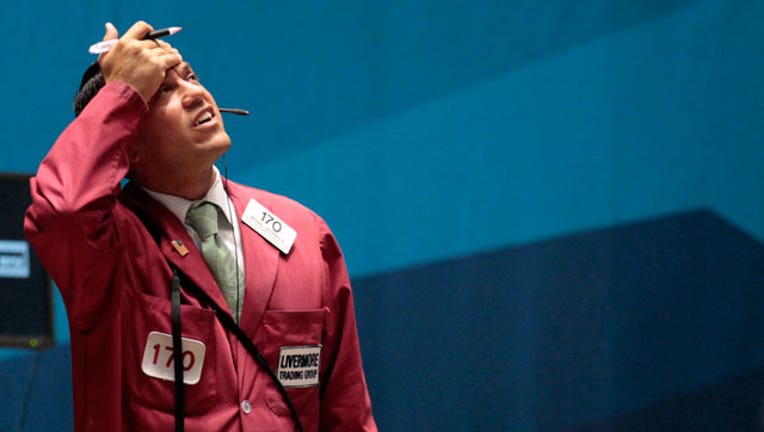 FOX Business: The Power to Prosper
Strife between European Union leaders across the board on how to tackle the continent's accelerating debt crisis quashed Wall Street's optimism as a crucial summit gets underway.
Today's Markets
The Dow Jones Industrial Average fell 199 points, or 1.6%, to 11,998, the S&P 500 slumped 26.7 points, or 2.1%, to 1,234 and the Nasdaq Composite slid 52.8 points, or 2%, to 2,596.
Trading was highly tumultuous on the day as traders parsed through a veritable deluge of headlines from Europe. The markets made a bid to shed heavy losses in the last half an hour of trading after a sweeping draft proposal from leaders meeting at the European Union summit in Brussels leaked.  However, a German official nearly instantly quashed that optimism, saying the continent's economic superpower won't back many of its key tenets. The remarks sent stocks tumbling to new session lows.
The stakes of the meeting are quite high; indeed, many analysts have called this one of the key battles in saving the single currency. Traders are hoping for decisive action from European leaders to solve the debt debacle that is now in its second year, and has spread from periphery economies into the core of the European Union.
Italian debt yields are less than half a percentage point away from the painful 7% level and in a sign of how real the worries are, the Wall Street Journal reported last night that several European central banks are making contingency plans in case they have to revert to their pre-euro currency.
Earlier, hopes that the European Central Bank might enact a massive bond-buying program to ease yields on sovereign debt were dashed to some extent. ECB head Mario Draghi said government bond purchases are limited to enacting monetary policy and that the European Union treaty technically restricts broader purchasing. He also said making such purchases by lending to the International Monetary Fund, a concept that has been widely discussed among analysts, would be legally challenging. However, Draghi came short of explicitly making a ruling either way.
In light of the growing economic headwinds created by the debt crisis, the ECB also said that it plans on taking on non-standard measures to buoy the economy. That move was initially seen as a positive, but then was quickly overshadowed by Draghi's comments.
The central bank also sliced its main refinancing rate by a quarter percentage point to 1%. The rate move was largely anticipated.
There was a also a report from the European Banking Authority that banks in the eurozone are short some $115 billion in capital. Banks will have until mid-January next year to raise the requisite capital.
Financials Pounded
Financial shares, particularly investment banks like Morgan Stanley (NYSE:MS), were slammed the hardest on the back of the EU jitters. European banks such as UBS (NYSE:UBS), RBS (NYSE:RBS) and Societe Generale (NYSE:SCGLY5) were pummeled as well.
Basic material and energy shares were also down sharply as a result of strong selling in precious-metal and energy futures.
In a sign of the depth of the selling, volume in declining shares on the New York Stock Exchange outpaced advancing shares by a ratio of roughly 33 to one. Meanwhile, volatility jumped 6.7%, as measured by the CBOE's VIX.  U.S. government bond prices rose, pushing yields lower.  The benchmark 10-year Treasury note yields 1.981% from 2.040%.
European blue chips tumbled 2.4% while the euro slid 0.66% to $1.3321.
Markets Shrug Off Upbeat U.S. Economic Data
On the U.S. front, the weekly jobless claims report from the Labor Department topped expectations on Thursday morning.  New claims for unemployment benefits fell last week to 381,000 from an upwardly revised 404,000 the week prior.  Economists had expected a smaller drop to 395,000 from an initial reading of 402,000.
Energy markets were to the downside.  The benchmark crude oil contract traded in New York fell $2.15, or 2.1%, to $98.34 a barrel.  Wholesale RBOB gasoline fell 0.78% to $2.57 a gallon.
In metals, gold dropped $31.40, or 1.8%, to $1,713 a troy ounce. Silver was off 57 cents, or 1.7%, to $31.99 a troy ounce.
Foreign Markets 
European blue chips tumbled 2.4%, the English FTSE 100 slid 1.1% to 5,484 and the German DAX sold off 2% to 5,874.
In Asia, the Japanese Nikkei 225 dropped 0.66% to 8,665 and the Chinese Hang Seng slipped 0.69% to 19,108.