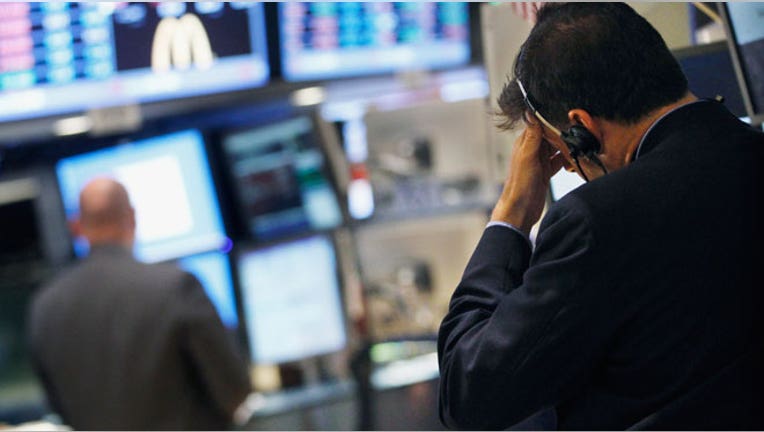 FOX Business: Capitalism Lives Here
Disappointing jobs data and swelling oil inventories ignited worries about the global economy, and sent stocks and energy futures tumbling on Wednesday.
Today's Markets
The Dow Jones Industrial Average fell 139 points, or 0.94%, to 14701, the S&P 500 dipped 14.9 points, or 0.93%, to 1583 and the Nasdaq Composite declined 30 points, or 0.89%, to 3299.
Commodities stole the spotlight on Wall Street Wednesday. Oil and gasoline futures were both sharply lower. The benchmark U.S. crude oil contract slid $2.43, or 2.6%, to $91.03 a barrel. Wholesale New York Harbor gasoline sold off 3% to $2.719 a gallon.
The move in oil came after the Energy Department said crude stocks surged 6.7 million barrels to 395.2 million barrels last week. That is the highest level on record since at least August 1982.
In metals, gold slumped $26.00, or 1.8%, to $1,446 a troy ounce.
Meanwhile, in economic news, the Federal Reserve held the pace of its asset-purchase program steady at $85 billion a month, and said it will hold short-term interest rates at historic lows until the unemployment rate falls to 6.5%. The central bank also said it sees the economy growing at a 'moderate' pace, but unemployment remains 'elevated.' Stocks remained deep in the red after the statement.
The European Central Bank is out with its decision on Thursday. That one is being more closely watched since some analysts expect the ECB to cut rates to record lows amid signs Germany, Europe's biggest economy, has begun struggling.
Also on the economic front, the ADP National Employment Report showed the private sector added 119,000 jobs in April, falling short of estimates of an increase of 150,000 jobs. Digging into the report, small businesses added the most jobs, followed by large businesses and then medium-sized ones. Every segment tacked on jobs on the month, except manufacturing, which shed 10,000 jobs.
"Overall, job growth has clearly slowed since November of last year and with respect to Friday's payroll report, we cannot help but feel any enthusiasm is unwarranted," Dan Greenhaus, chief global strategist at BTIG wrote in an email.
The labor market has shown only tepid growth in recent months, sparking worries about the robustness of the recovery of the world's biggest economy.
The Institute for Supply Management's PMI gauge slid to 50.7 in April from 51.3 in March. Economists expected a slightly stronger reading of 50.9. Reading above 50 point to expansion, while those below indicate contraction.
In corporate news, Merck (NYSE:MRK) posted weaker-than-expected quarterly sales on increased generic competition, sending shares of the blue-chip biotech behemoth sliding more than 2% in pre-market action.
Automakers also reported April sales on the day. General Motors (NYSE:GM) saw its sales climb 11.4% and Ford (NYSE:F) experienced an 18% jump.
Foreign Markets
The English FTSE 100 climbed 0.66% to 6472. Markets in Germany were closed for Labor Day.
In Asia, the Japanese Nikkei 225 fell 0.44% to 13799. Markets in China were closed for Labor Day.