Wall Street Takes a Breather After Steep Slide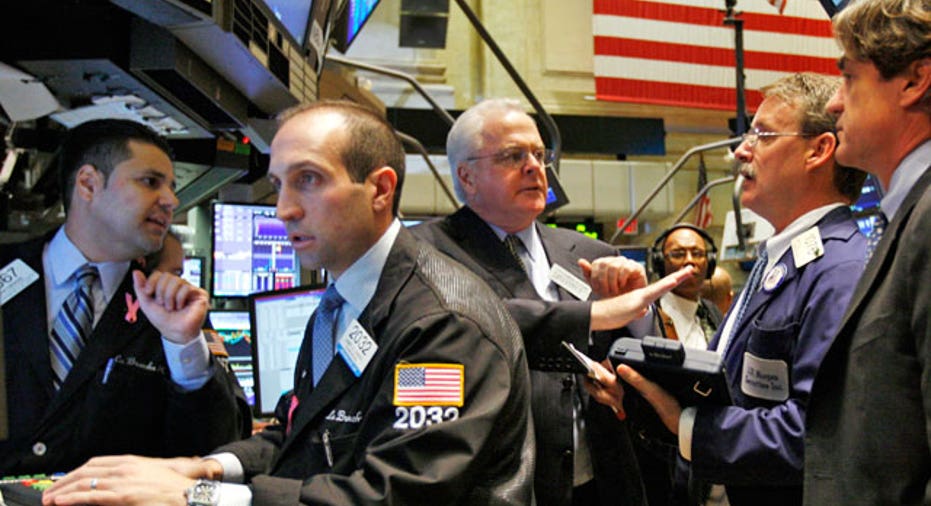 FOX Business: The Power to Prosper
The markets kicked off the week little changed as traders assessed the recent stream of data suggesting the U.S. economic recovery may be stalling and the heavy losses taken last week.
Today's Markets
The Dow Jones Industrial Average fell 17.1 points, or 0.14%, to 12101, the S&P 500 rose 0.14 point, or 0.01%, to 1278 and the Nasdaq Composite rose 12.5 points, or 0.46%, to 2760.
Caterpillar (NYSE:CAT), the biggest heavy machinery maker in the world, and JP Morgan Chase (NYSE:JPM), the biggest U.S. bank, sucked the most points off of the Dow's overall performance on the day. On the other end of the spectrum, Home Depot (NYSE:HD), Johnson & Johnson (NYSE:JNJ) and Coca-Cola (NYSE:KO) helped to limit the losses.
The markets were thrashed last week, wiping out the Dow's gains for 2012 and throwing the broader S&P 500 to the brink of correction territory. It was the fourth week of losses in five weeks for the blue-chip average. The slide was sparked by renewed concerns that growth in the U.S. and China may be slowing down, while Europe's economy appears to be contracting at an increasing pace.
Traders in Asia got their first chance to react to the retreat in American and U.S. markets on Monday. The Japanese Nikkei 225 sold off by 1.7% and the Chinese Hang Seng tumbled 2.8%.
Meanwhile, U.S. Treasury yields found some relief on Monday after plummeting to record lows last week as traders sought out only the safest asset classes. The 10-year yield rose 0.060-percentage point to 1.527%,
The docket of economic data was fairly light on the day. Orders for U.S. factory goods fell 0.6% in April from March, according to a report from the Commerce Department. Economists were expecting a rise of 0.2%. While the report is a lagging indicator, it may play into second-quarter economic growth forecasts of investment banks.
Commodities markets were mixed. The benchmark crude oil contract traded in New York gained 75 cents, or 0.9%, to $83.98 a barrel. Wholesale New York Harbor gasoline climbed 0.52% to $2.67 a gallon.
In metals, gold fell $8.20, or 0.51%, to $1,614 a troy ounce.
Foreign Markets 
The Euro Stoxx 50 gained 0.5% to 2079 and the German DAX fell 1.1% to 5260. The London Stock Exchange was closed for a bank holiday.
In Asia, the Japanese Nikkei 225 sold off by 1.7% to 8296 and the Chinese Hang Seng tumbled 2% to 18186.