Wall Street Stumbles Amid Mixed Earnings, Data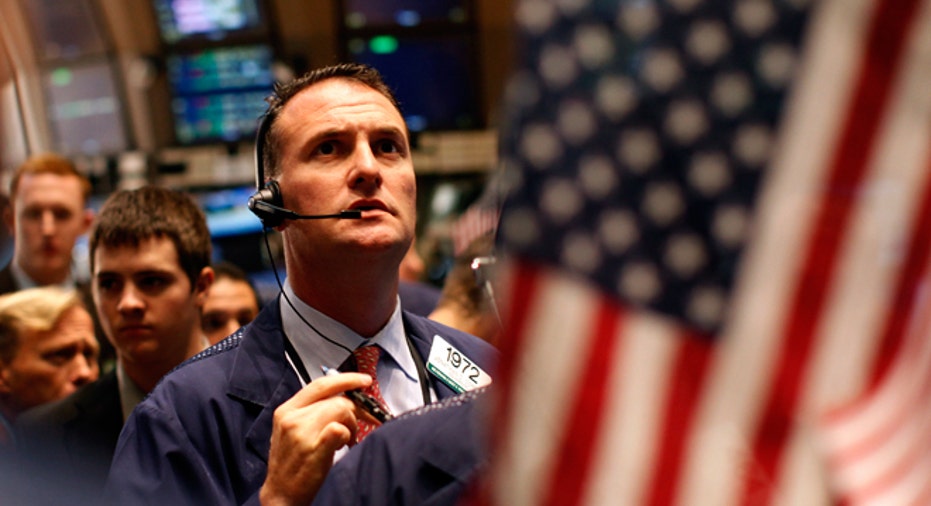 FOX Business: The Power to Prosper
A rally sparked by the Federal Reserve's low-rate pledge stalled out on Thursday, with the markets sliding modestly into the red after mixed corporate earnings reports, lackluster economic data and deadlocked Greek debt talks curbed traders' buying appetite.
Today's Markets
The Dow Jones Industrial Average fell 22.3 points, or 0.18%, to 12735, the S&P 500 slipped 7.6 points, or 0.57%, to 1318 and the Nasdaq Composite slumped 13 points, or 0.46%, to 2805.
A slew of blue-chip and other big-name companies reported earnings on the day.
AT&T (NYSE:T) posted a sizeable loss in the fourth quarter resulting from the break-up fee for its failed T-Mobile merger and a pension-related charge. Excluding the charges, its earnings on a per-share basis missed analysts' estimates by a penny. 3M (NYSE:MMM) unveiled a fourth-quarter profit of $1.35 per share on $7.1 billion in sales, versus estimates of $1.31 on $7.09 billion.
Caterpillar (NYSE:CAT) posted a fourth-quarter profit of $2.32 a share on $17.24 billion in revenue, compared to expectations of $1.73 on $16.05 billion. The world's largest heavy machinery maker also said it sees its full-year 2012 profits hit $9.25 per share, beating estimates of $9.06.
There were also numerous key economic reports for traders to parse through.
Orders for long-lasting goods climbed 3% in December from November, topping estimates of a 2% gain. Excluding the transportation segment, orders rose 2.1%, beating estimates of a 0.7% gain and marking the biggest month-to-month jump since March 2011.
"With the strength in [Thursday's] report, we can say that the fourth quarter ended on a stronger note than many anticipated," Dan Greenhaus, Chief Global Strategist at BTIG wrote in a research note. "The bottom line is that based on this measure, albeit one that is quite volatile, the economy picked up a bit in December."
New claims for unemployment benefits rose to 377,000 last week from an upwardly revised 356,000 the week prior. Economists had expected claims to rise to 370,000 from an initial reading of 352,000. The four-week-moving average, which helps smooth out volatility in the weekly reports, fell by 2,000 to 378,000.
"The consistent downward movement in the four-week moving average indicates that the amount of involuntary job separations is continuing gradually to decline," Troy Davig, an economist at Barclays Capital wrote in a note to clients following the report.
Sales of new single-family homes in the U.S. fell for the first time in December since August. The Commerce Department reported sales fell 2.2% to an annualized rate of 307,000 units, short of the 320,000 economists expected.
Debt negotiations in Greece dragged on for yet another day. Charles Dallara and Jean Lemierre, who represent private creditors, returned to Athens Thursday to attempt to strike a deal with the Greek government and its rescuers that has so far eluded those involved in the talks. The negotiators made "some progress," but said they would need to meet again on Friday, according to an e-mailed statement by the International Institute of Finance, which represents the private creditors.
Commodities markets were broadly to the upside tracking weakness in the U.S. dollar, which recently fell 0.25% against a basket of six world currencies.
The benchmark crude oil contract traded in New York rose 30 cents, or 0.3%, to $99.70 a barrel. Wholesale RBOB gasoline climbed 0.45% to $2.847 a gallon.
In metals, gold jumped $29.80, or 1.8%, to $1,730 a troy ounce.
Foreign Markets
European blue chips rallied 1.3%, the English FTSE 100 climbed 0.98% to 5,779 and the German DAX soared 1.5% to 6,520.
In Asia, the Japanese Nikkei fell 0.39% to 8,849 and the Chinese Hang Seng jumped 1.6% to 20,439.