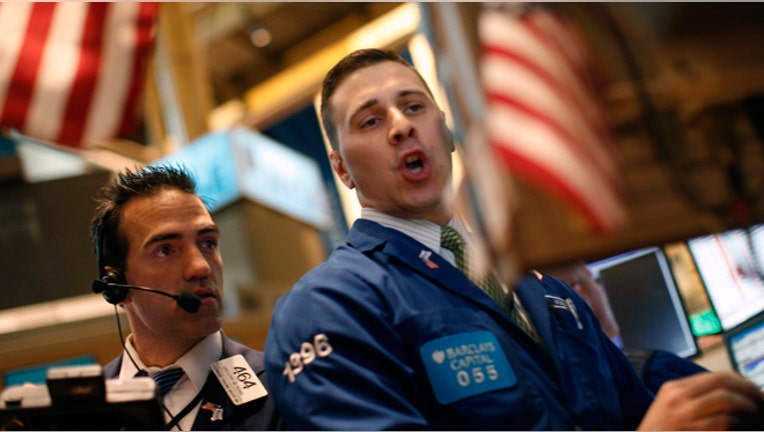 FOX Business: Capitalism Lives Here
The markets dipped into the red on Monday as traders took advantage of a reprieve in the stream of corporate and economic news to adjust their holdings.
Today's Markets
The Dow Jones Industrial Average dipped 46.2 points, or 0.3%, to 15612, the S&P 500 fell 2.5 points, or 0.15%, to 1707 and the Nasdaq Composite rose 3.4 points, or 0.09%, to 3693.
There was no rest for Wall Street's weary last week. The markets received the latest communique from the Federal Reserve and a tepid monthly jobs report, in addition to a slew of other economic data and earnings. This week was set to be quieter, with a slimmer number of reports due out.
"With the July FOMC meeting and last Friday's payroll report now past and still leaving us with a state of confusion with what comes next," Peter Boockvar, chief market analyst at The Lindsey Group, wrote in an email to clients.
The Institute for Supply Management's non-manufacturing PMI checked in at 56 in July, from 52.2 in June. The reading beat estimates of 53.
Meanwhile, HSBC's gauge of service-sector output in China clocked in at 51.3 in July, matching a June reading. Readings above 50 point to expansion, while those below indicate contraction. The report showed signs of stabilization for the world's No. 2 economy, according to Hongbin Qu, the bank's chief economist for China.
Still, Qu warned that "without a sustained improvement of demand, services growth is likely to remain lackluster, putting downside pressures to employment growth."
On the corporate front, HSBC (NYSE:HBC) unveiled quarterly profits that widely missed analysts' expectations. Shares of Europe's largest came under heavy pressure in both European and U.S. trading. Disney (NYSE:DIS) posts its earnings after the bell on Tuesday.
In commodities, U.S. oil futures fell 38 cents, or 0.36%, to $106.56 a barrel. Wholesale New York Harbor gasoline sold off by 1.5% to $2.951 a gallon. Gold dipped $8.10, or 0.62%, to $1,302 a troy ounce.
Foreign Markets
The Euro Stoxx 50 fell 0.03% to 2810, the English FTSE 100 dipped 0.09% to 6642 and the German DAX slumped 0.1% to 8398.
In Asia, the Japanese Nikkei 225 sold off by 1.4% to 14258 and the Chinese Hang Seng rose 0.14% to 22222.