Wall Street Slides, Nasdaq Sustains Heaviest Losses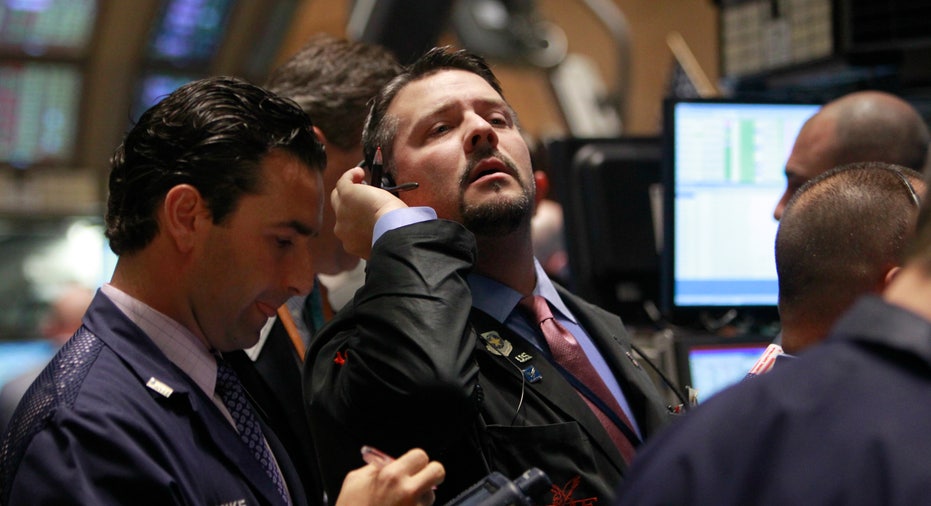 FOX Business: The Power to Prosper
Wall Street sustained heavy selling pressure on Wednesday, with the Nasdaq diving 2%, after a glum economic assessment from the Federal Reserve and disappointing quarterly results from tech titan Apple spooked traders.
Today's Markets
The Dow Jones Industrial Average fell 72.4 points, or 0.63%, to 11,505, the S&P 500 slid 15.5 points, or 1.3%, to 1,210 and the Nasdaq Composite tumbled 53.4 points, or 2%, to 2,604.
The blue chips struggled to stay in the green for much of the trading session, but finally succumbed to negative pressure on a relatively gloomy economic outlook from the Federal Reserve. Broader indices suffered more, particularly the Nasdaq, which was weighed down heavily by tumbling shares of technology-heavyweight Apple.  While technology shares performed poorly overall, basic materials stocks fell the most in afternoon trading. Aluminum-giant Alcoa (NYSE:AA), for example, was off more than 3%.
In a sign of the skittishness, volatility, as measured by the VIX, spiked 10%, while U.S. government bond yields began moving lower. Bond yields move in the opposite direction of prices, so as demand for the assets heats up, yields fall.  The benchmark 10-year Treasury yielded 2,159% from 2.180%.
It has been a very turbulent week for Wall Street, as the market have fluctuated heavily in all three trading sessions.  In fact, the Dow has alternated between gains and losses over the past nine trading days.
The Fed's Gloomy Assessment 
The Federal Reserve's anecdotal report from its dozen districts showed that the economy is improving at a modest pace, but the labor market remains weak.  While the report is considered an informal analysis, it sucked away enthusiasm created by a string of more upbeat reports released in recent weeks.
Consumer prices rose 0.3% in September from August, which was inline with estimates.  Inflation at the headline level is up 3.9% from last year, which represents the swiftest gain since 2008. Excluding the food and energy component, prices were up 0.1%, a slower pace than the 0.2% economists forecast.  This report comes on the heels of a much bigger-than-expected gain in wholesale inflation, which was driven by higher energy prices.
Market participants say the increase in prices may spook more inflation-hawkish Fed officials that worry the central bank's highly expansionary monetary policy may stoke inflation.
Housing starts rose 15% in September to a 658,000-unit rate, topping estimates of a 590,000-unit rate. Permits to build new homes, a more forward-looking read, fell 5% to a 594,000-unit rate, missing estimates of a 610,000-unit rate. A report released on Tuesday showed homebuilder sentiment jumped much more than expected in the beginning of October.
The industry has been laden with a high supply of homes, tight lending conditions, and prices that have been very slow to recover.
Earnings Deluge
Market participants have also had a deluge of earnings to parse through, with nearly half of all blue chips, and 20% of the S&P 500 reporting this week.
Apple (NASDAQ:AAPL) revealed earnings that fell short of analysts expectations -- a rare miss for the technology heavyweight.  The Cupertino, Calif. company saw weaker-than-expected demand for iPhones as customers awaited the next-generation iPhone 4S, which made record sales in its first weekend that was outside of the reporting period. Shares were down sharply on the news, potentially headed for the biggest loss since 2008, and weighed heavily on the Nasdaq.
Intel (NASDAQ:INTC), in contrast, posted results that beat estimates, sending shares of the chipmaker solidly into the green.
United Technologies (NYSE:UTX) and Travelers (NYSE:TRV) were the two Dow components to report before the opening bell.  United Technologies earned $1.47 for the third quarter, beating forecasts by three cents.  Meanwhile, Travelers' profits on continuing operations hit 79 cents, missing estimates of 87 cents.  The insurer struggled with heavy losses resulting from Hurricane Irene that slammed the U.S. East Coast.
Developments From Europe
Headlines regarding Europe's sovereign debt and financial crises have flung the markets higher and lower for months, and have had a particularly powerful impact this week.  A report from the Guardian suggesting France and Germany -- the region's biggest economic players -- have agreed to boost the European Financial Stability Facility to 2 trillion euros sent shares surging in the last hour of trading Tuesday.  However, Germany's finance minister quashed that report Wednesday, however, the markets had little reaction to that news.
Moody's also knocked down Spain's credit rating two notches, in the latest sign the debt crisis on that side of the Atlantic is escalating.
European leaders are set to meet on October 23 following the Group of 20 summit where global financial chiefs pressured Europe to take steps to tackle its debt crisis.
Commodities Make Turnaround 
Commodities, which had been largely stable for much of the trading session, took an abrupt turn for the worse.  Light, sweet crude tumbled $2.23, or 2.5%, to $86.11 a barrel.  Wholesale RBOB gasoline dropped 8 cents, or 2.7%, to $2.71 a gallon.
In metals, gold fell $5.80, or 0.35%, to $1,647.
Foreign Markets
The Euro Stoxx 50 gained 1% to 2,330, the English FTSE 100 climbed 0.74% to 5,450 and the German DAX rose 0.61% to 5,914.
In Asia, the Japanese Nikkei 225 edged 0.35% higher to 8,773 and the Chinese Hang Seng soared 1.3% to 18,309.