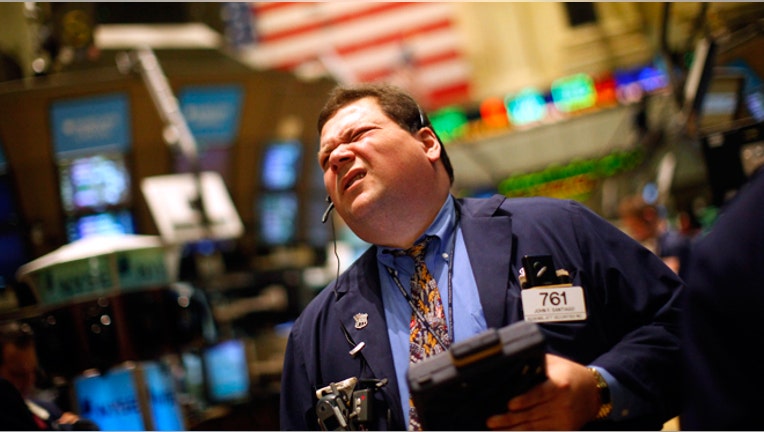 FOX Business: Capitalism Lives Here
U.S. equity markets took a beating Friday as traders ditched stocks amid anxiety over a burgeoning crisis in emerging-market currencies.
Today's Markets
The Dow Jones Industrial Average sold off 318 points, or 2%, to 15879, the S&P 500 plummeted 38.2 points, or 2.1%, to 1791 and the Nasdaq Composite plunged 90.7 points, or 2.2%, to 4128.
For the week, the Dow fell 3.5%, the S&P 500 dropped 2.6% and the Nasdaq slumped 1.7%.
The Dow posted its worst week  on a percent basis since November 2011, while the S&P 500 logged its worst week since June 2012. Traders have been moving from assets that are seen as risky, to safe havens like U.S Treasury bonds. Meanwhile, the CBOE's VIX surged close to 30%. Wall Street's fear gauge was up 48% for the week -- the biggest jump since May 2010.
NYSE composite volume Friday clocked in at around 4.63 billion shares -- the heaviest since December 20, 2013. Meanwhile,
The foreign exchange market was in focus Friday after Argentina moved to devalue its currency. The Argentine peso has tumbled 12.7% in the biggest devaluation in more than a decade, according to Nomura, as the government struggles to control its foreign reserves and attempts to boost its fragile economy. Other emerging-market currencies like the Turkish lira also took a beating.
Michael Block, chief strategist at Rhino Trading Partners, said the reason moves in these currencies are hitting U.S. markets is because of correlation. He said the same investors that trade U.S. stocks and Treasuries also engage in currency trading. As those people swiftly adjust positions abroad, they also need to make changes to their portfolio of U.S. holdings.
"This is the only reason why Argentina matters," he said, "that said, this will blow over soon."
Peter Boockvar, chief market analyst at The Lindsey Group, added that as the Federal Reserve eases its vast asset-purchase program -- called QE3 -- issues that had been brewing will bubble to the surface.
"This is contagion from the Fed and the possibility of no more QE. Who cares about Argentina, they've been a mess for many years," he said. "QE covers up all the warts and blemishes and once it starts going away, they all come to the surface."
On the corporate front, Microsoft (NASDAQ:MSFT) posted quarterly profits that easily beat expectations after the closing bell on Thursday. Procter & Gamble (NYSE:PG) posted a slight quarterly beat on the bottom line, and top-line results that matched expectations.
Elsewhere, in commodities, U.S. crude oil futures fell 25 cents, or 0.26%, to $97.07 a barrel. Wholesale New York Harbor gasoline fell 0.48% to $2.649 a gallon. Gold rose $7, or 0.55%, to $1,270 a troy ounce.