Wall Street Sinks on EU Jitters, Weak Data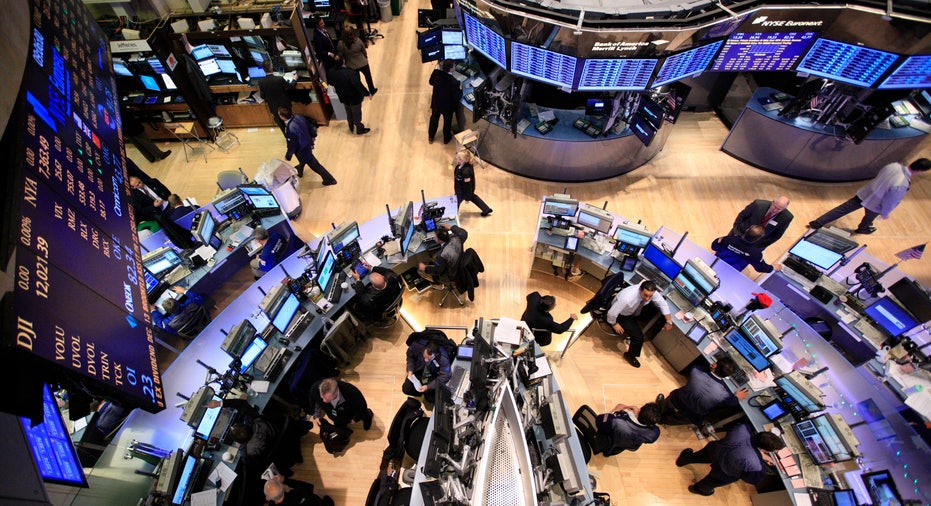 FOX Business: The Power to Prosper
Economically-sensitive sectors sustained heavy selling pressure Thursday as worries mounted about the slowing U.S. economic recovery and malaise across Europe.
Today's Markets
As of 3:35 p.m. ET, the Dow Jones Industrial Average fell 113 points, or 0.91%, to 12484, the S&P 500 slipped 15 points, or 1.1%, to 1310 and the Nasdaq Composite slid 48.7 points, or 1.7%, to 2825.
The consumer discretionary, industrial, financial and basic materials sectors struggled the most on the day. These areas are seen as especially vulnerable to a slowing of the world's economy. Indeed, machinery behemoth Caterpillar (NYSE:CAT) yanked 27 points off of the Dow's overall performance. Wal-Mart (NYSE:WMT) helped counterbalance the loss for the blue chips after it posted better-than-expected quarterly results.
Key Regional Manufacturing Survey Signals Contraction
The Philadelphia Federal Reserve's manufacturing gauge tumbled to -5.8 in May, from 8.5 in April. Economists were expecting an increase to 10. Data from the New York Fed covering the Empire State region released earlier in the week came in well ahead of expectations.
"It's obvious that the escalation of turmoil in Europe is weighing on investment and hiring decisions among US businesses," analysts at Nomura wrote in a note to clients following the report. They also added that this could bode poorly for this month's jobs read, as manufacturing jobs have recently been a bright spot.
Separately, the Labor Department said new claims for unemployment benefits remained unchanged at 370,000 last week from the week prior. Economists were expecting claims to rise to 367,000 from an initially reported 365,000. Analysts have been paying particularly close attention to the weekly reports amid signs the rate of job growth in the U.S. may be slowing down dramatically.
Eurozone Worries Flare Up
The markets have been hit hard by worries that the deteriorating situation in Greece may cascade into other eurozone nations, such as Spain.
In Europe, stocks were broadly lower on the day, with bourses in Italy, Spain and Greece taking especially heavy selling.
Adding to the worries were several news reports suggesting Moody's is planning on slicing its rating on several Spanish lenders as early as Thursday evening. Analysts have been paying especially close attention to the country amid concerns it may take a hit from the turbulence in Greece. In fact, Fitch cut its long-term credit rating on Greece to CCC from B-, citing a heightened risk the country may be jettisoned from the eurozone.
Wall Street is set to get several key pieces of economic data on the day.
Commodities markets were mixed. Crude oil traded in New York fell 31 cents, or 0.33%, to $92.50 a barrel. Wholesale New York harbor gasoline dipped 1.5% to $2.88 a gallon.
In metals, gold soared $38.30, or 2.5%, to $1,575 a troy ounce.
Foreign Markets 
Eurozone blue chips sold off by 1.3%, the English FTSE 100 dipped 1.2% to 5338 and the German DAX tumbled 1.2% to 6309.
In Asia, the Japanese Nikkei 225 rose 0.86% to 8877 and the Chinese Hang Seng edged lower by 0.31% to 19201.