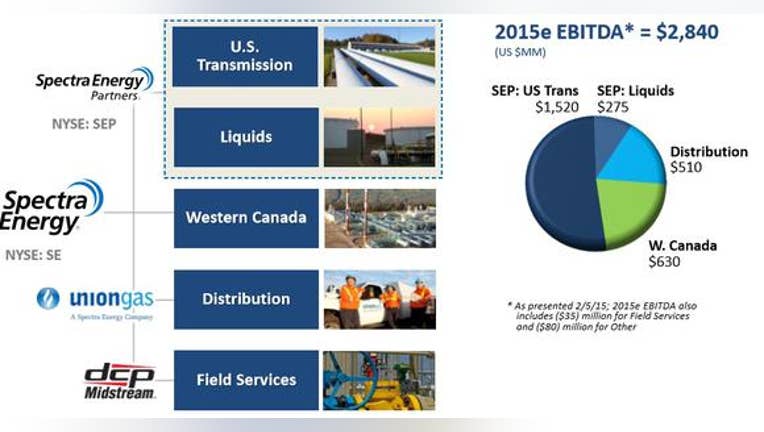 Source: Spectra Energy
The worst oil crash in a generation has hammered energy stocks over the past 18 months, including midstream MLPs. However, in this sea of despair, I believe long-term income investors have an amazing chance to benefit from Wall Street's misguided focus on short-term volatile energy prices.
Since oil prices peaked in June 2014, Spectra Energy Corp. (NYSE: SE) has been brutalized, while its MLP, Spectra Energy Partners (NYSE: SEP), has seen a modest decline.Let's look at why this presents a potentially unique opportunity that can not only provide strong, secure income, but also potentially supercharge your portfolio in the years to come.
A rare opportunity
Source: Spectra Energy Partners investor presentation.
Spectra Energy Corp. is the general partner of Spectra Energy Partners, meaning it manages the MLP's assets. In exchange it owns the incentive distribution rights, or IDRs, which grant it 50% of the marginal distributable cash flow (DCF) Spectra Energy Partners generates.
In addition, it owns 80% of Spectra Energy Partners' limited units. This means the general partner hasa leveraged position that translates to faster distribution growth than Spectra Energy Partners's payout to investors.
Logically, this means that Spectra Energy Corp.'s long-term dividend growth prospects are stronger than those of its MLP and should be trading at a lower yield.However, because of Wall Street's mispricing of Spectra Energy Corp.'s shares, it trades at a valuation that completely ignores this fact.
Why Wall Street is wrong about Spectra Energy Corp.'s valuation
| | | | |
| --- | --- | --- | --- |
| Company/MLP | Yield | 5 Year Average Yield | Price/Operating Cash Flow |
| Spectra Energy Corp. | 6.1% | 3.8% | 7.8 |
| Spectra Energy Partners | 5.3% | 5.1% | 9.2 |
Sources: Yahoo Finance, Fastgraphs
The market is currently valuing Spectra Energy Partners at a premium to its GP, even though Spectra Energy Corp. has a long-termpayout growth advantage over its MLP. There are three possiblereasons for this mispricing.
First, Spectra Energy Corp.'s leverage (Debt/EBITDA) ratio is higher than Spectra Energy Partners' -- 5.3 times versus 3.5 times, respectively. However, given that 79% of 2015's capital spendingwas undertakenby Spectra Energy PartnersI'm confident that the stronger balance sheet of the MLP means that Spectra Energy's $38+ billion backlog of projectswill be able to be completed.
The secondreason is thatSpectra Energy Corp.owns 50% of the general partner interest in another midstream MLP, DCP Midstream Partners (NYSE: DPM). It has come under strain as of late from declining natural gas liquids prices, and as a result both Spectra Energy Corp. and Phillips 66 (NYSE: PSX) -- which owns the other half of DCP Midstream's general partner stake -- have had to bail it out.
So Wall Street is now valuing Spectra Energy Partners higher than its GP because it isn't tied to DCP Midstream since there may beconcern that DCP Midstream will need additional future bailouts.
While true that current NGL prices as well as a relatively high leverage ratio means that DCP might find it hard to raise new debt, I think the threat of future DCP bailouts is overblown.This is becausethat massive investment by the U.S. petrochemical industry to use cheap NGLs to produce high-value export products is likely to greatly increase NGL demand, and thus prices, in the future.
Finally, the market iswrong to value Spectra Energy Partners more richly than Spectra Energy Corp. for another important reason.
Reduced ownershipdoesn't makethe MLP more valuable thanthe GPSpectra Energy Corp.'s bailout of DCP Midstream will reduce its future distributions from Spectra Energy Partners by about 8%. However, keep in mind that Spectra Energy Corp. will likely be able to increase its ownership in its MLP again when it drops down assets in the future.
Source: Spectra Energy Corp. Investor presentation.
Spectra Energy Corp.'s Western Canada and Union Gas subsidiaries own oil, gas, and NGL pipelines in Canada and serve as that nation's second largest natural gas distributor, respectively.
In 2015 they are expected to generate $1.14 billion in EBITDA, almost entirely from fixed-fee, long-term contracts that have little exposure to energy prices barring a forced negotiation due to some energy producers being unable to pay the negotiated rates. These subsidiaries are also completing about $2.5 billion in expansion projects between 2015 and 2017, which means their rather predictable cash flows are likely to grow.
Bottom line I see no good reason that Spectra Energy Corp. shouldn't be trading at a premium to Spectra Energy Partners, given its highly favorable ownership of that MLP and superior long-term dividend growth prospects. This creates a rare opportunity for income investors to not only lock in a generous, currently sustainable, and growing yield, but also capture potential capital gains when the market recognizes its mistake.
The article Wall Street Seems to Not Understand the Value In Spectra Energy Corp.'s Shares originally appeared on Fool.com.
Adam Galas has no position in any stocks mentioned. The Motley Fool owns shares of and recommends Spectra Energy. The Motley Fool recommends DCP Midstream Partners. Try any of our Foolish newsletter services free for 30 days. We Fools may not all hold the same opinions, but we all believe that considering a diverse range of insights makes us better investors. The Motley Fool has a disclosure policy.
Copyright 1995 - 2016 The Motley Fool, LLC. All rights reserved. The Motley Fool has a disclosure policy.