Wall Street Rebounds from Two-Day Selloff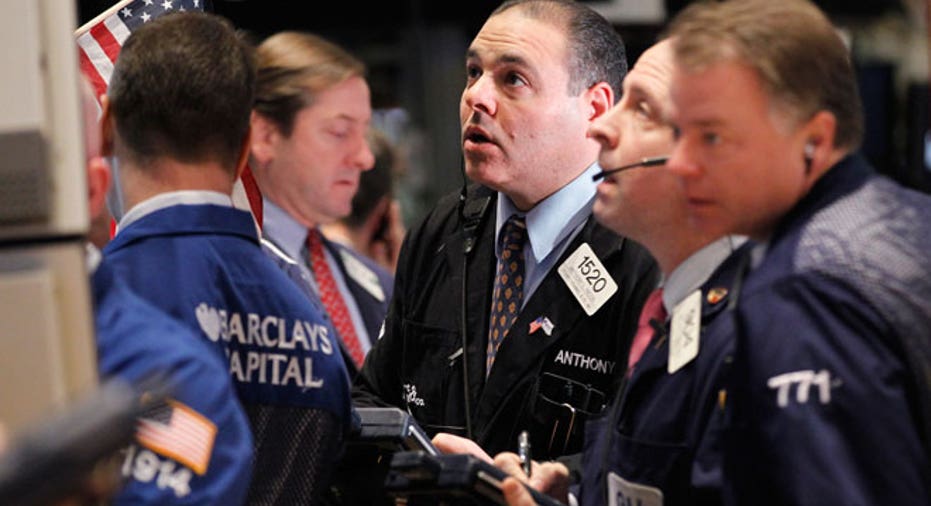 FOX Business: Capitalism Lives Here
The markets roared higher Friday as traders scooped up beaten-down stocks and responded to a round of upbeat global economic data.
Today's Markets
As 3:00 p.m. ET, the Dow Jones Industrial Average rallied 107 points, or 0.77%, to 1388, the S&P 500 climbed 10.7 points, or 0.71%, to 1513 and the Nasdaq Composite jumped 24.2 points, or 0.77%, to 3156.
Every major sector was in the green on Friday, led by materials, technology and financials. Traditional defensive plays like telecommunications and consumer staples posted slimmer gains.
The markets also  came closer to shedding heavy losses taken over the prior two trading days. The Dow was pointing to a slight gain, while the S&P 500 and Nasdaq were still stuck deep in the red on a week-to-date basis.
A closely-watched survey on the outlook of German businesses from the Ifo Institute calmed investors' nerves. The Ifo gauge soared by 3.1 points to 107.4 in February from January -- the swiftest increase since July 2010.
Hans-Werner Sinn, the organization's president, said German companies are more satisfied with current conditions and also more optimistic on the future outlook. He said Europe's biggest economy is "regaining momentum."
Thomas Harjes, an economist at Barclays, echoed that view, saying, "the recent surveys add to growing signs that the German economy has turned the corner after a sharp externally-driven contraction at the end of last year and that a strong rebound should be under way."
Still, the broader European economy is continuing to struggle. In its winter forecast, the European Commission said the eurozone economy is likely to contract by 0.3% in 2013, compared to a November forecast of 0.1% expansion.
Also on the European front, analysts will be paying close attention to elections in Italy that start this weekend. The country, the eurozone's No. 3 economy, has come into focus because of its high debt levels and weak economy.
"We expect the pro-Europe, pro-austerity mainstream will secure an electoral victory, but the new government's will and capacity for reform will be constrained by growing popular resistance to austerity and resistance from both right and left in parliament," Citigroup analyst Tina Fordham wrote in a note to clients.
The government has had difficulty balancing the need to spur growth with debt-cutting measures, which has sometimes caused big fluctuations in the market for Italian debt.
There are no major U.S. economic reports and few earnings reports on Friday's calendar.
In commodities, oil futures rebounded after tumbling two a fresh 2013 low on Thursday. The benchmark U.S. contract recently rose 27 cents, or 0.29%, to $93.11 a barrel. Wholesale New York Harbor gasoline rallied 1.5% to $3.08 a gallon. Gold gained $1.60, or 0.1%, to $1,580 a troy ounce.
Foreign Markets 
The Euro Stoxx 50 jumped 1.6% to 2620, S&P 500 climbed 0.81% to 6342 and the German DAX rallied 1.1% to 7665.
In Asia, the Japanese Nikkei 225 rose 0.68% to 11386 and the Chinese Hang Seng dipped 0.54% to 22782.