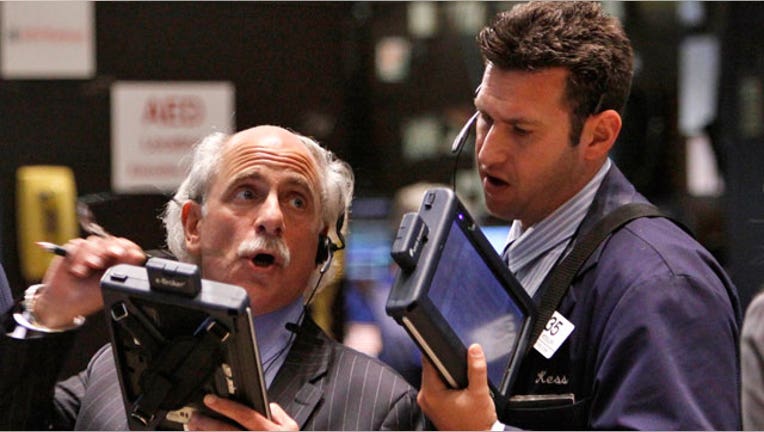 FOX Business: Capitalism Lives Here
After logging a fresh intraday high, the broad S&P 500 ended the day just beneath its record closing high as traders took a bullish position.
Today's Markets
The Dow Jones Industrial Average rallied 104 points, or 0.64%, to 16207, the S&P 500 advanced 11.4 points, or 0.62%, to 1848 and the Nasdaq Composite climbed 29.6 points, or 0.7%, to 4293.
The markets tilted lower last week as traders parsed through generally weaker-than-expected economic data that were said be weighed down by bad weather across the U.S.
However, investors were greeted with good news out of Europe to kick the week off. A reading on German business confidence from the Ifo Institute came in at 111.3 in February from 110.6 the month prior. The data suggest Europe's biggest economy is "holding its own in a changeable global climate," the report said.
Still, not all analyst we bullish. Barry Knapp, Barclay's chief U.S. market strategist, said equities aren't attractive as they stand.
""Despite the weather-related data distortions, our outlook for the equity market hasn't changed much in the first seven weeks of the year," he wrote in a note to clients. "While we believe downside risk is limited, paying a slightly above-average price for somewhat below-average earnings growth implies entry points are critical; we don't find [S&P 500 around] 1840 attractive."
The U.S. data docket fairly light on the day. Former Federal Reserve Chairman Alan Greenspan will be speaking at a conference held by the National Association of Business Economists. His comments generally aren't market moving, but they could garner attention on a quiet day for economic data.
Elsewhere, Netflix (NASDAQ:NFLX) forged a deal with Comcast (NASDAQ:CMCSA) to get direct access to the cable provider's IT systems to ensure customers of the streaming service get high-quality delivery. Netflix has benefited from intense popularity of its original programming with shows like House of Cards and Orange is the New Black.
In commodities, U.S. crude oil futures fell 39 cents, or 0.38%, to $102.92 a barrel. Wholesale New York Harbor gasoline ticked lower by 0.34% to $2.824 a gallon. Gold climbed $9.50, or 0.72%, to $1,333 a troy ounce.