Wall Street Rallies on the Back of Mixed Global Trade Data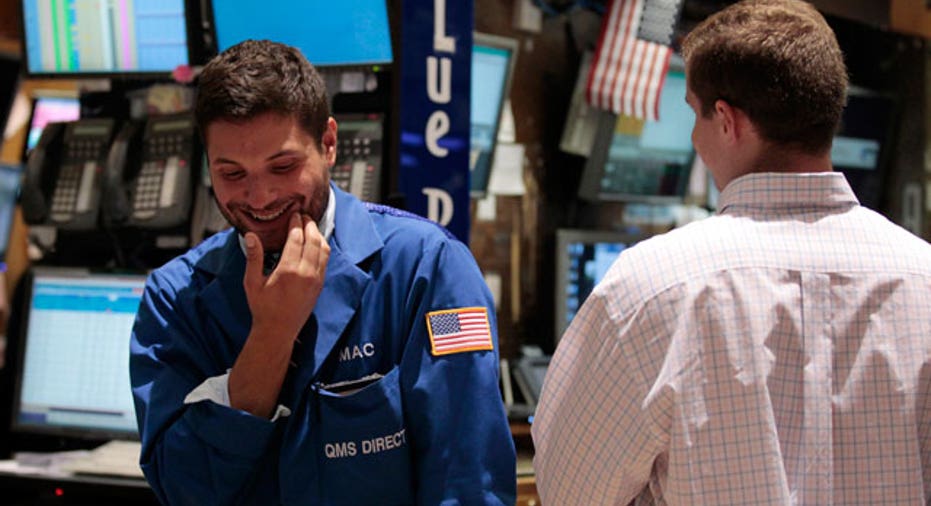 Major averages surged more than 2% on Tuesday as traders in America returned from a long Labor Day weekend to mixed trade data from China and Germany.
The Dow Jones Industrial Average was 388 points higher, or 2.42% to 16491. The S&P 500 gained 48 points, or 2.50% to 1969, while the Nasdaq Composite added 128 points, or 2.73% to 4811.
Industrials, technology, and health care led all ten S&P 500 sectors solidly in positive territory.
Today's Markets
Despite weak trade data out of China, Wall Street got a hefty boost as traders across the globe parsed trade data amid a light economic calendar.
Imports into the world's second-biggest economy tumbled 13.8% from a year ago period in August, a much steeper read than the 8.2% decline economists expected, while exports slid 5.5%, which was better than expected.
While foreign trade deteriorated over the last month in China, Barclays analysts said in a note commodity imports were "relatively healthy," seeing gains on a year-over-year basis including a 5.6% jump in crude oil imports.
"We estimate Chinese crude oil demand growth this year at just 3.8%, with the extra growth largely a reflection of commercial and strategic stockpiling as more storage facilities come online and also China's shift to a net exporter of refined products," the note said.
Markets in the region were mixed at the close of trade on Tuesday. China's Shanghai Composite ended up 2.91%, while Hong Kong's Hang Seng jumped 3.17%. Japan's Nikkei closed down 1.98%.
Offsetting the decline in China was upbeat trade data from Germany, which showed exports hitting a record high in July, gaining 2.4%, while exports jumped 2.4%.
European markets, however, were solidly rooted in positive territory, which added to the momentum in the U.S. The Euro Stoxx 50, which tracks large-cap companies in the eurozone climbed 1.24%. The German Dax added 1.72%, while the French CAC 40 rose 1.18%, and the UK's FTSE 100 gained 1.25%.
David Madden, market analyst at IG, said while global markets are trading to the upside, the trading session will be a test of how long the momentum can last since the rallies in recent weeks have been relatively short lived with not much underlying confidence.
"Chinese economic data has been so disappointing lately, dealers will jump on any remotely positive news to justify their bargain hunting," IG market analyst David Madden said in a note. "Traders have a spring in their step today because it's the first trading session in nearly one week that all the major markets are open after being closed for holidays in China and the U.S."
Elsewhere, in commodities, global oil prices declined as traders weighed China's trade figures against a more positive picture in Germany. U.S. crude oil prices declined 0.24% to $45.94 a barrel, while Brent, the international benchmark rose 3.97% to $49.52 a barrel.
As oil pared losses, so too did gold. The precious metal declined 0.04% to $1,121 a troy ounce, while silver rose 1.45% to $14.76 an ounce. Copper jumped 5.26% to $2.43 a pound.
"The commodity-related companies are enjoying their time in the sun, but the question is how long will it last? Some buyers have come back into the arena on the back of better-than-anticipated Chinese imports numbers, but the big picture is still poor for the sector."
Meanwhile, the dollar was mixed against a handful of global currencies; the euro rose 0.15% against the greenback. The yield on the benchmark 10-year U.S. Treasury bond climbed 0.066 percentage point to 2.193%. Yields move in the opposite direction of prices.
In corporate news, Apple (NASDAQ:AAPL) shares saw a nearly 2% boost ahead of its highly anticipated media event on Wednesday where many are expecting the tech behemoth to give its coveted iPhones a refresh, and perhaps announce a new TV initiative. Streaming rival Netflix (NASDAQ:NFLX), meanwhile, plunged 4%.