Wall Street Leaps on Intervention Hopes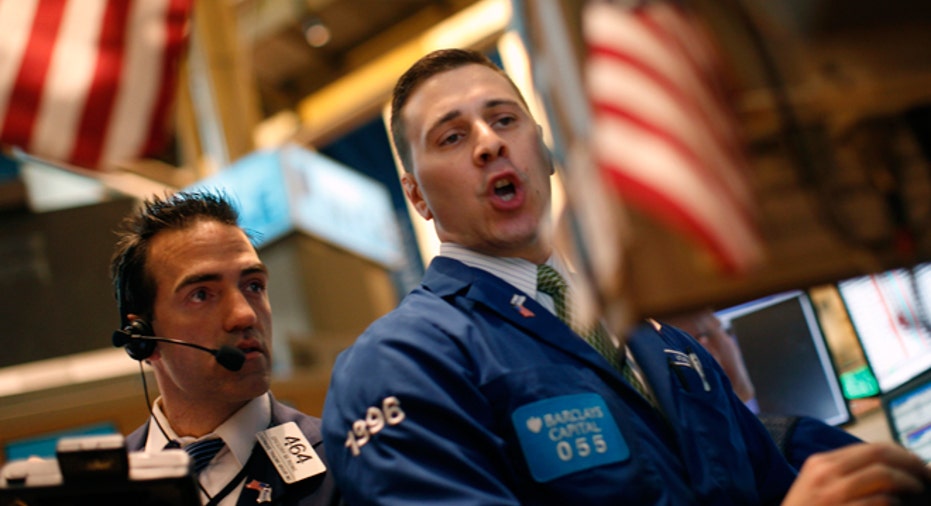 FOX Business: The Power to Prosper
The markets zipped higher on Tuesday in a broad-based rally that was stoked by optimism policymakers will step in to jumpstart the stalling world economy.
Today's Markets
The Dow Jones Industrial Average jumped 95.5 points, or 0.75%, to 12837, the S&P 500 rallied 13.2 points, or 0.98%, to 1358 and the Nasdaq Composite tacked on 34.4 points, or 1.2%, to 2930.
The best-performers on the day were located in the materials, financial, industrial and heath-care sectors.  The rally was broad, with around 90% of stocks on the S&P 500 climbing on the day,according to calculations by FOX Business.
The yield on U.S. debt climbed as traders ditched the safe-haven asset class. The 10-year yield jumped 0.027-percentage point to 1.615%.
Will Gloomy Data Spark Fresh Intervention?
Europe continues to be a major focus for the markets as the debt crisis there begins pervading the embattled continent's core. Business sentiment in Germany, Europe's biggest economy, tumbled the most since 1998 in June, according to the closely-watched ZEW survey. Markets in Europe initially fell on the news, but as has been a trend in recent weeks, rebounded amid hopes it may provide policymakers with an incentive to unleash new easing measures.
Spain also had a short-term debt auction in which it saw robust demand, exceeding its upper target, but at the cost of paying substantially higher borrowing costs than it did at the last auction. The yield on the country's 10-year note eased slightly on the secondary market, recently sitting at 7.16%, which many analysts say is too high to sustain for long without a public-sector rescue.
The Financial Times reported that European Union officials meeting at the Group of 20 summit were discussing utilizing the eurozone's temporary bailout fund, the European Financial Stability Fund, to buy the embattled sovereign debt. However, Reuters reported minutes later that a German official said there was no such discussion. If such an even were to have occurred, it could push yields down because the price of a bond moves in the opposite direction of its yield.
Meanwhile, the New Democracy party that scored a victory in weekend elections in Greece continued working on forging a unity a government on the day. It is expected that such a government would support austerity measures that the European Union and International Monetary Fund demand in exchange for the $219 billion bailout, but there are still many hurdles left.
The Euro Stoxx 50, which tracks eurozone blue chips, rose 0.78%, while the euro climbed 0.36% to $1.2622.
U.S. housing starts fell 4.8% in May to a 708,000-unit rate, according to the Commerce Department, missing economists' estimates of a 720,000-unit rate. Housing permits rose 7.9% to a 780,000-unit rate, the highest since September 2008 and above analysts' forecasts of a 728,000-unit rate. The market for new homes has been particularly slow to recover as a result of high supply, tepid demand and stubbornly tight lending conditions.
Also on the economic front, the Federal Reserve is set to kick off its two-day policy meeting on the day. Economists broadly expect the central bank to hold its monetary policy steady, but there is a growing choir of Fed watchers who think it may unveil a new program to lengthen the maturity of its balance sheet or even offer a new quantitative easing program. The Fed is being confronted with increasingly gloomy economic data, coupled with reports that suggest inflation is broadly in check, increasing calls that it may act.
On the corporate front, FedEx (NYSE:FDX) posted a fiscal fourth-quarter profit of $1.99 a share, excluding items, topping estimates of $1.92. The global shipping giant's sales came in at $11 billion, slightly shy of the $11.13 billion expected. The company also said it expects to earn between $1.45 and $1.60 a share in its first quarter, short of the $1.70 analysts forecast.
Oil futures were slightly to the upside, helped by a weaker dollar. The benchmark crude oil contract traded in New York rose 76 cent, or 0.91%, to $84.03 a barrel. Wholesale New York Harbor gasoline dipped 0.73% to $2.64 a gallon.
In metals, gold fell $3.80, or 0.23%, to $1,623 a troy ounce.
Foreign Markets
The Euro Stoxx 50 rallied 2% to 2198, the English FTSE 100 jumped 1.7% to 5586 and the German DAX gained 1.8% to 6363.
In Asia, the Japanese Nikkei 225 fell 0.75% to 8693 and the Chinese Hang Seng edged lower by 0.06% to 19451.