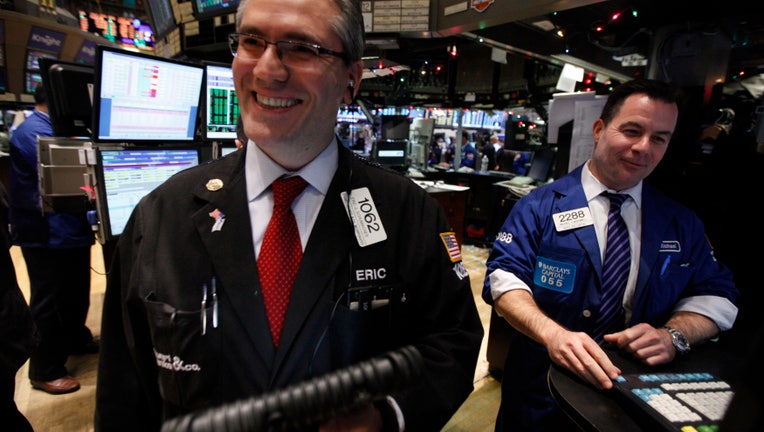 FOX Business: Capitalism Lives Here 
The broad S&P 500 capped off its strongest weekly rally since mid-October and snapped a two-week losing streak after the Fed unveiled mild QE3 tapering plans.
Today's Markets
The Dow Jones Industrial Average climbed 42.00 points, or 0.26%, to 16221.08, the S&P 500 gained 8.92 points, or 0.49%, to 1818.52 and the Nasdaq Composite climbed 46.61 points, or 1.15%, to 4104.74.
For the week, the Dow surged 466 points, or 2.96%, its best weekly percentage gain since mid-September. The Nasdaq advanced 2.59%, while the S&P 500's 2.42% rally was its strongest since mid-October.
After two weeks of selling on concerns about whether the Fed will pare back its vast bond-buying program, Wall Street finally found a reprieve this week. Ironically, it was the unveiling of the central bank's plans -- which was seen by most Wall Street analysts at a continuation of its dovish policies -- that caused this week's jump.
The Dow ended the week with its 47th record closing high of this year alone.
The economic docket was fairly light Friday.
The Commerce Department said the U.S. economy grew at an annual pace of 4.1% in the third quarter, the biggest rise since the fourth quarter of 2011, revised sharply higher than a previous estimate of 3.6%. Economists expected no change to the GDP reading.
On the corporate front, BlackBerry (NASDAQ:BBRY) posted a substantially wider-than-expected quarterly loss, and revealed a deal with manufacturing giant Foxconn to make cheaper devices. Jones Group (NYSE:JNY) shares surged after the apparel maker said it's being bought by Sycamore Partners. Cessna parent Textron (NYSE:TXT) reportedly crafted a deal to acquire luxury plane maker Beechcraft for nearly $1.4 billion.
In commodities, U.S. crude oil futures climbed 28 cents, or 0.28%, to $99.32 a barrel. Wholesale New York Harbor gasoline rallied 1.6% to $2.783 a gallon. Gold climbed $10.10, or 0.85%, to $1,204 a troy ounce.