Wall Street Isn't Buying Harley-Davidson Inc.'s Numbers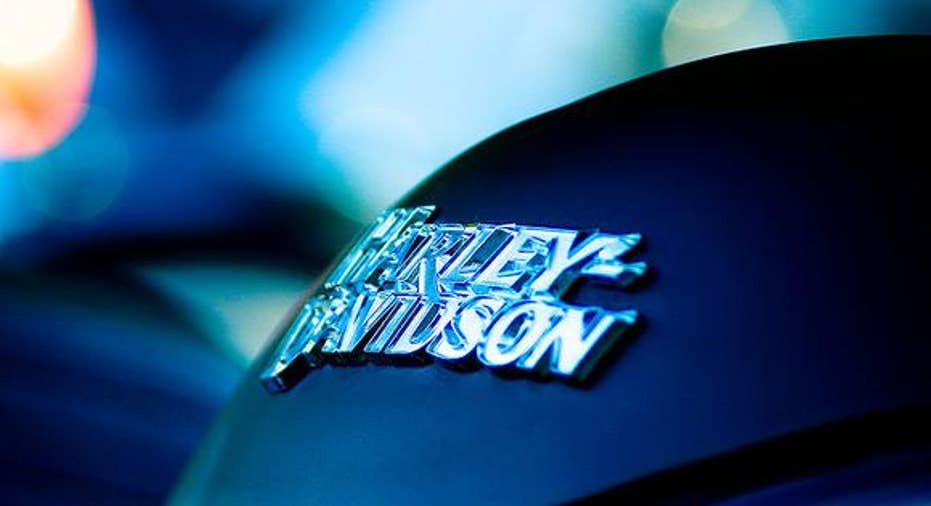 Shares of Harley-Davidson went into a skid after an analyst said he expected the bike maker to report a steep drop in sales. Image source: Michael Gram.
Harley-Davidson's stock tumbled 13% last week after Wall Street said it could no longer buy into the bike maker's rosy outlook and that its main rival was stealing market share from it.
Harley-Davidson's fourth-quarter earnings report gave the company a boost as it seemed to suggest that the company had managed to just make its numbers while providing investors with an outlook that perhaps the worst was behind it. Shipments to dealers were expected to expand 1% to 3% in 2016, rising to as many as 274,000 motorcycles.
That would be a welcome turnaround for the big-bike manufacturer as last year's shipments had fallen to 266,382 bikes. Harley had been devastated by the financial recession that seemingly wiped out its primary target market of middle-aged white males who were willing to pay upwards of $30,000 or more in hopes that some of the Harley-Davidson mystique would rub off on them. Whereas shipments peaked at almost 350,000 bikes in 2006, they plunged to just 210,000 four years later.
Afterwards, Harley mounted a recovery and built them back up to some 270,000 bikes in 2014, still well below its best years but certainly out of the depths it hit during the recession. Yet that's been something of a high-water mark for the company as it has been struggling mightily to maintain the appearance it is still on the road back. For two years running now, Harley-Davidson has shipped extra bikes to its dealers in the fourth quarter even though it's one of its slowest periods for bike sales and its sales numbers didn't justify it.
HOG Sales v ShipmentsCreate your own infographics
By doing so, however, it was able to claim it had made the low end of the threshold it set in its guidance, but even that had itslimits as last year's forecasts had been lowered earlier on.
Part of the problem has been the amazing resurrection of the Indian Motorcycle nameplate by rival Polaris Industries . With a history just as storied and even older than that of Harley-Davidson, Indian has been through several comeback attempts of its own, and it wasn't until Polaris bought the company and reinvigorated its designs that it was able to gain traction.
Sure, it's starting from a much lower point than is Harley, but Polaris Industries reported motorcycle sales surged 67% in 2015 and had even risen 33% in the fourth quarter. While the number of bikes Polaris makes in a year (and that includes the Indian brand, Victory, and its innovative Slingshot three-wheeler) is like a rounding error for Harley-Davidson, it's clear it is stealing market share from its rival.
Harley-Davidson still owns half the big-bike motorcycle market in the U.S. and is in no danger of having the crown stolen, but with its main customer demographic still in hiding, its new growth demo not a sure thing -- though it does appear to have had some success reaching them with the Street 500 and 750 bikes -- and a resurgent rival taking aim at its most popular bike lines, Harley find itself in a hard position.
Which is why when an analyst recently said he expected Harley-Davidson to report that sales fell 7% when it reports first-quarter results this month -- on top of a second analyst saying Polaris was grabbing even more market share -- the market reacted as it did and sent the stock tumbling.
The gains Harley's stock has made since its fourth-quarter report were pretty tenuous to begin with, and investors had been warned that all was not as well as the iconic motorcycle company was portraying. That they panicked at the first sign of trouble buffeting the sales numbers shouldn't be surprising.
There are certainly arguments to be made in Harley-Davidson's favor: favorable trends in foreign markets and the unsustainability of gaining share simply by discounting prices. It isn't in any danger of going out of business, but that doesn't mean investors shouldn't be surprised if there's still a lot more downside to its stock after it finally reports earnings.
The article Wall Street Isn't Buying Harley-Davidson Inc.'s Numbers originally appeared on Fool.com.
Rich Duprey has no position in any stocks mentioned. The Motley Fool owns shares of and recommends Polaris Industries. Try any of our Foolish newsletter services free for 30 days. We Fools may not all hold the same opinions, but we all believe that considering a diverse range of insights makes us better investors. The Motley Fool has a disclosure policy.
Copyright 1995 - 2016 The Motley Fool, LLC. All rights reserved. The Motley Fool has a disclosure policy.