Wall Street Is Racing to Buy Ferrari Stock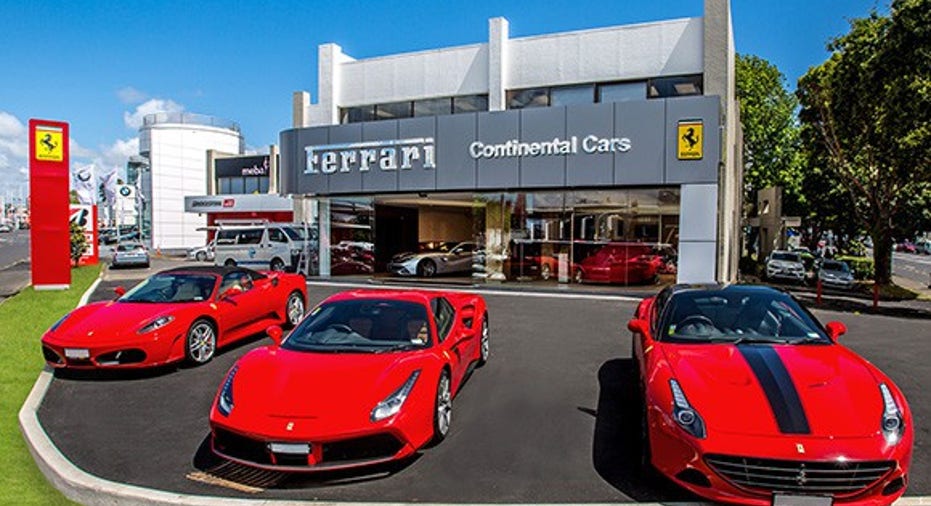 Every day, Wall Street analysts upgrade some stocks, downgrade others, and "initiate coverage" on a few more. But do these analysts even know what they're talking about? Today, we're taking one high-profile Wall Street pick and putting it under the microscope...
Up 68% over the past 52 weeks, Ferrari (NYSE: RACE) stock is off to the races again this morning, winning its second buy rating in as many weeks.
Here are three things you need to know.
Image source: Ferrari.
1. First, regarding last week's rating
Ferrari's latest spurt of good news began last week, when on March 13, investment banker Jefferies & Co. announced it was initiating coverage of Ferrari stock with a buy rating and a $74 price target.
As reported on StreetInsider.com, Jefferies picked Ferrari to outperform the rest of the stock market by growing its profits at twice the rate it grows its sales over the next five years. Priced under $66 per share prior to receiving Jefferies' endorsement, Ferrari has already gained more than 6% -- achieving half of the banker's projected 52-week return in less than two weeks.
2. And now, today's
Such momentum appears to have caught the eye of Jefferies' rival bankers at Citigroup, who this morning issued an upgrade of their own. TheFly.com ran this one down for us, noting that Citi had previously valued Ferrari stock at EUR 48 in value (about $51.75). Taking a second look at the stock today, however, Citi is upping that price target by more than 50%, to EUR 74 (or nearly $80 a share).
3. The whys and wherefores
So why are these bankers becoming so bullish on Ferrari? Citi states it plainly: Ferrari is selling a luxury good into a wealthy market in limited supply, and it has the ability to increase supply without cannibalizing profit. This puts Ferrari in a position to 1. raise its prices, 2. double its unit sales in 10 years, and 3. cut costs -- all at the same time.
As Citi deadpans, this is "relatively unheard of in the auto world." Citi offers the example of one other company that did it, though. Porsche, notes Citi, has over the past 20 years grown its units sold "sevenfold," even as it raised the MSRP on these cars "relative to mass market models."
Citi sees Ferrari doing something similar, noting that while Porsche was septupling its output, Ferrari only doubled its sales since 1997, even as the market of "wealthy individuals" capable of affording a Ferrari has roughly doubled. Market-share wise, therefore, Ferrari basically sat in neutral as Porsche raced ahead. But the enlarged market of well-heeled car buyers means that Ferrari still has the ability to rectify that mistake by ramping output -- and it need feel no pressure to cut prices to grow sales, because its buyers can afford to pay the high price tags.
The most important thing: Valuing Ferrari
Now, even Citi admits that Ferrari is not a cheap stock. Priced above 31 times earnings today, Citi says Ferrari stock sells for a 22% premium to other "Luxury" group stocks, and costs "significantly" more than mass market automakers such as Ford (10 times earnings) and General Motors (less than six times). On the other hand, shares of luxury electric automaker Tesla cost quite a lot and it continues to post losses, so clearly, investors are sometimes willing to pay a premium for a luxury stock.
Are they right to do so? Well, let's consider a few numbers Wall Street has been throwing at us.
According to Citi, Ferrari should be able to double its unit sales over the next 10 years, while at least holding prices steady relative to the rest of the market, and maybe even raising them a bit. That's about 7% annualized sales growth. Furthermore, Jefferies says that for the next five years at least, the company should be able grow its earnings per share "at twice the pace of revenue" growth.
Put those two assertions together, and these two analysts seem to be predicting 14% or 15% annualized earnings growth over the next five years. S&P Global Market Intelligence even goes so far as to assert that growth could average 16.5% over this period. But is this fast enough to justify a price tag of 31 times earnings on the stock?
At first glance, you might not think so, but here's the thing: S&P Global data also confirm that Ferrari is generating far more free cash flow than its income statement lets on. Cash profit last year crossed the finish line at $876 million -- more than twice the company's $421 million in GAAP net profit. So if you value Ferrari stock at market cap ($12.9 billion) divided by free cash flow ($876 million), what you end up with is a stock selling for less than 15 times free cash flow today -- and likely to grow its profits at somewhere between 14% and 16.5% over the next five years.
Throw in a modest 1% dividend yield, and I think that makes Ferrari stock cheap enough to buy.
10 stocks we like better than FerrariWhen investing geniuses David and Tom Gardner have a stock tip, it can pay to listen. After all, the newsletter they have run for over a decade, Motley Fool Stock Advisor, has tripled the market.*
David and Tom just revealed what they believe are the 10 best stocks for investors to buy right now... and Ferrari wasn't one of them! That's right -- they think these 10 stocks are even better buys.
Click here to learn about these picks!
*Stock Advisor returns as of February 6, 2017
Rich Smith has no position in any stocks mentioned. The Motley Fool owns shares of and recommends Ford and Tesla. The Motley Fool recommends General Motors. The Motley Fool has a disclosure policy.