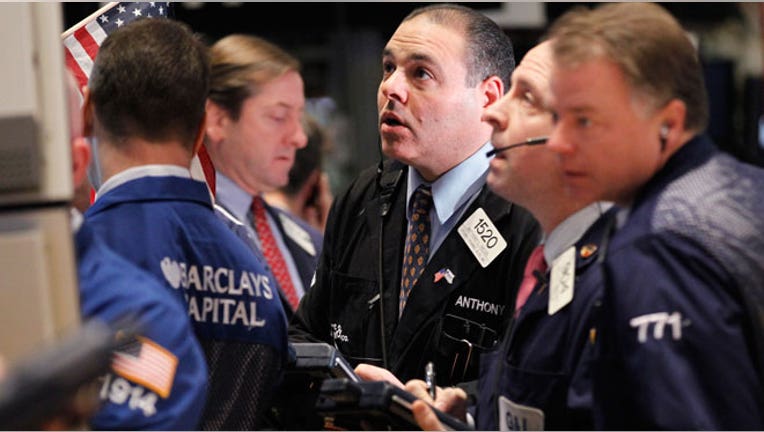 FOX Business: Capitalism lives Here
The broad S&P 500 added a third day to its losing streak -- its longest since June 12 -- as financial and consumer discretionary stocks struggled.
Today's Markets
Accord to preliminary calculations, the Dow Jones Industrial Average fell 46.6 points, or 0.3%, to 15471, the S&P 500 dipped 6.2 points, or 0.37%, to 1691 and the Nasdaq Composite slumped 11.1 points, or 0.3%, to 3655.
It's been a gloomy week for the Street. The Dow and S&P 500 posted their worst two-day losses since late June on Tuesday. The focus has been on the Federal Reserve and corporate earnings.
Tuesday afternoon, Chicago Fed President Charles Evans spooked the markets by saying the central bank will likely begin trimming its massive quantitative easing program at some point this year. Meanwhile, the Bank of England borrowed a page from the Fed's playbook by saying it will hold interest rates at record lows until the unemployment rate hits 7%.
On the corporate front, Time Warner (NYSE:TWX) posted a better-than-expected increase in quarterly sales and profits. AOL (NYSE:AOL) said it will scoop up video ad platform Adap.tv for $405 million.
Citigroup analysts said they are taking a "cautious stance" on the key back-to-school shopping season. They suggested buying bellwether Wal-Mart (NYSE:WMT) to weather the storm.
In commodities, U.S. oil futures were essentially unchanged at $105.29 a barrel. Wholesale New York Harbor gasoline dipped 0.2% to $2.909 a gallon. Gold fell $4.70, or 0.37%, to $1,278 a troy ounce.
Later in the day, traders will get a look at consumer credit conditions from the Federal Reserve. Analysts expect consumer credit to have fallen to $15 billion in June from $19.6 billion the month prior.
Foreign Markets
The Euro Stoxx 50 fell 0.07% to 2789, the English FTSE 100 dropped 0.89% to 6546 and the German DAX slumped 0.48% to 8260.
In Asia, the Japanese Nikkei plunged 4% to 13825 and the Chinese Hang Seng sold off by 1.5% to 21589.