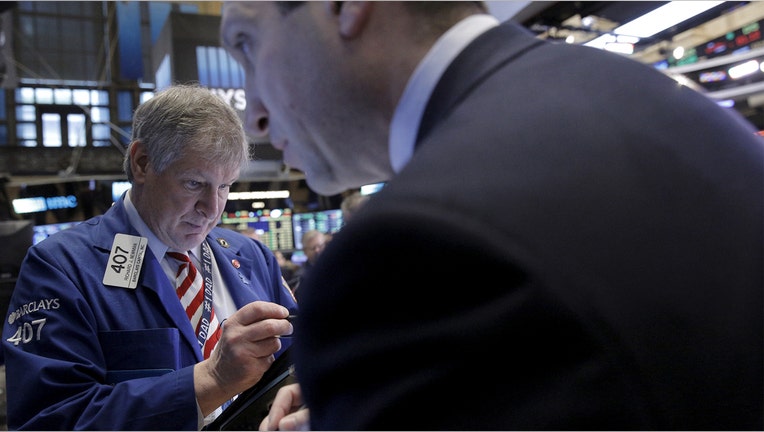 U.S. equity markets were higher Monday as investors digested a slew of global headlines including a cut in reserve ratio requirements for Chinese banks, and disappointment over the conclusion of the G-20 meeting that wrapped up over the weekend.
China Slashes RRRs
The People's Bank of China overnight announced it cut reserve ratio requirements, the amount of depositors' balances banks keep as cash on hand, by a 0.5 percentage point, taking the requirement to 17%. The move was the ninth cut since 2011, and aimed at injecting more liquidity into the struggling economy, which has put downward pressure on global markets. On Friday, China's central bank governor said the PBOC had more monetary policy tools in its belt to deal with downside risks to the nation's economy, which has experienced a slowdown in its manufacturing sector, and grew at a 6.9% pace last year – the slowest growth in 25 years.
On the news, China's Shanghai Composite index closed Monday's session down 2.86%.
Economic Data
In the U.S., traders kept an eye on fresh figures on the health of the economy ahead of Friday's all-important February jobs report.
The Institute for Supply Management-Chicago's gauge of manufacturing activity in the Midwest region handily missed expectations, falling back into contraction territory just one month after rising into expansion. The gauge dropped to 47.6 in February from 55.6 the month prior. Wall Street had expected a much shallower decline to 53 for the month. Readings above 50 indicate expansion, while those below point to contraction.
Meanwhile, pending home sales data from the National Association of Realtors also came in well below expectations. Contracts to buy previously-owned homes dropped 2.5% in the first month of the year, an unexpected decline compared to the 0.5% rise Wall Street had forecasted.
Wall Street has a keen eye on any developments on the U.S. economy as inflation moves toward the Federal Reserve's 2% objective and the labor market continues to improve as wage growth improves. The central bank's policy-setting meeting in the middle of March will be closely watched as markets remain skeptical whether the Fed will continue to keep rates on hold, or opt to hike interest rates after December brought the first increase in nearly a decade.
G-20 Meeting Concludes
A meeting among 20 of the world's finance ministers and central bankers wrapped up on Saturday with a statement that said policymakers should look past ultra-easy monetary policy in order to beef up the global economy.
Those gathered at the meeting in Shanghai agreed to use "all policy tools – monetary, fiscal, and structural – individually and collectively" in order to reach the group's goals for the global economy, though no specific plan was outlined.
Still, leaders at the meeting said volatility that has gripped global markets for the past several months is not indicative of the strength of the world's economic fundamentals.
Oil Rises on Stabilization Hopes
Global oil prices traded higher on Monday after Saudi Arabia said in a statement it wants to work with producers to limit market volatility.
"The kingdom [of Saudi Arabia] seeks to achieve stability in the oil markets and will always remain in contact with all main producers in an attempt to limit volatility and it welcomes any cooperative action," the statement said.
In recent action, West Texas Intermediate crude prices rose 1.34% to $33.22 a barrel, while Brent, the international benchmark, gained 2.42% to $35.95 a barrel.
The comments come two weeks after Saudi Arabia, along with Russia, Qatar, and Venezuela, said they would be willing to discuss capping production at January levels in an effort to stabilize the oil market, which has seen extreme volatility in recent months as global supply far exceeds demand.
Lumber Liquidators Drops
Shares of the hardwood-flooring company dropped more than 8% in pre-market trading after the company posted a fourth-quarter loss of 73 cents a share, down from a profit of 64 cents a share during the same period in 2014. Meanwhile, Lumber Liquidators (NYSE:LL) said total sales dropped 14% during the reporting period to $234.8 million, while same-store sales tumbled 17%.
The results were weaker than anticipated: Wall Street expected a loss of 20 cents a share on revenue of $254 million.
The worse-than-expected performance comes as the company has struggled to right itself after a damning "60 Minutes" report last March that alleged the company sold laminate flooring with harmful levels of formaldehyde. Last week, the company's shares dropped again after regulators said certain types of its laminate are three times more likely to cause cancer than previously reported. The Centers for Disease Control had previously issued a report that said levels of formaldehyde in the flooring could cause minor health issues.