Wall Street Flat Lines Amid Global Data, Earnings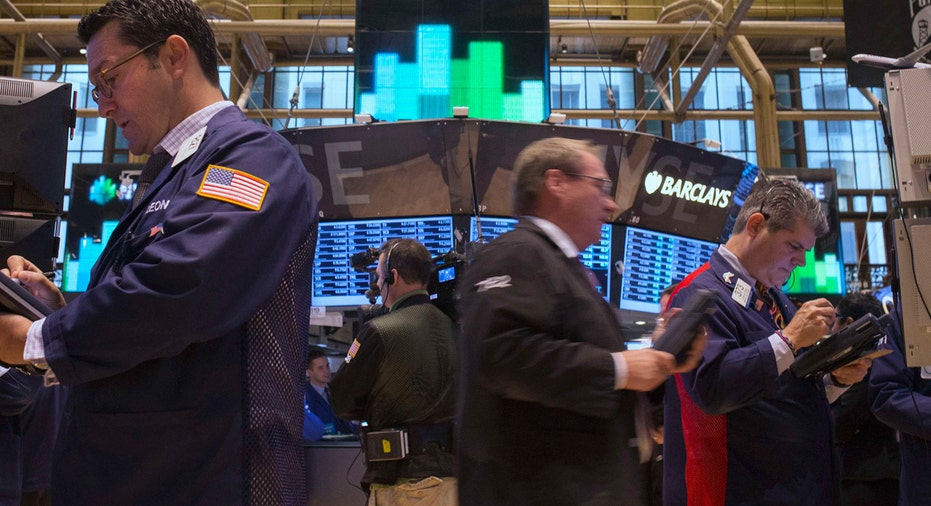 U.S. equity markets were mostly flat as traders digested growth data from China and much worse-than-expected quarterly results from Morgan Stanley (NYSE:MS).
The Dow Jones Industrial Average was 14 points higher, or 0.08% to 17230. The S&P 500 climbed half a point, or 0.03% to 2033, while the Nasdaq Composite rose 18 points, or 0.38% to 4905.
The health-care sector helped boost the Nasdaq. Meanwhile, the energy sector shed the most of any of the S&P sectors as it shed about 2%.
Today's Markets
Wall Street was mixed Monday morning as traders tried to assess what the latest gross domestic product figures out of China overnight meant for the global economy, and how it could affect the Federal Reserve's decision on raising rates in the U.S.
China's National Bureau of Statistics said the world's second-largest economy grew at a 6.9% annualized pace. The figures were better than the 6.8% growth figures expected, but they still showed the slowest growth since 2009, during the height of the financial crisis.
Peter Kenny, market strategist and creator of Kenny's Commentary, said in a note that while the beat might appear modest, it's "enormously important" as China has become the metric measure of global growth and demand.
"Any sign that China's economic growth is not decelerating also provides a degree of support and validation for the policies put in place by Premier Li Keqiang in recent quarters...Very impressively and strategically important, China's service sector [which grew 8.4%] and consumption grew much faster in the quarter than expected, and faster than the manufacturing sector [ up 6%]."
By contrast, though, IG senior market analyst, Chris Beauchamp, said the data won't help prop up a struggling mining sector.
"Big-name mining stocks are in the red again this morning with the sector at its lowest level in nearly two weeks. It looks increasingly like the bounce of early October was a false dawn, and barring some kind of sustained revival in risk appetite, perhaps via fresh monetary stimulus, the sector is heading lower once again," he noted.
The data resulted in a mixed session in Asia. China's Shanghai Composite index finished down 0.14%, while Hong Kong's Hang Seng capped the session up 0.04%, and Japan's Nikkei shed 0.88%.
Over in Europe, markets were mostly flat. The Euro Stoxx 50, which tracks large-cap companies in the eurozone advanced 0.26%, while the French CAC 40 declined 0.03%, the German Dax gained 0.59%, and the UK's FTSE 100 shed 0.40%.
Economic data in the U.S. this week is focused mostly on the housing market with the latest homebuilder sentiment data from the National Association of Homebuilders. The gauge rose to 64 in October, a 10-year high, from 61 the month prior. The reading was above expectations for a rise to 62. Later in the week, traders will get the latest reading on housing starts and existing home sales.
Meanwhile, Federal Reserve Governor Lael Brainard spoke in Chicago on Monday at the Economic Growth and Regulatory Paperwork Reduction Act Outreach Meeting at 10:00 a.m.
The yield on the benchmark 10-year U.S. Treasury bond was 0.005 percentage point higher to 2.03% in recent action.
In corporate news, Morgan Stanley capped third-quarter bank earnings season on a sour note. The nation's second-largest investment bank widely missed expectations for the quarter, sending shares plunging as much as 6%. The firm said its profit declined more than 42% as investors exited the bond, currency, and commodity markets amid rate-hike uncertainty.
Weight Watchers (NYSE:WTW) shares more than doubled on Monday after famed talk-show host Oprah Winfrey took a 10% stake in the weight-loss company and will join the board. Even with Monday's rally, the stock is still down more than 45% year-to-date as the company struggles with membership.
In commodities, oil prices fell solidly lower on China's GDP data and persisting concerns about global oversupply. U.S. crude settled 2.9 % lower at $45.89 a barrel, while Brent, the international benchmark, was down 3.7% to $48.60 a barrel in recent action.
Metals were also lower as gold declined 0.88% to $1,172 a troy ounce. Silver shed 1.76% to $15.83 an ounce, while copper declined 1.6% to $2.36 a pound.