Wall Street Falls as Fed Rate Decision Looms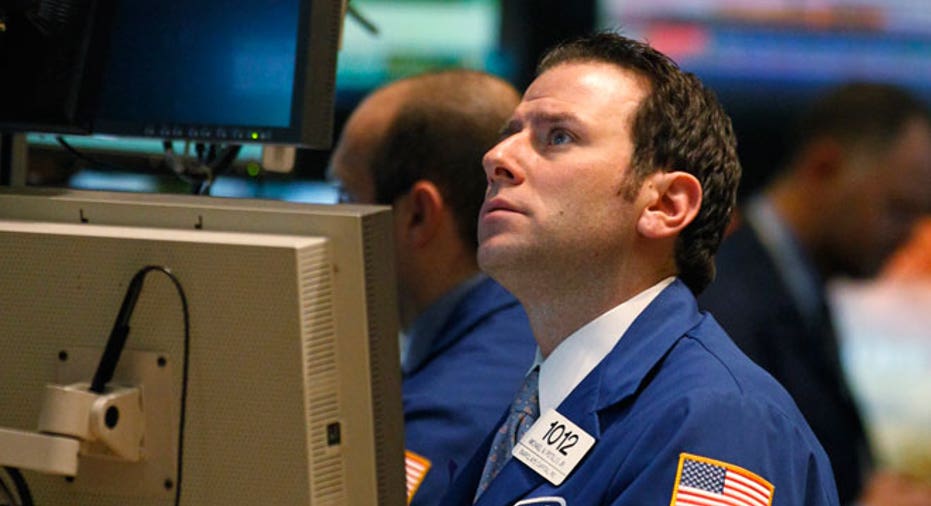 U.S. equity markets ended the session lower on Monday as traders anxiously awaited this week's Federal Open Market Committee meeting.
The Dow Jones Industrial Average fell 62 points, or 0.38% to 16371. The S&P 500 shed 8 points, or 0.46% to 1952, while the Nasdaq Composite declined 16 points, or 0.34% to 4805.
Utilities was the only one of ten S&P 500 sectors in positive territory, climbing 0.25%, as energy and materials lost the most ground.
Today's Markets
Wall Street waited with bated breath for the outcome of the Federal Reserve's two-day, policy-setting meeting this week, which begins Wednesday and ends with a statement on monetary policy the day after. In recent weeks, forecasts for a September rate hike have been ratcheted down to December, or even as far out as March of 2016 thanks to volatile global markets, and uncertainty about how turmoil around the globe could impact the U.S. economy.
"I see a rate hike on Thursday as unlikely given sheer size of moving parts including a mid-selloff stock market, a waning Chinese economy, and multi-year lows in oil with an associated impact upon inflation, jobs, and U.S. growth," Joshua Mahony, IG market analyst, said in a note.
Over the weekend, it was a mixed picture on the economic front for China. Data out of the nation showed industrial production grew at a slower pace than economists forecast, adding to worries about weakness in the world's second-largest economy, which is expected to grow at a 7% pace. However, retail sales for the month of August came in higher than expectations.
On the heels of the data's release, markets in Asia ended the session mixed. China's Shanghai Composite index declined 2.67%, while Hong Kong's Hang Seng rose 0.27%, and Japan's Nikkei shed 1.63%.
Meanwhile, amid gloomy sentiment in China and an uncertain U.S. rate-hike picture, European markets were mixed in the first trading day of the week. The Euro Stoxx 50, which tracks large-cap companies in the eurozone fell 0.26%. The German Dax rose 0.81%, while the French CAC 40 rose 0.06%, and the UK's FTSE 100 shed 0.26%.
"European markets continue to lack any palpable direction as the 'recovery' seen in the past three weeks appears to have hit the buffers," Mahony said. "Understandably, as we draw toward Thursday's long-anticipated Fed meeting, the willingness of traders to hold a position throughout the whole week is going to be lower."
The Fed has repeatedly said it will rely on the health of the U.S. economy as depicted in economic data, and there's no shortage of it ahead of Thursday's announcement. While there were no reports scheduled for release Monday, traders expect the latest reads on retail sales, consumer price inflation and housing starts before the 2:00 p.m. policy statement Thursday.
Meanwhile, in commodities, global crude oil prices declined as a monthly report from the Organization of the Petroleum Exporting Countries, or OPEC, outlined the state of the oil market. U.S. crude prices slid 1.41% to $44.00 while Brent, the international benchmark, declined 3.68% to $46.37.
Gold prices rose 0.40%, trading around $1,107 a troy ounce, while silver declined 0.92% to $14.36 an ounce. Copper fell 1.95% to $2.41 a pound.
Elsewhere, the U.S. dollar was mixed against a handful of global currencies, as the euro declined 0.25% against the greenback. The yield on the benchmark 10-year U.S. Treasury bond declined 0.007 percentage point to 2.190%.
While markets continued to focus mostly on the current economic climate and how it will impact the Federal Reserve's decision-making process, there was a budget fight brewing in Congress that could also impact the central bank's rate decision if it's not resolved in a timely manner. The partisanship on the Hill could result in a government shutdown at the end of the month if both parties can't come together on whether or not it continues to fund Planned Parenthood after controversial videos were released at the start of the summer.
In corporate news, Alibaba (NYSE:BABA) shares tumbled more than 4.5% on Monday after Barron's weekend cover story said the Chinese e-commerce giant's shares could plunge another 50%.
Apple (NASDAQ:AAPL) said pre-orders for its brand new iPhone 6s and 6s Plus were on track to outpace last year's first-weekend sales, which came in at 10 million units. The tech titan's shares were up more than 1% in recent action.
New York State's Department of Financial Services came to an agreement with big banks including Goldman Sachs (NYSE:GS), Deutsche Bank, Credit Suisse and BNY Mellon over the way they keep records of chat messages on Symphony Communications Services service.