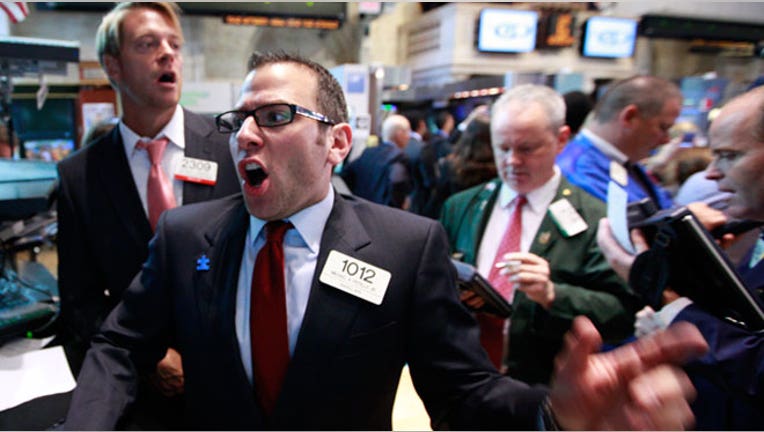 FOX Business: Capitalism Lives Here
Emerging evidence the world economy is picking up steam sent traders rushing into stocks and commodities on Wednesday.
Today's Markets
According to preliminary calculations, the Dow Jones Industrial Average soared 126 points, or 0.81%, to 15625, the S&P 500 jumped 21.1 points, or 1.3%, to 1707 and the Nasdaq Composite rallied 49.4 points, or 1.4%, to 3676.
The rally carried the broad S&P 500 up past the 1700 mark for the first time ever. The narrower Dow also hit fresh record highs.
The Federal Reserve said on Wednesday it would hold interest rates at record lows, and continue buying bonds at a rate of $85 billion a month. The move was followed Thursday morning by the European Central Bank and Bank of England also keeping benchmark rates at a historic lows.
The move comes amid a backdrop of modest improvement for the world economy. China's official PMI report showed the pace of expansion in the manufacturing sector there picking up just slightly in July, with the gauge rising to 50.3 from 50.1. However, a private survey from HSBC indicated the factory sector in the world's No. 2 economy contracted at an even quicker gate in July than the month prior. The metric slumped to 47.7 from 48.2.
The Institute for Supply Management's PMI gauge jumped to 55.4 in July from 50.9 in June, beating estimates of 52. Readings above 50 point to expansion, while those below indicate contraction.
"This can probably be called a 'blow out' number," said Dan Greenhaus, chief global strategist at BTIG. "For manufacturing, the third quarter started on strong footing."
The Labor Department said claims for first-time jobless benefits fell to 326,000 from an upwardly revised 345,000 the week prior. Economists expected claims to rise to 345,000 from an initially reported 343,000. The data come out ahead of the all-important monthly jobs report on Friday. Analysts are expecting continued, but slow, job growth for the world's biggest economy.
On the corporate front, ExxonMobil (NYSE:XOM) revealed second-quarter profits that were well under expectations, paired with slightly better-than-expected revenues. Shares of the world's biggest publicly-traded energy company came under pressure.
Procter & Gamble (NYSE:PG), the consumer products giant, unveiled quarterly results that topped the Street's estimates. Meanwhile, the Big Three U.S. automakers posted solid, double-digit July sales increases. Shares of Ford (NYSE:F) and General Motors (NYSE:GM) both revved up by more than 1% on the day.
Elsewhere, U.S. crude oil futures zipped higher by $2.86, or 2.7%, to $107.89 a barrel. Wholesale New York Harbor gasoline jumped 1% to $3.028 a gallon. In metals, gold fell $1.80, or 0.14%, $1,311 a troy ounce.