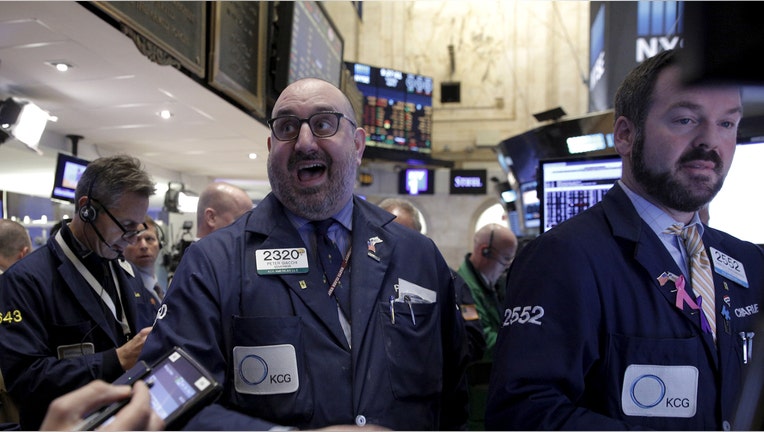 Wall Street looked set to open higher on Monday as a flurry of deal activity boosted investor confidence.
AT&T was down 1.7 percent at $36.84 in premarket trading after the telecommunications company said it would buy Time Warner Inc for $85.4 billion. If approved by regulators, this would be the biggest deal in the world this year. Time Warner Inc was down 0.94 percent at $88.64.
"We're looking at a higher opening today with the M&A activity helping the market," said Peter Cardillo, chief market economist at First Standard Financial.
"The deal activity suggests that companies are feeling positive about the prospects of the economy and that is encouraging. A softer dollar is also helping things a little bit this morning."
Investors will also be parsing through quarterly earnings reports from companies. More than a third of the S&P 500 components are scheduled to report earnings this week, including heavyweights such as Apple and Boeing.
Third-quarter earnings are expected to increase 1.1 percent from a year earlier, according to Thomson Reuters data. Of the 116 S&P companies that have reported earnings so far, 79 percent have beat analyst expectations, above the long-term average of 64 percent.
S&P 500 e-minis were up 9.5 points, or 0.45 percent, with 123,145 contracts traded at 8:24 a.m. ET (1224 GMT). Nasdaq 100 e-minis were up 29.25 points, or 0.6 percent, on volume of 22,036 contracts. Dow e-minis were up 80 points, or 0.44 percent, with 23,063 contracts changing hands.
The dollar index was slightly lower at 98.62 against a basket of major currencies, after touching its highest level since early February last week. A strong dollar could dent the earnings of large multinationals.
The S&P 500 and the Dow closed little changed and the Nasdaq advanced on Friday as a record day for Microsoft and earnings from McDonald's helped offset a fall in energy and healthcare shares.
Genworth Financial was up 1.7 percent at $5.3 in heavy premarket trading on Monday after little-known China Oceanwide Holdings Group pledged $3.8 billion in a deal to take control of the U.S. insurer.
TD Ameritrade rose 0.3 percent to $37.21 after it said it would buy privately held Scottrade Financial Services in a deal valued at $4 billion.
B/E Aerospace jumped 16.6 percent to $59.01 after aircraft component maker Rockwell Collins said it would buy the company in a deal valued at $6.4 billion plus the assumption of $1.9 billion in debt. Rockwell was down 1.3 percent at $83.50.
Oil prices fell on Monday as Iraq said it wanted to be exempt from an OPEC deal to cut production, though losses were capped by Iran saying it would encourage other members to join an output freeze.
A host of Federal Reserve members are scheduled to speak on Monday, including New York Fed President William Dudley, Fed Governor Jerome Powell, St. Louis Fed President James Bullard and Chicago Fed President Charles Evans.
(Reporting by Tanya Agrawal; Editing by Don Sebastian)