Wall St Pares Gains As Retailers Tumble; Crude Oil Soars 6%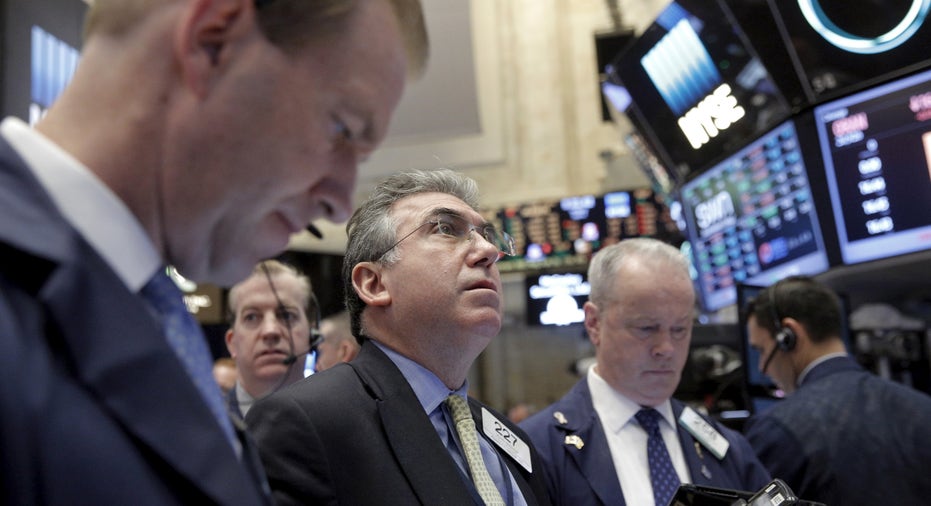 U.S. stocks pared healthy gains Friday as consumer-discretionary stocks, mainly retail and apparel companies like Gap Inc. ,sank, shifting investors' focus to shaky coming quarterly results.
Meanwhile, crude prices were enjoying their best rally since February, aiding a surge in energy companies and offering a countervailing force to the market's laggards.
The S&P 500 climbed 5 points, or 0.3%, to 2,047, led by a 2% jump in the energy sector that was boosted by oil's rally, which held gains after a Baker Hughes report Friday showed rig counts declined a third straight week. Consumer-discretionary stocks were the worst performer, down 0.6% led by a 14% drop in Gap Inc.
The Dow Jones Industrial Average trimmed a 129-point advance to trade 42 points, or 0.2%, higher at 17,581, led by a 1.7% gain in American Express Co. (AXP) and a 1.6% rise in energy giant Chevron Corp. (CVX) but weighed by Nike's.(NKE) 1.4% decline.
A softening Japanese yen helped calm investors' nerves after Thursday's selloff, but the main indexes were still on track to finish the week with sharp losses of over 1%.
Meanwhile, the tech-heavy Nasdaq Composite wove in and out of negative territory, last trading off 6 points, or 0.1%, at 4,840.
Friday's advance came after a downbeat day on Thursday (http://www.marketwatch.com/story/us-stocks-set-to-pause-dollar-crumbles-against-the-yen-2016-04-07), in which stocks slumped as investors shunned assets perceived as risky in favor of haven investments, such as the yen and gold.
Heightened volatility should continue to be the norm in the short term, said Kate Warne, investment strategist at Edward Jones, as Wall Street is torn between concerns about slower global growth that are offset by hopes of a production-freeze agreement in the Organization of the Petroleum Exporting Countries.
Oil's Friday rebound (http://www.marketwatch.com/story/oil-rebounds-but-doha-meeting-remains-a-cloud-on-the-horizon-2016-04-08)boosted the stocks of energy companies like Chevron Corp.(CVX), up 1.7%, Baker Hughes Inc.(BHI), up 4.1%, and Marathon Oil Corp. (MRO), 4%. higher.
Worries about high valuations amid a profit-margin squeeze were the main culprit behind Gap's slide, after the retailer late Thursday said sales fell in March (http://www.marketwatch.com/story/gap-reports-drop-in-march-sales-high-inventory-2016-04-07). Victoria Secret owner L Brands(LB), Under Armour Inc.(UA) and Coach, Inc.(COH) were among the biggest decliners on the S&P 500.
The slump in retailers come just as unofficial start to first-quarter earnings are set to get under way Monday with Alcoa Inc. (AA) on deck.
As investors brace for quarterly results, "uncertainty rises and the most expensive stocks are naturally the first to get hit because they have room to fall," said Christian Magoon, CEO of Amplify Investments, referring to the selloff in consumer-discretionary.
Meanwhile, a weakening yen boosted equities on Friday, as the Japanese currency was at the center of the stock selloff a day earlier, after it jumped to the highest level against the dollar in almost 18-months (http://www.marketwatch.com/story/dollar-slides-to-fresh-18-month-low-vs-yen-as-market-bets-on-no-boj-intervention-2016-04-07) on Thursday. The yen, typically viewed as a safe-harbor asset, gained as fears that global central banks won't be able to fix the sluggish global economy sapped investor sentiment and spurred a flight to perceived safety.
But the yen eased back on Friday (http://www.marketwatch.com/story/dollar-recoups-some-losses-against-yen-after-jawboning-by-japan-2016-04-08) after Japan's finance minister Taro Aso said he may act against what he termed "one-sided" yen rises. Stocks bounced back and gold prices inched lower, another sign that investors were warming up to taking on more risk.
"Traders still remain on high alert amid fears that even though Japanese government officials appear to be ruling out immediate intervention to halt yen aggressive appreciation, the Bank of Japan may take action through monetary policy at its meeting on April 28," said Nawaz Ali, currency strategist at Western Union in a note.
Other analysts expressed concerns about the financial sector, which got hit hard during Thursday's selloff, amid worries about the effects of negative interest rates and energy loan losses on banks' balance sheets. The sector looked set to log a 2.6% loss for the week and was the worst performer on the S&P year-to-date, down 7.3%.
"We can deal with a one-day gut check, but the group's underperformance has been a bothersome phenomenon for a few weeks now. With so many areas moving higher in unison for most of the rally, the SPX's second biggest sector's trouble sticks out like a sore thumb," said Frank Cappelleri, technical analyst at Instinet, in emailed comments.
More Fed talk: Federal Reserve Chairwoman Janet Yellen said the U.S. economy was "on a solid course, not a bubble economy" at a gathering with former Fed leaders after U.S. markets had closed on Thursday (http://www.marketwatch.com/story/yellen-backs-gradual-rate-hikes-at-panel-of-fed-chiefs-2016-04-07).
And New York Fed president said Friday the central bank must maintain a cautious and gradual approach to raising interest rates (http://www.bloomberg.com/news/articles/2016-04-08/dudley-calls-for-cautious-and-gradual-fed-tightening-approach), echoing views about the need for a go-slow approach to rate increases that Yellen expressed last week.
On the data front, U.S. wholesale inventories declined for the fifth straight month (http://www.marketwatch.com/story/wholesale-inventories-fall-for-fifth-straight-month-2016-04-08), offering more evidence that first-quarter growth will be weak.
Other movers and shakers: Under Armour underwent a 2-for-1 split Friday, after the athletic-apparel company issued Class C shares to existing shareholders.
DepoMed Inc..(DEPO) surged 12% after Starboard Value disclosed that the company and its affiliates own 9.8% of Depomed's shares outstanding.
Intercept Pharmaceuticals Inc. (ICPT) tumbled 11.7% after a Food and Drug Administration advisory committee recommended an accelerated approval (http://www.marketwatch.com/story/intercept-shares-rally-on-fda-panel-vote-for-liver-drug-2016-04-07) of the biotech firm's liver treatment Ocaliva.
Shares of Ruby Tuesday Inc.(RT) sank 13.8% after the restaurant operator said its losses deepened in the latest quarter (http://www.marketwatch.com/story/ruby-tuesday-cuts-forecast-as-losses-widen-2016-04-07-174851854), leading to a sharp cut in its annual profit forecast.
Other markets: European stocks markets rose almost across the board (http://www.marketwatch.com/story/european-stocks-rise-on-rebounding-oil-upbeat-german-trade-data-2016-04-08), getting a boost from the rally in oil prices and stronger-than-expected German trade data.
Stocks in Asia ended mixed (http://www.marketwatch.com/story/asian-shares-drop-as-investors-pare-risk-in-wake-of-yens-run-2016-04-08), as investors digested the latest move in the yen.
By Ellie Ismailidou and Sara Sjolin, MarketWatch