Wall St Drops After BOJ Decision; Apple Weighs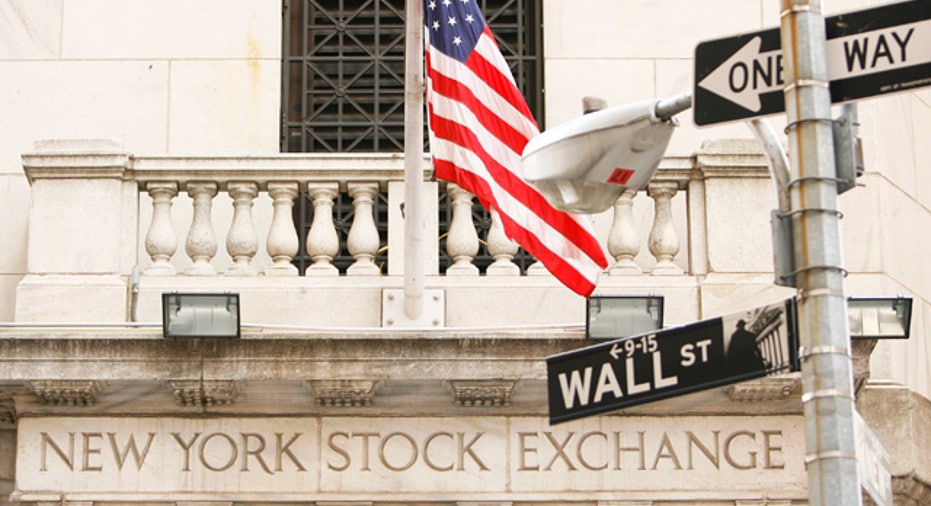 U.S. stocks closed down on Thursday as the Bank of Japan's shocking call to cap monetary stimulus continued to rattle investors while a late day decline in Apple shares on remarks from billionaire investor Carl Icahn added to selling pressure.
The Dow Jones industrial average fell 208.46 points, or 1.16 percent, to 17,833.09, the S&P 500 lost 19.22 points, or 0.92 percent, to 2,075.93 and the Nasdaq Composite dropped 57.85 points, or 1.19 percent, to 4,805.29. (Reporting by Chuck Mikolajczak; Editing by Meredith Mazzilli)
Below is an earlier reported story from Dow Jones.
Dollar tumbles as yen soars; Facebook, DreamWorks surge  U.S. stocks bounced off session lows on Thursday, but the Dow Jones Industrial Average remained below 18,000-mark after data showed the U.S. economy grew at its slowest pace in two years during the first quarter.  The S&P 500 slipped less than a point to 2,094 while the tech-heavy Nasdaq Composite rose 2 points to 4,865.  The Nasdaq also got some support from a 24% surge in DreamWorks Animation Inc. (NYSE:DWA), which soared on an agreement to be acquired by NBCUniversal , a division of Comcast Corp. CMCSA(NASDAQ:CMCSA).  Meanwhile, the Dow Jones Industrial Average dropped 60 points, or 0.3%, to 17,981.  Tepid gross domestic product data in the first quarter has prompted investors to reassess whether the market's current valuation is warranted given muted earnings and slower growth, said Bruce McCain, chief investment strategist at Key Private Bank.  "The retreat reflects uncertainties among investor on whether the fundamentals support what they are paying for stocks," he said.  First-quarter gross domestic product grew only 0.5%, below economists' expectations for a 0.7% growth.  Still, the market is not tanking as much as it should, as there are bright spots in the economy, according to Brad McMillan, chief investment officer for Commonwealth Financial Network.  "The actual news is better than the headline. Consumption spending, for example, beat expectations, so the core of the economy is actually doing better than expected," he said. "This is helping to support [the market] against the nasty surprise from the Bank of Japan, which disappointed investors by not increasing stimulus."  Earlier the BOJ's inaction stunned markets because investors and traders had read comments leading up to the Thursday decision from its policy makers as supportive of further action.  "Looking at what's happening in Japan and in the U.S. today, it feels like central banks have failed us across the globe," said Mark Travis, chief investment officer at Intrepid Capital Funds.  BOJ Governor Haruhiko Kuroda's vow to do "whatever it takes" to boost inflation, sounded like Albert Einstein's definition of insanity--"doing the same thing over and over again and expecting different results," he said.  The BOJ's decision led the Nikkei 225 index to close down 3.6%, its biggest daily percentage loss since early February, while the yen saw a sharp rally. Tech stocks shine  Facebook Inc.(NASDAW:FB) soared over 8%, touching a record high of $120.79 earlier after it posted a 52% surge in revenue late Wednesday.  Amazon.com, Inc.(NASDAQ:AMZN) gained 1.9% after the company said Wednesday it would create 2,000 jobs in New Jersey by opening two fulfillment centers in the state, as the it seeks to broaden its logistics network amid increasing demand.  Overall, this has been a dismal week for technology stocks mainly due to Apple Inc.'s (NASDAQ:AAPL) slump following disappointing results on Wednesday.
A recent shift from growth to value stocks  is spurring part of the pressure on tech names, said Crit Thomas, senior investment strategist at Touchstone Investments.
Economy and the Fed: The BOJ decision comes a day after the U.S. Federal Reserve opted to leave interest rates unchanged but kept its options open for a possible move in June.  Inflation as measured by the Federal Reserve's preferred PCE index rose at a scant 0.3% annual rate in the first quarter. But the core inflation rate that excludes food and energy climbed at 2.1% pace, up from 1.3% in the prior quarter--an increase that could potentially move the Fed closer to its next interest-rate hike later in the year.  On a more positive note, the number of Americans who applied for unemployment benefits remained near a four-decade low, reflecting continuing strength in the labor market.  Stocks to watch:St. Jude Medical Inc.(NYSE:STJ) surged 27% after Abbott Laboratories(NYSE:ABT) said it would buy the medical device maker in a deal valued at $25 billion. Abbot Labs dropped nearly 6%.  First Solar Inc.(NASDAQ:FSLR) shares fell 6.5% after the solar-panel maker's profit fell short of expectations.The company also announced a new chief executive officer.  Ford Motor Co.(NYSE:F) shares rose 3.6% after quarterly results, while Bristol-Myers Squibb Co. (NYSE:BMY) also rallied on earnings. ConocoPhillips(COP) gained more than 2% after posting a loss that was smaller than expected. Colgate-Palmolive Co.(NYSE:CL) rose 3.2% after topping sales expectations and matching on profit.  Gold prices advanced 1.2%, to $1,258 an ounce.