Wal-Mart's Acquisition History Bodes Poorly for Jet.com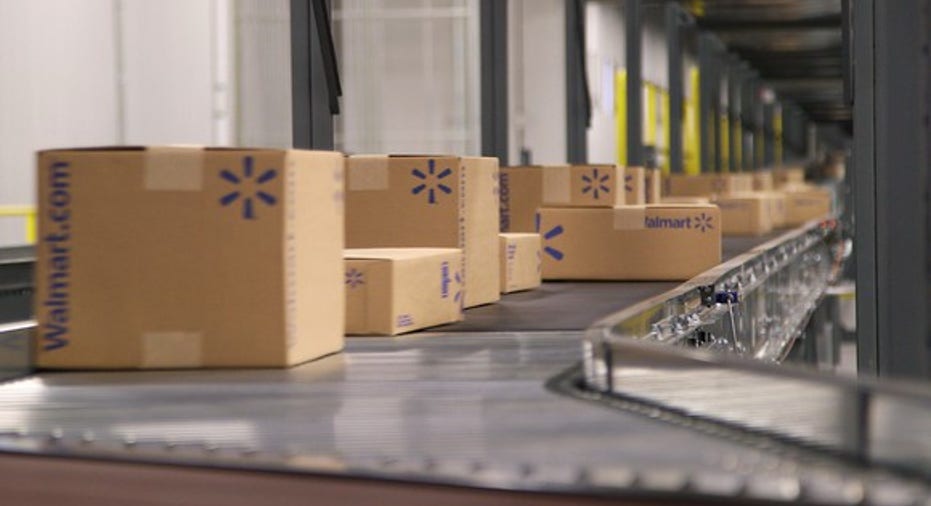 Image Source: Wal-Mart.
In 2010,Wal-Mart Stores, Inc.(NYSE: WMT) acquired Vudu, a "leading provider" of video streaming technology.
At the time, Wal-Mart called Vudu a "revolutionary service" that had licensing agreements with every major studio that allowed its streaming customers to rent or purchase as many as 16,000 movies. This was at the dawn of streaming, beforeNetflix (NASDAQ: NFLX) had split its own streaming service from its DVD-by-mail-plan and beforeAmazon.com(NASDAQ: AMZN) made its own significant push into streaming by bundling its video service with its Prime membership program.
Analysts suspected the move could help Wal-Mart sell more internet-connected TV's, but it was not the retailer's first attempt to break into the entertainment market. In 2004, the company launched its own digital music download store, which flopped, and in 2007 it started a similar video download service withHewlett-Packard, but that was gone within a year.
Unlike Amazon Video or Netflix, Vudu hasn't gone on to bigger things in the streaming arena, despite the backing of the world's largest retailer. Wal-Mart only spent a little more than $100 million on the service, but it arguably could have been a tentpole similar to Amazon's on video service in its Prime membership. Instead, the service is an afterthought, barely worth a mention in Wal-Mart's 10-K report. Unlike Netflix, Amazon, or Hulu, Vudu offers no monthly subscription, making it a poor value when single movie rentals cost as much as $6.
(Mis)adventures in China
In 2011, Wal-Mart invested in Yihaodian, a fast-growing Chinese e-commerce business. Like many American companies, Wal-Mart saw the opportunity in China, predicting that e-commerce sales in that country would overtake those in the U.S. within a few years.
Over the years, Wal-Mart upped its stake in Yihaodian, taking majority ownership in 2012 and eventually taking over the entire company last year. Less than a year after it took full control of Yihaodian, Wal-Mart sold it toJD.com(NASDAQ: JD)this past June. Wal-Mart received a 5% stake in JD.com, which was roughly $1.5 billion at the time of the sale, close to Yihaodian's valuation last year when Wal-Mart bought the remaining 49% of it.
While the deal gives Wal-Mart a stake in one of China's biggest e-commerce players and it will provide for Wal-Mart's namesake brand and Sam's Club, it was seen by most analysts as giving up on the competitive Chinese market that is often difficult for American companies to penetrate.
More broadly, Wal-Mart's traffic in Chinese stores has fallen for several quarters in a row. While Yihaodian's sale to JD doesn't represent a failure in and of itself, it does seem that Wal-Mart's original strategy with that business did not pan out.
Similarly, WalmartLabs, the company's tech division located in Silicon Valley has had mixed result despite making 15 acquisitions in its history.
With Jet.com, Wal-Mart is making its bet on e-commerce growth through another company, spending $3.3 billion. This tidy sum is the biggest amount spent, ever, to acquire an e-commerce business. And it is being spent on a company that has existed for less than a year.
By acquiring Jet, Walmart gains technology and an appealing algorithm. It also gets the brain of Marc Lore, the founder who had previously started Quidsi, the parent of Diapers.com, a company that Wal-Mart coveted but Amazon ultimately bought. However, even before the acquisition, there were signs that such a partnership might not work out, and get saddled by the same bureaucracy that have troubled the company's other acquisitions.
Discussing his own company and the pattern of other tech founders leaving Wal-Mart shortly after their company is acquired, he said in January, "If someone is unhappy here and doesn't see an opportunity for growth, OK, good luck, go to Wal-Mart. I want to prove to myself that a differentkind of culture can work and that you don't have to be like that to be successful."
Lore committed to run Wal-Mart's e-commerce division for five years, an unusually long time, and he would forfeit millions of dollars by quitting early. The question for Wal-Mart now is if it's willing to let its online division be run like a disruptive start-up even if that could mean undermining its own retail empire. The answer this question will likely determine the fate of Jet.com as part of WMT's empire. Unfortunately, if history is any guide, invests shouldn't hold their breath.
A secret billion-dollar stock opportunity The world's biggest tech company forgot to show you something, but a few Wall Street analysts and the Fool didn't miss a beat: There's a small company that's powering their brand-new gadgets and the coming revolution in technology. And we think its stock price has nearly unlimited room to run for early in-the-know investors! To be one of them, just click here.
Jeremy Bowman owns shares of Netflix. The Motley Fool owns shares of and recommends Amazon.com and Netflix. Try any of our Foolish newsletter services free for 30 days. We Fools may not all hold the same opinions, but we all believe that considering a diverse range of insights makes us better investors. The Motley Fool has a disclosure policy.