Wal-Mart's $3.3 Billion Buy Can't Counter Amazon's Greatest Strength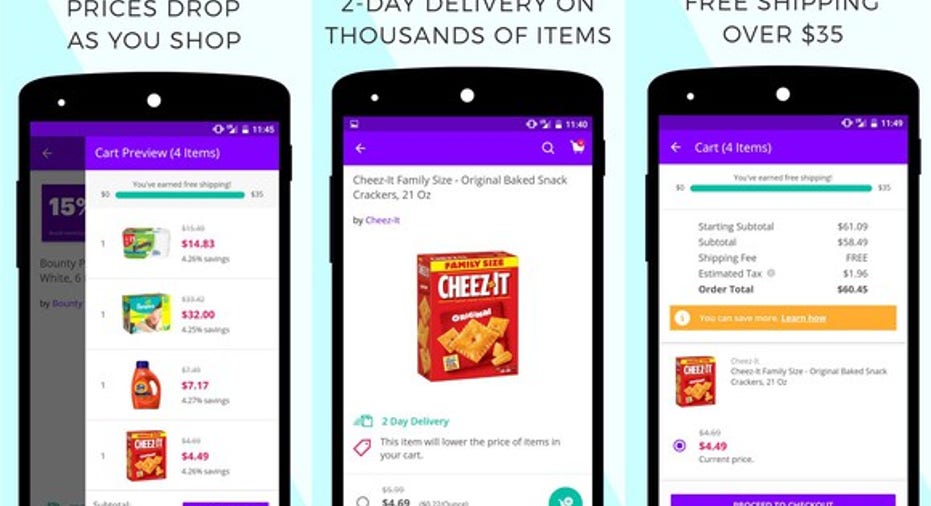 Wal-Mart (NYSE: WMT) recently agreed to buye-commerce start-up Jet.com for $3.3 billion in a pricey attempt to challenge Amazon.com (NASDAQ: AMZN). Jet.com was founded two years ago, and its site is just over a year old. The company initially sold products at break-even prices for a $50-per-year membership fee, but scrapped the model last October, getting rid of the membership fee in favor of generating revenue from commissions paid by retailers.
Jet.com's defining feature is a "Smart Cart" which lowers prices each time you add an item to your cart that resides in the same warehouse as the other items you are purchasing. Eligible items are tagged on the site. This encourage shoppers to purchase items located at a single distribution center, which greatly reduces shipping costs. Users can further lower their bills by paying with debit cards, or opting out of the ability to return their merchandise for free. Jet.com offers free 2- to 5-day shipping on orders over $35 and a $5.99 shipping fee on orders under $35. Wal-Mart claims that Jet.com has been adding about 400,000 new shoppers monthly -- many of them "urban and millennial" customers -- and processes 25,000 orders daily.
Jet's mobile app. Image source: Google Play.
Jet.com's business model is unique and its growth is impressive, but it probably won't add much to Wal-Mart's top or bottom lines. Re/code's Jason delRey estimates that Jet will generate "no more than around $500 million in revenue over the next year," and notes that the company isn't profitable. By comparison, Wal-Mart and Amazon are expectedto respectively generate $487.6 billion and $136.9 billion in revenues this year. Wal-Mart's online sales totaled $14 billion last year.
Wal-Mart plans to keep the Wal-Mart and Jet.com sites and brands separate, but it will likely integrate Jet.com's Smart Cart technology and customer database into its own site and app. Unfortunately, the acquisition of Jet.com still doesn't help Wal-Mart counter Amazon's greatest strength -- Amazon Prime.
Why Amazon Prime is so hard to beat
Amazon introduced Prime back in 2005 as a subscription-based plan that offered free two-day shipping within the contiguous United States. But now, the $99-per-year service has expanded to include free same-day delivery on select items, special discounts, unlimited streaming of shows and movies from Amazon Video, e-books from the lending library, unlimited cloud storage for photos, and various other perks.
Amazon Video. Image source: Amazon.
That all-in-one combination of e-commerce and media platforms locked in a lot of customers. Amazon doesn't say how many, but in early July, research firm CIRP estimated thatAmazon had 63 million Prime members in the U.S. -- an increase of 19 million from the previous June. At that rate, Amazon's paid service added about four times as many new customers as Jet's free service every month. CIRP also estimated that Prime shoppers spent an average of $1,200 last year, compared to $500 for non-members.
Amazon keeps those users tethered to Prime with Dash buttons that let you reorder with a click, appliances that automatically reorder, Fire TV set-top boxes, and its Echo family of smart speakers. The more "frictionless" these orders are -- whether by single button presses, automatically programmed orders, or voice commands -- the more users will depend on Amazon. As a result, Prime members are probably less likely to subscribe to other services promising free shipping for products that they can buy on Amazon.
But Wal-Mart isn't giving up
It seems incredibly tough for Wal-Mart to cross Amazon's moat, but it doesn't plan to give up anytime soon. The retail giant matches Amazon's non-Prime prices, offers a $49-per-year service forfree two-day shipping, heavily promotes in-store andcurbside pickups, and is expanding its digital ecosystem with e-books and streaming video from its Vudu service. Its payment app, Walmart Pay, also offers promotions to shoppers and collects data on their shopping habits.
By integrating Jet.com's proprietary technology into its website and app, Wal-Mart could win over the same "urban and millennial" shoppers who like to use the Smart Cart feature to save money. But if the feature proves popular enough, there's nothing stopping Amazon from launching a similar feature to encourage shoppers to buy more items from the same fulfillment centers. Moreover, Amazon can probably tapinto its AI-powered recommendations engine to offer better suggestions for additional purchases than Jet.com.
Will the Jet.com acquisition be worth it?
If Jet.com generates $500 million in revenues in the coming year, Wal-Mart will have paid more than six times sales for an unprofitable company. That's incredibly high compared to other e-commerce buyouts. Unilever's (NYSE: UL) recent acquisition of Dollar Shave Club valued the start-up at between four and five times sales, but the company said it could be profitable on an EBITDA basis by the end of the year.
The acquisition certainly looks desperate for Wal-Mart. Jet.com might add some useful technologies to Wal-Mart's e-commerce portfolio, but it probably won't turn the tide against Amazon, which seems to have established a nearly impenetrable defense with Prime.
A secret billion-dollar stock opportunity The world's biggest tech company forgot to show you something, but a few Wall Street analysts and the Fool didn't miss a beat: There's a small company that's powering their brand-new gadgets and the coming revolution in technology. And we think its stock price has nearly unlimited room to run for early in-the-know investors! To be one of them, just click here.
Leo Sun owns shares of AMZN. The Motley Fool owns shares of and recommends AMZN. The Motley Fool recommends UL. Try any of our Foolish newsletter services free for 30 days. We Fools may not all hold the same opinions, but we all believe that considering a diverse range of insights makes us better investors. The Motley Fool has a disclosure policy.