Wal-Mart Tries Its Hand at Stunt Food With the Crotilla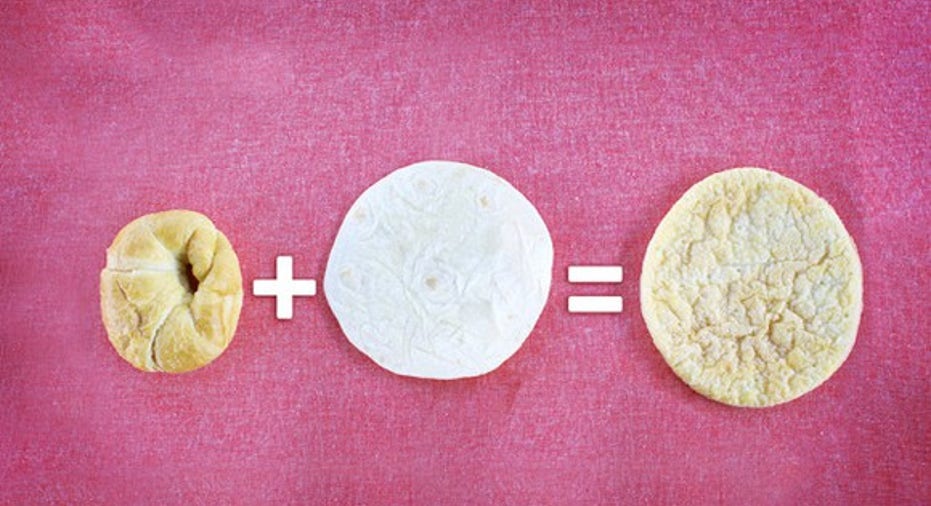 There was a time when during "sweeps" rating periods -- a time once crucial to setting ad rates -- that television shows would "stunt cast" just to get attention. That might mean the regular cast inexplicably bumping into one of the stars of the day (hey, it's Mr. T!). or even whole stunt episodes built around the surviving Gilligan's Island cast or some of the The Brady Bunch showing up. In general, catchphrases would be said, laugh tracks were turned up to 11, and viewers would be happily duped into watching.
The restaurant world has borrowed that phenomenon for stunt food. Starbucks (NASDAQ: SBUX) recently did it with the Unicorn Frappuccino, and chains like Burger King and Taco Bell have made events out of mashing up their menu staples with various snack chips.
Stunt food, however, has become common enough that just because a chain tries something wacky does not mean the American public will care. For every Unicorn Frappuccino-level hit there are at least a handful of Jack in the Box Brunchfasts or Burger King Satisfries that simply do not work.
Even Starbucks struggled to establish a viral sensation with a stunt food offer. The chain tried numerous times before its Unicorn Frappuccino became a hit with equally ridiculous frozen drinks offered for a short time that simply did not connect with customers. Now, Wal-Mart (NYSE: WMT), a company that's hardly at the cutting edge of hip, has decided to take its own try at stunt food, launching what it calls the "Crotilla," which blends a croissant with a tortilla.
The Crotilla is a cross between a croissant and a tortilla. Image source: Wal-Mart.
What is Wal-Mart doing?
The retailer is clearly trying to get attention with its new croissant/tortilla hybrid as it launched the product with a blog post headlined "Best Flatbread 4Evr: Meet the Crotilla, Your Bakery BFF." In the post, written by Wal-Mart Communications staff member Elizabeth Walker, the company says the bakery item "can be used for everything from breakfast sandwiches to Indian food."
Wal-Mart clearly wants to push boundaries while staying familiar, which is not unlike what various Yum! Brands (NYSE: YUM) chains have done with their stunt food. When Taco Bell makes a taco out of Doritos or Pizza Hut stuffs hot dogs in its crust, it's different and people take notice, but it's also easy-to-understand for consumers.
"We wanted to invent something innovative and exclusive to Wal-Mart. We worked with our supplier, Aryzta, to create a mash-up of two products the customer already understands, the croissant and the tortilla, similar to the Cronut sensation a few years back," Wal-Mart senior buyerBradlee Underwood told Walker.
Crotillas will be baked in Wal-Mart's bakeries each day. Underwood made it very clear what the business goal of the product is. "We know customers, especially millennial customers, are hungry for new food trends and cool ways to experience food, and we want to be a destination for that," he said.
Will this work?
Wal-Mart is jumping on a trend and loudly announcing that that's what it's doing. If the Crotilla tastes good, people may buy it. It's possible that existing Wal-Mart customers will be intrigued by the mash-up bakery item, but it's unlikely this will become a sensation that lures in new shoppers.
Still, this is not a bad idea for Wal-Mart, though it's a sort of clumsy execution.It's not particularly hip to have a marketing team brazenly try to attach your brand to whatever the young kids like now. But sometimes it takes a lot of swings to hit a home run. If Wal-Mart builds a reputation for coming up with fun, new stuff, perhaps eventually the elusive millennial audience will come try it.
10 stocks we like better than Wal-Mart StoresWhen investing geniuses David and Tom Gardner have a stock tip, it can pay to listen. After all, the newsletter they have run for over a decade, Motley Fool Stock Advisor, has tripled the market.*
David and Tom just revealed what they believe are the 10 best stocks for investors to buy right now... and Wal-Mart Stores wasn't one of them! That's right -- they think these 10 stocks are even better buys.
Click here to learn about these picks!
*Stock Advisor returns as of April 3, 2017
Daniel Kline has no position in any stocks mentioned. The Motley Fool owns shares of and recommends SBUX. The Motley Fool has a disclosure policy.