Wal-Mart Stores E-Commerce Sales Surge 63%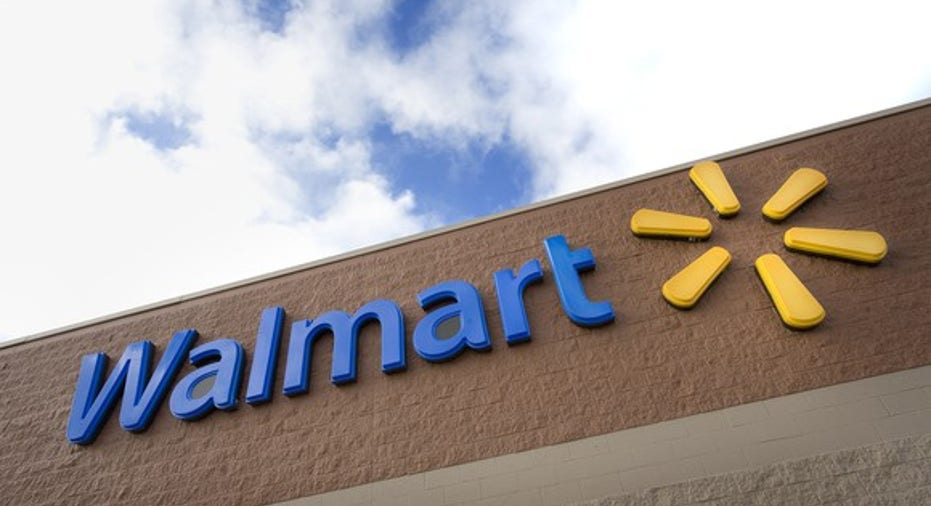 Wal-Mart Stores (NYSE: WMT) reported fiscal 2018 first-quarter results on May 19. The retail giant's e-commerce strategy is gaining momentum, boosted by recent acquisitions and a renewed focus on its online operations.
Wal-Mart Stores results: The raw numbers
| Metric | Q1 2018 | Q1 2017 | Year-Over-Year Change |
| --- | --- | --- | --- |
| Revenue | $117.542 billion | $115.904 billion | 1.4% |
| Operating income | $5.237 billion | $5.275 billion | (0.7%) |
| Earnings per share | $1.00 | $0.98 | 2% |
Data source: Wal-Mart Stores Q1 2018 earnings press release.
Image source: Wal-Mart Stores.
What happened with Wal-Mart Stores this quarter?
Total revenue rose 1.4% to $117.5 billion, and 2.5% on a constant currency basis. U.S. comparable-store sales -- excluding the impact of fuel prices -- edged up 1.4%, driven by a 1.5% increase in traffic.
Fueling these results was a staggering 69% surge in Wal-Mart's e-commerce sales. The retailer moved aggressively in August to acquire fast-growing e-commerce start-up Jet.com for $3.3 billion, and soon after installed Jet co-founder and CEO Marc Lore as head of its U.S. e-commerce business.
Since that time, Wal-Mart has scooped up several other online retailers, including ShoeBuy.com, outdoor gear retailer Moosejaw, and women's apparel seller ModCloth. Wal-Mart is also reportedly in talks to buy e-commerce apparel company Bonobos.
Yet CEO Doug McMillon says that these acquisitions have only supplemented Wal-Mart's strong organic e-commerce growth:
E-commerce sales growth at Walmart U.S. was 63%, the company reported, with the majority organic through Walmart.com.
McMillon went on to note that Wal-Mart.com continues to ramp up its selection of goods, and now has 50 million items for consumers to choose from compared to 10 million a year ago. Additionally, Wal-Mart recently introduced free two-day shipping for orders of $35 or more, and launched a new service that allows customers to order products online and receive a discount for picking them up at its stores.
"We're moving faster to combine our digital and physical assets to make shopping easier and more enjoyable for customers," saidMcMillon during Wal-Mart's earnings call.
Those efforts appear to be succeeding, as evidenced by Wal-Mart's explosive online growth and steady in-store traffic gains. Still, the investments Wal-Mart is making in its digital and store-improvement initiatives are weighing on its margins; first-quarter operating income fell 0.7% year over year to $5.2 billion.
Despite the lower profits, Wal-Mart's cash generation remains strong, with the retail titan generating $5.4 billion in operating cash flow and $3.4 billion in free cash flow in the first quarter. That -- combined with the more than $6.5 billion in cash on its balance sheet -- allowed Wal-Mart to return $3.7 billion to shareholders via dividends and share repurchases.
Looking forward
For the second quarter, Wal-Mart expects comparable-store sales growth (excluding fuel) of 1.5% to 2% for its U.S. locations and 1% to 1.5% at its Sam's Club locations. The company also anticipates earnings per share will be between $1.00 and $1.08.
"We're encouraged with our start to the year," added McMillon. "We have momentum across the business. We're making progress and we know we're on the right track."
10 stocks we like better than Wal-Mart StoresWhen investing geniuses David and Tom Gardner have a stock tip, it can pay to listen. After all, the newsletter they have run for over a decade, Motley Fool Stock Advisor, has tripled the market.*
David and Tom just revealed what they believe are the 10 best stocks for investors to buy right now... and Wal-Mart Stores wasn't one of them! That's right -- they think these 10 stocks are even better buys.
Click here to learn about these picks!
*Stock Advisor returns as of May 1, 2017
Joe Tenebruso has no position in any stocks mentioned. The Motley Fool has no position in any of the stocks mentioned. The Motley Fool has a disclosure policy.