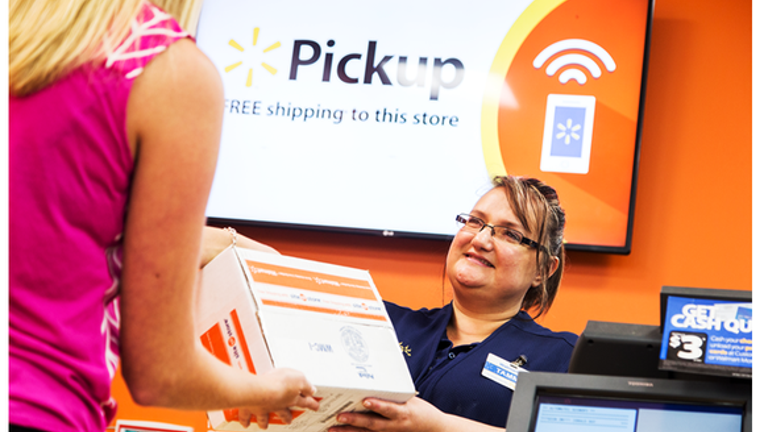 A Wal-Mart employee hands an online order to a customer. Image source: Wal-Mart.
It's no secret that Wal-Mart is in the midst of a transition, as it battles against stiff competition from the likes of Amazon.com and Costco. But is the retail giant's vulnerability reflected on its balance sheet? The slideshow below addresses this question.
Investors will learn three important things by scrolling through the slideshow. First, thanks to its already considerable size, Wal-Mart isn't likely to grow much faster than the rate of GDP, if that. Second, Wal-Mart's current ratio shows that the retailer has enough liquidity to see it through all but the most cataclysmic of economic downturns. And third, Wal-Mart's debt-to-equity ratio shows that the Arkansas-based company is among the most solvent stocks on the S&P 500.
To discover more insights about Wal-Mart's balance sheet, simply scroll through the brief slideshow below.
Slideshow data sourced from YCharts.com on Dec. 9, 2015. Image sources: Wal-Mart, iStock/Thinkstock.
The article Wal-Mart: 3 Insights From the Retail Giant's Balance Sheet originally appeared on Fool.com.
John Maxfield has no position in any stocks mentioned. The Motley Fool owns shares of and recommends Amazon.com and Costco Wholesale. Try any of our Foolish newsletter services free for 30 days. We Fools may not all hold the same opinions, but we all believe that considering a diverse range of insights makes us better investors. The Motley Fool has a disclosure policy.
Copyright 1995 - 2015 The Motley Fool, LLC. All rights reserved. The Motley Fool has a disclosure policy.