'Wages won't keep up:' UK central bank says inflation biting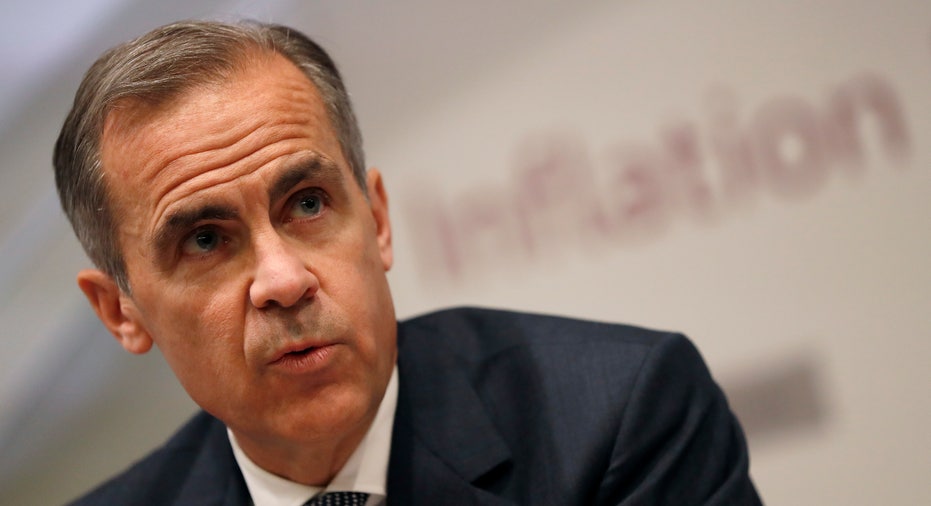 The Bank of England says a rise in inflation driven by the market turmoil over Brexit is starting to hurt consumers, weakening growth and pushing the central bank to keep its interest rates at record lows.
The bank on Thursday kept its main interest rate at 0.25 percent as it noted that the economy will be weaker than expected this year as Britain prepares to leave the European Union.
Since the Brexit vote in June, the pound has fallen as much as a fifth in currency markets, pushing up inflation in Britain. That, in turn, is weighing on consumer spending this year.
"Wages won't keep up with the price of goods and services," Bank Governor Mark Carney told a news conference as he presented new economic forecasts.
The Bank of England predicts the annual inflation rate will rise to 2.7 percent by the middle of this year, up from the current rate of 2.3 percent and pushing the official limit of close to 2 percent. It trimmed its forecast for growth to 1.9 percent from 2.0 percent previously.
The combination of higher inflation and weaker growth puts the Bank of England in a bind. Raising interest rates would help limit inflation but hurt growth by making borrowing more expensive for companies and households.
The Bank of England expects wages to start picking up in 2018 and inflation to ease back down — but only assuming Britain gets a new trade deal with the EU. Britain in March triggered two years of talks on leaving the EU and striking a new trade relationship.
Carney said the central bank did not prepare any forecasts based on the assumption of no new trade deal with the EU, leaving uncertain what the economic impact would be.
"The Bank of England is stuck between a rock and hard place," said Aberdeen Asset Management Chief Economist Lucy O'Carroll. "It has to base its forecasts on a view of the Brexit deal but, with so little to go on at present, it's not an easy judgment. So far, the Bank is sticking to its assumption that Brexit will be "smooth" - a deal will be reached and there will be a transition period from 2019. To say that is far from certain is a huge understatement."
On Thursday, the policymakers erred on the side of caution, particularly after official figures showed economic growth more than halved to 0.3 percent in the first quarter compared with the previous three months. The Monetary Policy Committee voted 7-1 to keep rates on hold, with one member seeking a quarter-point increase.
"Inflationary pressures and uncertainty around Brexit will persist and rushing into a decision now could be dangerous. The Bank of England's verdict shows that they are mindful of the possibility of lower growth as companies put investment on hold in the face of this uncertainty," Kerim Derhalli, CEO of investment app invstr.
In the minutes to Thursday's decision, the bank said that if the economy performs as expected, its interest rates may be raised "by a somewhat greater extent" than is currently expected in financial markets.