VW truck maker Scania hit with $1 billion fine for price fixing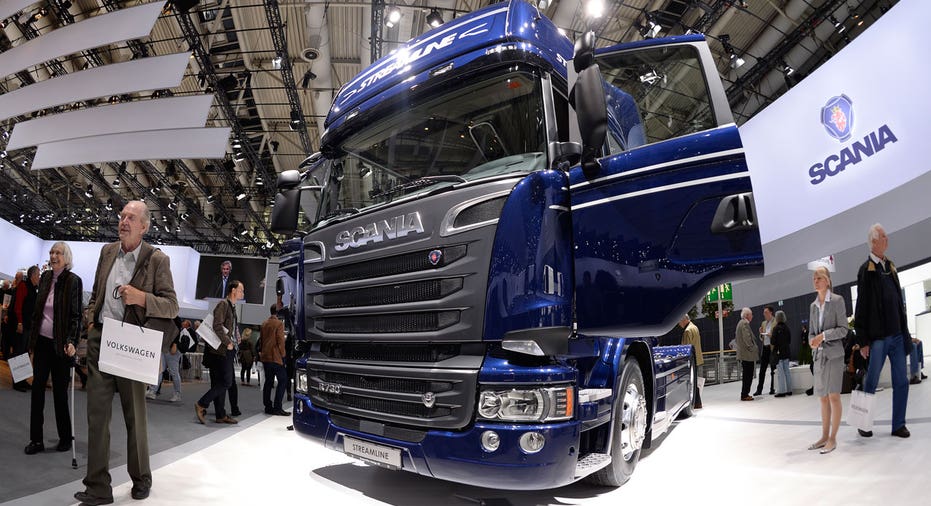 European Union antitrust regulators slapped Swedish truck-maker Scania on Wednesday with an 880 million-euro ($1.03 billion) fine for price fixing with other major producers to rig the market at the expense of consumers.
EU Commissioner Margrethe Vestager, who polices competition, said that Scania had colluded with five other heavy vehicle makers for 14 years to fix truck prices.
"Instead of colluding on pricing, the truck manufacturers should have been competing against each other - also on environmental improvements," Vestager said.
The EU had settled with the MAN, DAF, Daimler, Iveco and Volvo/Renault on the cartel case last year, but Scania refused to cooperate. It says the company could have qualified for leniency if it had helped investigators.
MAN escaped a 1.2 billion euro ($1.33 billion) fine for revealing the cartel, granting it full immunity.
Vestager said previous fines against the other companies on top of Wednesday's announcement add up to a total of 3.8 billion euros, "a record fine for a cartel in the EU's 60-year history."
Without Wednesday addition, the fine slapped on the companies last year was already the biggest and twice as large as the previous record.
Scania maintained its innocence and said it would likely appeal.
"We have not made any agreement with other constructors regarding pricing and we have also delayed the introduction of new engines that meet EU legislation on exhaust emissions," Scania spokeswoman Karin Hallstan told Sweden's TT news agency.'
She added Scania needs time "to review this in its entirety, but if no significant new information has appeared in the investigation, we plan to appeal."
Vestager said it was a clear-cut case with the companies meeting solely to rig the market.
"For the first few years of the cartel, this involved senior managers from the companies' head offices meeting frequently. From 2004 onwards the cartel was organized at a lower level," she said.
She singled out Scania as an active member.