Volatility Vanishes on Wall Street... For Now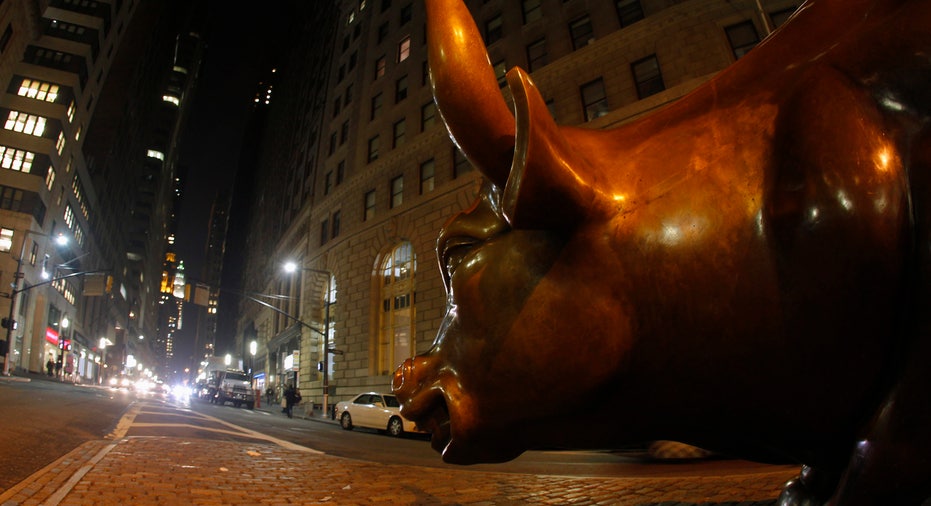 Market prognosticators may have differed on whether or not stocks would rise or fall this year, but almost all of them agreed that the crazy volatility of 2011 would persist.
But despite those fasten-your-seatbelt warnings, the flight so far in 2012 has been surprisingly -- and for some, eerily -- calm.
In fact, Friday marked the first gain or loss of more than 1% since January 3, breaking a 21-day streak of tranquility.
The markets' fear gauge, the VIX, tumbled to as low as 16.10 on Friday -- a new seven-month low. That marks a dramatic 66% plunge from its high of 48 in early August as double-dip fears paralyzed Wall Street.
While turbulence has tumbled, the equity markets have steadily climbed, with the S&P 500 on track for its first five-week win streak in just over a year.
The relative calm that has washed over Wall Street appears to be tied to cautious trading attitudes, historically-low volume and easing strains in the eurozone bond markets.
"It speaks to a theme of real concern and a heightened level of risk awareness. I think institutions and individuals have become very intolerant of putting too much risk on the table without seeing first that the risk is worthy of taking," said Peter Kenny, managing director at Knight Capital Group.
Underscoring the cautious sentiment in the financial markets, trading volumes have been anemic, even by January's relatively quiet standards. Consolidated volume on the New York Stock Exchange last month averaged about 3.8 billion, compared with 4.6 billion in January 2011.
"It's not caution to say, 'Let's get out of the market,' but 'Let's not put more into the market until we see what the data is speaking to,'" said Kenny.
For example, the markets patiently waited for Friday's stronger-than-expected January jobs report before reacting to a week full of choppy economic indicators.
Unlike much of 2011, so far this year Wall Street has been able to mostly shrug off the nonstop flood of conflicting and confusing headlines that emerge each day about Europe's debt mess.
When the European crisis began to spiral out of control last year, "the headlines were so dramatic that it drove shockwaves into the market and volatility exploded," said Kenny. But today, investors have "become more accustomed" to the gloomy news out of Europe, he said.
The markets may be more willing to overlook Europe now because the bond markets are no longer signaling disaster is imminent. For example, the yield on Spanish bonds have receded below the danger-zone threshold of 5% and Italy's yield has slipped below 6%.
While volatility has clearly vanished for the moment, few believe it will stay that way.
"Extended periods of quiet are often rudely interrupted with the unexpected," said Kenny, who predicted volatility will rise some time before the end of the second quarter due to geopolitical events.
The question many investors are now asking themselves is whether this is the calm before the storm or the peace that hits right after a storm has passed?
"I think the bias for the year is positive," said Kenny, pointing to historical trends that indicate a strong January tends to translate to a gain for the whole year.
Frank Davis, director of sales at LEK Securities, said clients seem torn. Some people are saying, "'The sun is out so let me begin to put my furniture back out on my back porch,'" while others are warning, "'No way, be ready to run back inside.'"