Visa, MasterCard, and AmEx: 3 Possible Brexit Buys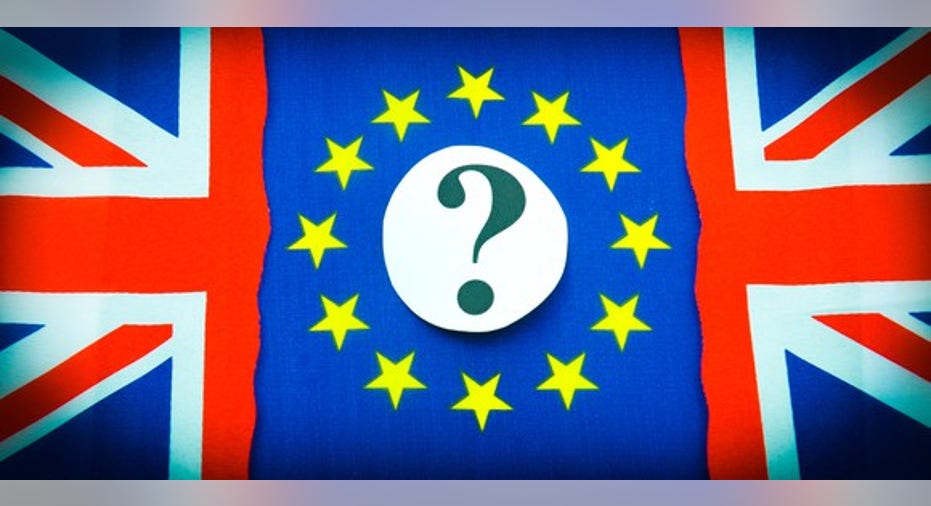 As you've probably heard by now, Britain just conducted a Brexit, and voted to excise itself from the European Union. In one fell swoop, the country decimated the British pound sterling, sent stock markets reeling, and...turned what could have been good news for Visa stock into a potential disaster.
And yet, as reported today on StreetInsider.com, one analyst is taking a hard look at Visa's more-than-6% slidepost-Brexit, and thinking all this selling is a bit overdone. This morning, Atlantic Equities announced it is standing by its previous price target of $92 on Visa stock. And in fact, now that Visa is so much cheaper than it was when Atlantic last rated it neutral, the analyst is taking the logical next step and upgrading it to buy.
Is Atlantic right to do so? Here are three things you need to know.
Did Britain's Brexit vote turn Visa stock into a questionable investment? Image source: Getty Images.
Thing No. 1: "Overweight" on Europe
Last week, Visa announced that it has completed the acquisition of Visa Europe, consolidating those operations with its own to form a card processing powerhouseboasting "17,100 financial institution clients and partners, 40 million merchant outlets, and 3.0 billion Visa cards worldwide," managing "approximately $6.8 trillion in global payments volume annually."
In ordinary times, that would seem to be good news. However, coming as it did just three days before Britain voted to exit the EU -- disrupting the economies of Europe in the process -- a positive news item is now being viewed as a negative for Visa stock.
Thing No. 2: That's a wrong call
Atlantic believes this is the wrong way to look at things. Visa buying Visa Europe was good news before Brexit, and it will remain good news after things settle down on the Continent. As confirmed on TheFly.com this morning, Atlantic argues that Visa will enjoy "several years of accelerated growth from the Visa Europe transaction."
Moreover, in the current "uncertain environment" in Europe, Visa is a way to enjoy "defensive growth," summarizes TheFly. Indeed, even post-Brexit, most analysts who follow Visa stock are still anticipating long-term earnings growth of nearly 16% from the stock.
Thing No. 3: Who you gonna call?
Even assuming Atlantic is right about that, though, could it be there are even better calls to make post-Brexit? After all, while Visa stock is down 6% since the UK referendum, rival MasterCard stock lost 7% of its market cap post-Brexit, and American Express is down nearly 10%.
For that matter, over the past year, Visa stock is up 9% against declines of 5% for MasterCard and 26% for American Express -- which continues to be dogged by the consequences of Costco taking its business away from AmEx, and giving it to Citigroup and Visa instead.
Couldn't that imply that there's more value to be had in MasterCard and American Express stock, than in that of Visa?
The most important thing: Valuation
In fact, I'd argue that is precisely the case. Consider: Atlantic Equities calls Visa a "defensive growth" investment because of its 16% growth rate. But given that Visa stock costs more than 26 times earnings even after Brexit, I look at the resulting PEG ratio of 1.6 and struggle to see much value there at all.
Fact is, MasterCard at 27 times earnings, with a slightly higher growth rate according to analysts quoted on Yahoo! Finance, looks to be similarly valued to Visa -- but you don't seeAtlantic Equities rushing out to recommend MasterCard. (And for good reason. MasterCard is overvalued, too).
When you get right down to it, though, the "credit card stock" that looks most like a bargain to me today isn't either MasterCard or Visa -- but American Express. Here we have a brand name stock that's fully as respected as Visa or MasterCard, but selling for just 11.4 times earnings, which is half of what the two pure-play processors cost. True, American Express isn't growing as fast -- just 8.3% projected according to Yahoo! Finance. But it pays a much better dividend -- 1.9%, which is more than the dividend yields on MasterCard and Visa combined.
At a total return ratio of just 1.1, I think American Express stock may be closer to bargain territory than either Visa or MasterCard.
The article Visa, MasterCard, and AmEx: 3 Possible Brexit Buys originally appeared on Fool.com.
Fool contributorRich Smithdoes not own shares of, nor is he short, any company named above. You can find him onMotley Fool CAPS, publicly pontificating under the handleTMFDitty, where he currently ranks No. 278 out of more than 75,000 rated members.The Motley Fool owns shares of and recommends MasterCard and Visa, and recommends American Express. Try any of our Foolish newsletter services free for 30 days. We Fools may not all hold the same opinions, but we all believe that considering a diverse range of insights makes us better investors. The Motley Fool has a disclosure policy.
Copyright 1995 - 2016 The Motley Fool, LLC. All rights reserved. The Motley Fool has a disclosure policy.