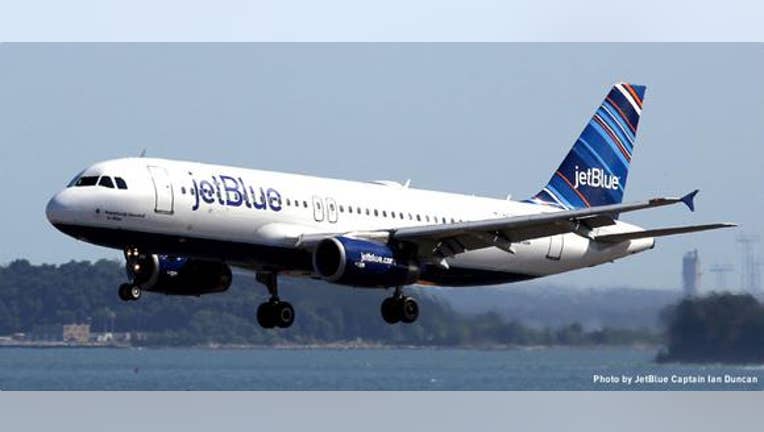 For established airlines benefiting from the windfall of low fuel prices, buying back stock has been a no-brainer. However, for younger, fast-growing airlines like JetBlue Airways and Virgin America , the calculus isn't so simple.
Both JetBlue and Virgin America racked up big liabilities -- whether in the form of debt or operating leases -- to expand their fleets in recent years. As a result, they must balance their need for debt reduction with their desire to return cash to shareholders.
Young airlines like Virgin America often have high debt and lease liabilities. Photo: Virgin America
For now, JetBlue has opted to focus on debt reduction. By contrast, Virgin America is likely to start returning cash to shareholders this year, probably through a share repurchase program.
JetBlue attacks its debtJetBlue grew extremely rapidly in its early life. However, for most of the past decade, its profitability has been constrained by high fuel prices and the impact of the Great Recession on demand for air travel. As a result, its debt burden exploded.
By the end of 2011, JetBlue had more than $3 billion of debt. Including the value of its aircraft leases, adjusted debt was closer to $4 billion. This represented a significant liability compared to JetBlue's2011 revenue of $4.5 billion and operating income of $322 million.
Since then, however, JetBlue has been steadily reducing its debt and lease obligations. In addition to making its scheduled payments, JetBlue has been retiring debt early, using cash to buy out some leased aircraft, and paying cash for new airplanes rather than financing them..
By the end of 2015, JetBlue had less than $2 billion of debt on the books. Its aircraft rent has also been declining, albeit at a slower rate. Meanwhile, operating income has soared, reaching $1.2 billion last year.
JetBlue has paid off a lot of debt in the past few years. Photo: JetBlue Airways
JetBlue's debt and lease obligations are very manageable now. However, the company has about $450 million of debt maturing in 2016, and plans to use most of its free cash flow to pay down that debt this year. As a result, JetBlue probably won't start a meaningful dividend or share repurchase plan until 2017.
Virgin America also wants to reduce net debtLike JetBlue, Virgin America racked up huge debt and lease obligations in its first few years of existence. The company raised enough money in its 2014 IPO to pay off most of its obligations, and it ended 2015 with about $200 million of debt.
However, nearly all of Virgin America's planes are leased, and the company's aircraft rental expenses totaled $184 million last year. That's equivalent to roughly $1.3 billion of debt, using an industry-standard adjustment technique. This is quite high relative to Virgin America's 2015 revenue of $1.5 billion.
As a result, Virgin America is very interested in reducing its lease obligations. However, nearly all of its aircraft leases extend until 2020 or beyond. Its aircraft lessors haven't been interested in negotiating lease buyouts, either, given that Virgin America is a very profitable customer for them right now.
Why not return cash to shareholders?Thus, Virgin America doesn't have much debt and it probably won't be able to reduce its sizable lease obligations until 2020 and beyond. Meanwhile, it has nearly $500 million of cash sitting on its balance sheet, equal to 32% of trailing revenue. That's a significantly larger cache of cash than most airlines keep on hand.
Virgin America is leasing its first 10 A321neos. Photo: Virgin America
Furthermore, Virgin America has lined up financing for all of its aircraft deliveries for the next three years. While the company considered following JetBlue's example by paying cash for some of its new planes, it quickly decided to take advantage of the low-interest-rate environment to finance its 2016 deliveries at an average interest rate of less than 5%.
Virgin America generated operating cash flow of almost $200 million last year, and that figure is set to rise in 2016. Since all of its aircraft deliveries for the next three years are financed and there aren't many near-term debt reduction opportunities, Virgin America will have to decide between adding to its already large cash stockpile and returning cash to shareholders.
It's pretty clear which option the company will choose. On Virgin America's recent earnings call, both CEO David Cush and CFO Peter Hunt stated unequivocally that it did not make sense to hold large unused cash balances.
Thus, unless some unanticipated debt-reduction opportunities crop up this year, Virgin America is likely to launch a sizable capital return program within the next few quarters. This will allow it to reward investors now before shifting its focus to debt reduction (including lease buyouts) a few years down the road.
The article Virgin America Inc. May Return Cash to Shareholders Soon originally appeared on Fool.com.
Adam Levine-Weinberg owns shares of JetBlue Airways and Virgin America and is long January 2017 $17 calls on JetBlue Airways and long June 2016 $25 calls on Virgin America. The Motley Fool recommends Virgin America. Try any of our Foolish newsletter services free for 30 days. We Fools may not all hold the same opinions, but we all believe that considering a diverse range of insights makes us better investors. The Motley Fool has a disclosure policy.
Copyright 1995 - 2016 The Motley Fool, LLC. All rights reserved. The Motley Fool has a disclosure policy.