Virgin America Fans Should Give Alaska Airlines a Chance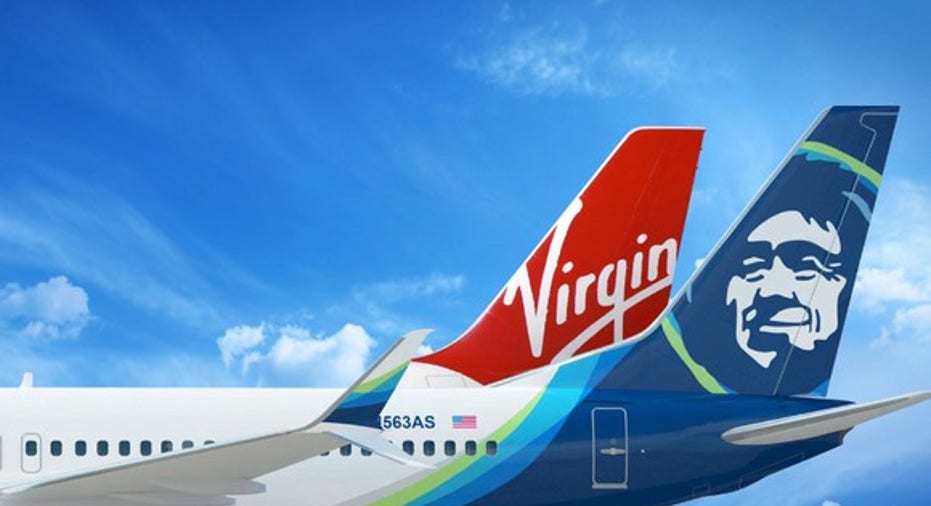 Ever since Alaska Air (NYSE: ALK) won the bidding for smaller rival Virgin America last year, it has been pretty clear that the Virgin America brand was destined to disappear.
That didn't make it any easier for hardcore Virgin America fans -- or Virgin Group founder Richard Branson -- to accept Alaska Air's formal announcement that it will retire the Virgin America name in 2019. Indeed, many fans of the brand expressed extreme disappointment and said they have no interest in flying Alaska Airlines.
Many Virgin America fans are fiercely loyal to the brand. Image source: Virgin America.
Virgin America enthusiasts still have two more years to enjoy their favorite airline. But when it goes away, they should reconsider their disdain for Alaska Airlines. Whatever its faults, Alaska is one of the best-run airlines in the world -- and provides excellent customer service.
Why customers love Virgin America
Virgin America fans typically rave about the company's upbeat, engaging brand. They also like some of its high-tech amenities, like the signature pinkish-purple mood lighting on its planes and its interactive touchscreen system that can be used for everything from in-flight entertainment to chatting with other passengers to ordering food and drinks.
Understandably, Alaska Air wants to incorporate some of these features into its own brand. Its planes will be fitted with blue mood lighting. The carrier will have music playing on its planes as passengers are boarding -- as well as at its gates and ticket counters. Customers can also now use several messaging apps for free during Alaska Airlines flights.
However, another aspect of Virgin America's appeal has been its reliability. In the first four years that its performance was measured in the annual Airline Quality Rating report, Virgin America took the No. 1 spot each time. During those same years (2012-2015), Alaska Airlines never placed higher than No. 5.
Alaska Air just surpassed Virgin America
The Airline Quality Rating study measures airlines' performance based on four key metrics of interest to customers: on-time performance, mishandled bags, involuntary denied boardings, and the rate of official complaints filed by passengers with the Department of Transportation.
Virgin America's dominance of the rankings has stemmed from two key factors. First, since it takes a very selective approach to overbooking, it bumps customers from flights very infrequently. Second, because most of its customers are flying point-to-point, it doesn't have to transfer many bags between planes, which is the main cause of lost baggage. As a result, it mishandles very few bags.
Alaska Airlines just surpassed Virgin America in the airline quality ratings. Image source: Alaska Airlines.
However, in the most recent edition of the Airline Quality Rating report, Virgin America was knocked out of the top spot. The new winner is -- you guessed it! -- Alaska Airlines, which just beat out Delta Air Lines. Virgin America moved down to the No. 3 spot -- still a solid showing.
Alaska's big move up the rankings in 2016 was driven entirely by a huge improvement in its baggage performance. Last year, it mishandled just 1.64 bags per 1,000 customers, down from 3.36 per 1,000 customers in 2015. This was the best baggage handling performance of any carrier with significant hub operations. (That said, Virgin America continued to have the best overall baggage performance, with 1.03 mishandled bags per 1,000 customers.)
Virgin America also continues to bump far fewer passengers than Alaska Air. However, its flights were late almost twice as often as Alaska Airlines' flights during 2016. Additionally, Virgin America's customers were almost four times more likely to lodge official complaints with the DOT as Alaska Airlines customers.
Operational mastery is important
Alaska Airlines' strong showing in the 2016 Airline Quality Rating study is a testament to its operational excellence. Even when Alaska has to bump customers off its flights, they rarely seem to complain to the DOT -- presumably because the carrier still gets those customers to their destinations relatively soon.
By contrast, while most customers love flying Virgin America, it experiences more customer complaints than the industry average. This indicates that when problems do occur, the carrier has had more trouble resolving them than Alaska Airlines.
Furthermore, while this is Alaska's first year at the top of the Airline Quality Rating study, it has been winning other customer service awards for many years. Indeed, it has been named the best traditional carrier by J.D. Power for nine consecutive years.
Some Virgin America fans are so devoted to the brand that they may never forgive Alaska Air for doing away with it. Others may find Alaska's attempts to incorporate aspects of Virgin America's passenger experience into its own brand to be clunky, like a parent trying too hard to be cool.
However, Alaska's strong customer service metrics and its commitment to get even better shouldn't be taken lightly. Loyal Virgin America fliers should at least give Alaska Airlines a chance before writing it off as just another "blah" airline.
10 stocks we like better than Alaska Air GroupWhen investing geniuses David and Tom Gardner have a stock tip, it can pay to listen. After all, the newsletter they have run for over a decade, Motley Fool Stock Advisor, has tripled the market.*
David and Tom just revealed what they believe are the 10 best stocks for investors to buy right now... and Alaska Air Group wasn't one of them! That's right -- they think these 10 stocks are even better buys.
Click here to learn about these picks!
*Stock Advisor returns as of April 3, 2017
Adam Levine-Weinberg owns shares of Alaska Air Group and Delta Air Lines. The Motley Fool has no position in any of the stocks mentioned. The Motley Fool has a disclosure policy.