Vipshop Stock: Next Stop, $17?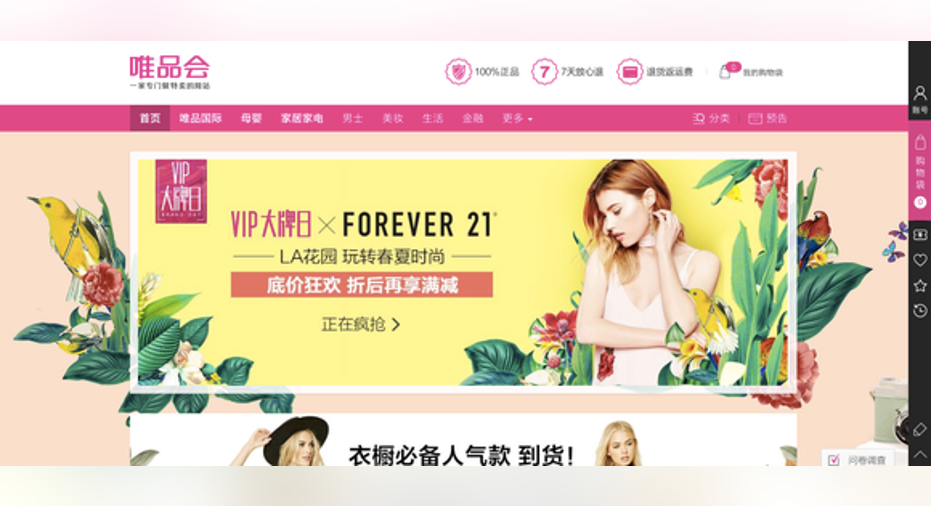 Vipshop Holdings(NYSE: VIPS)is on the comeback trail. The Chinese online discounter is on its fourth consecutive month of gains, and at least one Wall Street pro sees the shares moving even higher.
Pacific Crest initiated coverage on Vipshop with an overweight rating. The analyst is also slapping a $17 price target on the stock, translating into 23% more upside as of Wednesday's market close. Hitting Pacific Crest's price target would send Vipshop stock to levels last seen this past summer.
Image source: Vipshop Holdings.
Back in fashion
Vipshop offers flash sales on brand-name apparel and accessories. The daily deals niche has fallen out of favor in the U.S. market in recent years, but business is still booming for Vipshop in China.
The online deal maker is coming off another period of healthy financials. It saw revenue climb 37% to $2.73 billion in its fiscal fourth quarter, ahead of the 30% to 33% top-line growth that it was modeling in its earlier guidance. Adjusted earnings rose 31% to $139.7 million or $0.23 per share. Analysts were only expecting a profit of $0.21 a share on $2.67 billion in revenue.
Beating Wall Street forecasts is old hat for Vipshop. It managed to land ahead of analyst profit targets in each and every quarter of 2016.
| Quarter | EPS | Estimate | Beat |
| --- | --- | --- | --- |
| Q1 2016 | $0.15 | $0.14 | 7% |
| Q2 2016 | $0.16 | $0.14 | 14% |
| Q3 2016 | $0.15 | $0.14 | 7% |
| Q4 2016 | $0.23 | $0.21 | 10% |
Data source: Yahoo! Finance.
Consistently exceeding analyst bottom-line expectations didn't light a fire under the stock last year. Vipshop was once a dot-com darling, achieving the rare feat of more than doubling in 2012, 2013, and again in 2014. The stock went on to tumble 22% in 2015 and slide by 28% last year.
The market had soured on Vipstock, and whenBernstein analyst Bhavtosh Vajpayee initiated coverage of the stock in early January, he went with an underperform rating and a bleak $10 price target. Thankfully, it seems as if Vipshop won't be following up three consecutive years of triple-digit percentage gains with three straight years of double-digit percentage declines. Vipstock is trading 25% higher year to date through Wednesday's close.
Growth continues to decelerate at Vipshop. The 37% top-line spurt it generated during the fourth quarter is actually its weakest year-over-year growth since going public in early 2012. It sees net revenue rising by 26% to 30% for the current quarter. Vipshop has historically provided conservative guidance. We saw how its public forecast of 30% to 33% growth for its previous quarter translated into 37% in revenue growth. However, it will likely once again be its weakest period of growth.
Vipshop is still impressive. Its active customer base has expanded by 39% to 27.5 million over the past year. The stock is also attractively priced at less than 17 times this year's projected earnings. There are obviously risks when buying into Chinese dot-coms -- particularly the flash sales niche that has struggled to sustain its popularity in large chunks of the planet -- but Vipshop continues to grow on both ends of the income statement at a clip much higher than its earnings multiple. The discounter is now a discount itself.
10 stocks we like better than Vipshop HoldingsWhen investing geniuses David and Tom Gardner have a stock tip, it can pay to listen. After all, the newsletter they have run for over a decade, Motley Fool Stock Advisor, has tripled the market.*
David and Tom just revealed what they believe are the 10 best stocks for investors to buy right now... and Vipshop Holdings wasn't one of them! That's right -- they think these 10 stocks are even better buys.
Click here to learn about these picks!
*Stock Advisor returns as of February 6, 2017
Rick Munarriz has no position in any stocks mentioned. The Motley Fool has no position in any of the stocks mentioned. The Motley Fool has a disclosure policy.