Victims' families urge California to end gun investments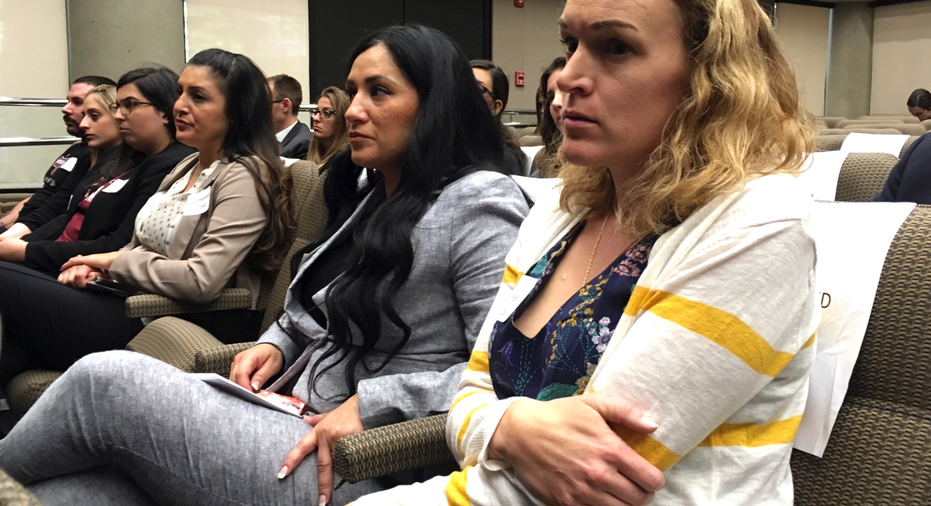 Families of mass shooting victims and others called Monday for the nation's largest public pension fund to stop investing in companies that sell assault weapons and devices that allow guns to fire more rapidly.
"Divesting in these companies that sell these weapons will send a clear message that the thoughts and prayers that are sent when these tragedies occur are not enough — the state of California is demanding change," said Renee Wetzel, whose husband, Mike, was killed in the 2015 San Bernardino terrorist attack. "Don't let my husband's death be in vain."
The California Public Employees' Retirement System board declined to take action and will further discuss its investments and divestments in gun-related companies next year. Several board members argued remaining an investor gives the fund more influence over shaping company policy.
Four of the five gun retailers CalPERS invests in, including Dick's Sporting Goods and Walmart, have already stopped selling assault weapons and devices like bump stocks. The fund does not invest in assault weapons manufacturers.
California Treasurer John Chiang, a Democratic candidate for governor who is leading the effort, said he wants the board move forward on divesting from the fifth company, Sportsman's Warehouse Holdings. A spokesperson for the company could not immediately be reached for comment.
"At some point you have to stand up and you have to put up a big fight so people understand it's just not talk," he said.
Joining Chiang were Wetzel and about a dozen other family members of San Bernardino and other mass shooting victims, as well as California alumni of Marjory Stoneman Douglas High School in Parkland, Florida, where 17 people were killed in February. New Jersey, Connecticut, Illinois and New York also are discussing divesting from gun-related companies.
Critics called the effort a political ploy that would hurt the pension fund's bottom line.
"This is nothing more than a political ploy for you and your run for governor," said Jason Perez, a representative of the Corona Police Officers Association who said the board should focus on keeping the fund in good financial shape instead. The system has enough money to cover roughly 70 percent of the money it owes to 1.8 million members.
The retirement system has roughly $850 million in holdings in Dick's Sporting Goods, Walmart, Kroger, Big 5 Sporting Goods and Sportsman's Warehouse Holdings. The pension fund in California, which severely restricts the sale and possession of assault-style weapons, has a total value of $354 billion.
The fund approached all five companies in the fall, asking them to stop selling assault weapons and devices such as bump stocks. Following the Florida shooting, Dick's and Kroger said they would stop selling such guns and would, along with Walmart, only sell guns to those 21 and older. None sell bump stocks.
Walmart and Big 5 Sporting Goods, which also doesn't sell bump stocks, had previously stopped selling assault weapons
Experts have long questioned the financial and political effectiveness of divestment. By divesting, shareholders give up their power to exert influence and often times simply turn over the shares to other owners who may not take the same political or social stance.
"If we divest, we lose our seat at the table," board member Theresa Taylor said.
Divestment initiatives had cost the pension fund more than $8 billion as of June 2017, according to a fund memo.
Still, the fund has previously used divestment to make political statements. It decided in 2016 to sell off the last of its tobacco investments and has similarly started reducing its investments in coal. The state began divesting from gun manufacturers in 2013 following the shooting at Sandy Hook Elementary School in Connecticut.
Erica Porteous, whose 27-year-old sister, Yvette, died in San Bernardino, said through tears after the vote that she was disappointed the board didn't take action.
"It's frustrating to not see human life be more important than the return on investment or the bigger picture," she said. "It's frustrating after losing my sister that this continues to happen to other people."
The state's teacher pension fund will present research on its holdings in gun retailers in May.
___
This story has been corrected to reflect the correct spelling of Erica Porteous's last name. It is Porteous, not Porteus.