Versace goes punk wild with homey looks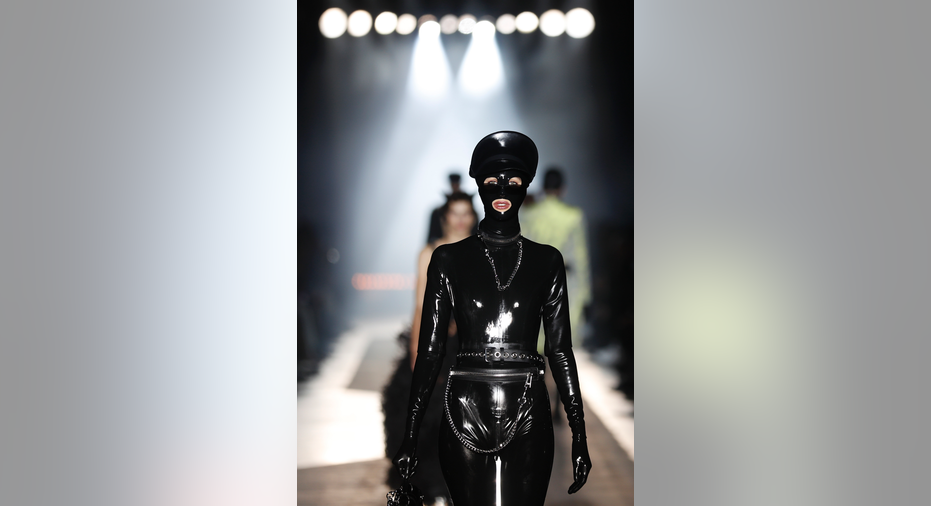 Donatella Versace is embracing her own inner Versace. After coming off a triumphant outing at the Golden Globes, she helped launch Milan Fashion Week menswear previews for next winter on Saturday on a high note.
Versace dressed three women for last Sunday's awards show: Angelina Jolie, Saoirse Ronan, winner for best actress in a comedy, and star of the evening Oprah Winfrey, who wore a shape-hugging number to deliver her celebrated lifetime achievement award speech.
Versace has been riding a wave of appreciation since her September tribute show to her slain brother, fashion house founder Gianni Versace, reunited supermodels from the 1990s while highlighting some of the new generation's top talent.
"It is appreciation for Gianni, but maybe also a little for me," she said backstage before her show in Milan.
Here are some highlights from the first day of Milan Fashion Week, which also included fall-winter menswear shows by Emporio Armani, newcomer Isabel Benenato, Marni and Dolce & Gabbana:
____
VERSACE GOES HOME
This is about as homey as it gets in the take-it-or-leave it ethos of Versace.
Donatella Versace is urging aficionados to "to embrace your inner Versace" with winter menswear looks that take cues from the brand's home collection.
During her Milan Fashion Week show, pillow plaids became suit jackets worn over archival prints in seafoam green, hot pink and yellow. The effect was punk.
Crushed velvet upholstery prints in deep hues of golden, purple and red were cut into wild mid-length coats worn over a silken print shirt and a neckerchief. Burned umber puffer jackets recalled a comforter.
"These are very Versace elements, refreshed in a street key," Versace said.
The designer punctuated the show with 11 looks for women to demonstrate, she said, "that our two souls communicate with one another." They included tassel accents on a low-back mini-dress.
Versace wasn't afraid to take things down a notch with camel overcoats. A women's version included colorful side panels that matched a headscarf and leggings.
Men's trousers were kept short to show off Versace's new tennis shoe, which features the form of a chain molded into the sole and the words "Love is blind."
____
DOLCE & GABBANA'S KING OF ANGELS
It was a bling call at Dolce & Gabbana.
The designing duo of Domenico Dolce and Stefano Gabbana constructed a Baroque Sicilian church façade as the background for their "King of Angels" collection. The show opened with a tableau of young stars in formalwear, including elaborately embroidered military-style jackets and floral suits, walking beneath a pair of cherubs.
The colorful knitwear that featured cherubic putti in oval frames looked inspired by church ceilings, and angelic visages also graced motorcycle jackets.
Dolce & Gabbana, as usual, offered a range of looks — with suits styled formally, layered with furry jackets and coming pajama-inspired with robe overcoats. The designers employed light-heartedness and humor with heart-shaped backpacks, as well as one that looked like a golden puppet peeking over the wearer's shoulder.
The designers also emblazoned slogans such as "Time of Change" and "Love is Love" across beanies, waistbands and backsides. Nothing on the runway made the slogans' meanings explicit, although both could be interpreted as calls for new attitudes.
Colombian singer Maluma closed out the show in a glittering silver suit to match his stage presence.
___
UNEXPECTED DOLCE&GABBANA
Dancers busted a move in Dolce&Gabbana active-wear at an exclusive late-night "unexpected show" for a smaller fashion crowd. While activewear has long been part of the designers' repertoire, they are putting new emphasis on the hot category.
Their Millennial models showed off the collection, ranging from baseball shirts emblazoned with "King of My Life," to soft bear-head hoodies, eliciting cheers and cat-calls from admiring on-lookers.
____
EMPORIO ARMANI'S
Arching zippers, tufts of fur and smooth velvet gave zest to Emporio Armani's youthful tailoring for next winter and fall.
While silhouettes mostly were relaxed, the palette was dark, albeit geared toward the fun end of deep with black, navy and slate giving way to mauve, other blues and shades tinged with purple.
Floral patterns and hypnotic repeating graphics complemented the flowing silhouette of open jackets and easy trousers. Swirls of color also burst forth on alpaca knitwear in soothing blues and icy greens.
Designer Giorgio Armani has forsworn using real animal fur in all his lines, winning praise from animal rights activists. The fur accents on the boots and detachable dyed collars therefore were surely faux. A series of furry black coats were rendered from curly-haired sheepskin, according to the press release, and there were only pony-effect goatskin jackets.
Zippers were deployed with frivolity across knitwear, inviting the playful to detach, or along sleeves, giving a cape-like feel when opened. Trousers were tapered, most elaborately so with a button cuff. Pants were mostly relaxed for daytime leisure and evening events, but tight for the sleek business suits worn tieless.
Velvet worked for day or evening, as casual wear in bomber jackets or elegant suits. Gloves were the accessories of the choice, but the 83-year-old Armani is not abiding the smartphone-driven trend of returning to the fingerless gloves of the 1980s. All of the designer's gloves were perfectly winter-proof.
____
MOSCHINO GOES UNDERCOVER
Only Jeremy Scott would send the fashion crowd running around Milan with a videocassette tape in their bags. That was the invitation to the evening Moschino show.
Scott's collection challenged the gender conventions by being up front about sexual predilections. The suggestion is that the videotape contained something X-rated, if anyone could find a VCR to play it.
The mixed men's and woman's collection started with some deconstructed pinstripe suits, held suggestively together by suspenders or garters, but quickly devolved into an S&M, role play exploration, complete with a chauffeur in a silken white cape shirt followed by a madam in a black latex body suit. The music climaxes.
Beyond the runway props and edgy fashion statements, Scott also included pretty sheer dresses and skirts, as well as suits that suggest nothing more than business. That is if you leave home the leather props.
But even then, Scott pushed the envelope. Turn your head and look at the back of the suit, and there might be a trailing evening dress, or a panel made from a beaded women's dress: A cross-dresser's coming out fashion statement.
His final look: a Siamese twin tuxedo jacket joining androgynous models at the tails.
-----
NO FUR
Animal rights activists made their presence known during Milan Fashion Week, with several dozen attempting to block access to the Marni preview.
The show went on, running late as the fashion world is wont with or without protests. One fur-wearing fashionista endured a shower of verbal abuse as he ducked into the show at the last minute, but no violence was reported.
Animal rights activists have claimed victories recently, with Armani and Gucci being among the latest to commit to not using animal furs in future collections. Brands like Marni, which was born out of a family fur business, have a tougher line to tread.
Still, the runway show by Francesco Risso, in his second year, included only one obvious animal skin reference, and that was a shearling coat.
___
MARNI'S TRAVEL JOURNAL
Entering the Marni showroom is to enter designer Francesco Risso's world, immediately.
Rather than conventional seating, he offered objects to sit upon. A child's stuffed giraffe. A hose-less vacuum cleaner. Stacks of disused videocassettes. Sacks of flour, whole wheat.
These are the details that fill Risso's travel journal. And the traveler's wardrobe embrace a naive, awe-struck sense of the world, with oversized jackets and trousers hand-painted with arm chairs, monkeys or musical instruments. Suits, puffer coats, nylon jumpsuits and anoraks round out the collection. Overcoats, in salmon pink, or blue, look slept in. Blankets do the same tricks. Men, spanning generations, not just youthful, wear talisman around their necks: a string of found trinkets, or a plasticized bear.
The rule, Risso said back stage, "is that there are no rules."
____
ISABEL BENENATO'S ZEN
Isabel Benenato held her hands to her mouth in disbelief after her Milan runway debut. Her two young daughters, one clutching two stuffed rabbits, ran to hug her.
Benenato, 38, has nurtured her nine-year-old brand in the Tuscan city of Lucca, far from the Milan fashion epicenter -- and won the notice of the Italian Fashion Chamber, which invited her to Milan Fashion Week.
The brand's philosophy revolves around natural materials, she said backstage.
The preview menswear and womenswear collection was inspired by planets, and was fittingly elemental. The looks were layered, say, a jacket over a tunic and trousers, all loose, well-proportioned and easy to wear. Or a crisp, long white shirt over trousers. A long dress wraps and drapes.
"There is this sense of being wrapped. Of silence. Of relaxing," Benenato said.