Verizon Told to Drop "Fastest" Internet Claim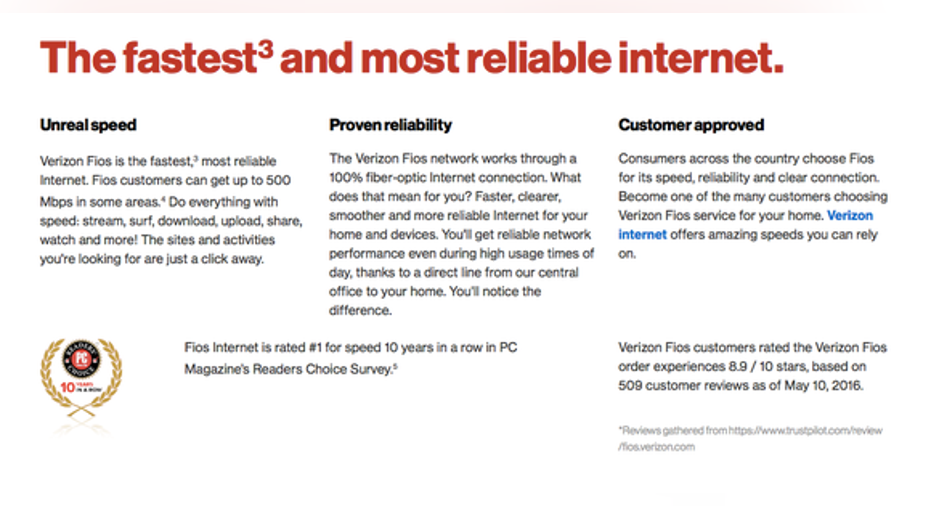 Verizon has been taken to task for some ad claims regarding the speed of its Internet. Image source: Mike Mozart of TheToyChannel and JeepersMedia on YouTube via Flickr.
Verizon has been running ads saying it has the "fastest and most reliable Internet" while also claiming that it's "#1 rated for speed," and rival Comcast has cried foul.
Comcast challenged the claims to the National Advertising Division (NAD). The matter then went to the National Advertising Review Board (NARB), which is "the appellate unit of the advertising industrys system of self-regulation and administered by the Council of Better Business Bureaus." Putting the confusing naming structure aside, essentially Comcast charged that Verizon's ads are misleading, asking for a ruling from NAD, which uses NARB to render such decisions.
The cable, Internet, and programming giant charged that its rival misstated the speed of its service because it based its claims on a PC Magazine survey and the ranking "was not based on a comparison of objective Internet speed performance and/or a head-to-head comparison of different Internet service providers." The magazine results were based on customer perceptions, not hard-and-fast numbers.
NARB agreed with Comcast and has asked Verizon -- which is not obligated to abide by the ruling -- to change the wording in its ads. According to a statement posted by the Advertising Self-Regulation Council, Verizon said it would consider the NARB's recommendation.
This wording still appeared on a Verizon web page as of June 16, 2016. Image source: Verizon.
What is Verizon doing wrong?
Verizon's ads and webpages made claims that Verizon had faster service with a higher-quality picture for its FiOS Internet service. NARB found that Comcast was correct in charging that Verizon was being misleading with its presentation of the information.
The panel "found that the challenged claims reasonably communicated a superiority message with respect to FiOS Internet speed and HD picture quality rather than the message that Verizon customers are more satisfied with their Internet speed and HD picture quality than customers of competing providers."
NARB spelled out its decision, pointing out that one of the ads inappropriately featured "a visual that prominently links the #1 rating to Internet speed rather than customer satisfaction." In that contenxt, the board wrote "reasonable consumers may very well take away a message that Verizon's #1 rating is based on a comparison of objective Internet speed performance and/or a head-to-head comparison of different Internet service providers."
The panel recommended that Verizon change its ads to make it clear that it has higher ratings based on customer satisfaction. NARB did not say whether Verizon has or does not have the fasted Internet or the best picture quality, but it made it clear that the support materials it cites in the challenged ads do not back up the actual claims made.
What will Verizon do?
Because NARB is an effort for the industry to self-regulate, Verizon does not have to actually do anything.
Comcast brought the charges in part because its service has outperformed Verizon FiOS in tests conducted by the Federal Communications Commission (FCC). Those tests compare actual versus advertised speeds in both uploads and downloads.
According to ASRC, Verizon made a statement after the non-binding ruling was released saying it will consider the NARB's recommendations in future advertising and that it "appreciates the panel's guidance in this matter."
The article Verizon Told to Drop "Fastest" Internet Claim originally appeared on Fool.com.
Daniel Kline has no position in any stocks mentioned. His Internet is not very fast and that's fine. The Motley Fool owns shares of and recommends Verizon Communications. Try any of our Foolish newsletter services free for 30 days. We Fools may not all hold the same opinions, but we all believe that considering a diverse range of insights makes us better investors. The Motley Fool has a disclosure policy.
Copyright 1995 - 2016 The Motley Fool, LLC. All rights reserved. The Motley Fool has a disclosure policy.