Verizon Just Started Fighting Back Against T-Mobile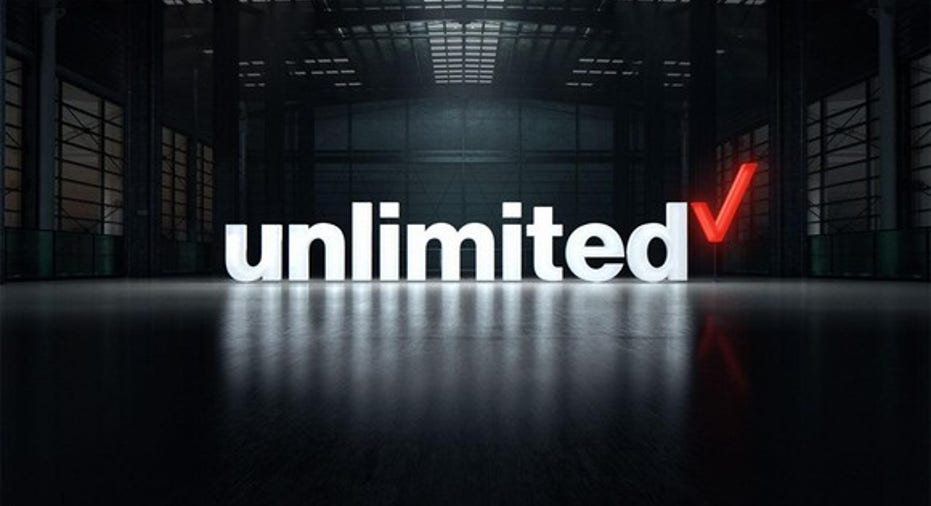 The competition is finally getting to Verizon Communications (NYSE: VZ). After posting relatively meager net additions in its wireless segment and particularly postpaid phone customers last year, Verizon is stepping up its wireless service plans. After introducing higher-value single-line plans late last year, Verizon began offering an unlimited data plan this week.
While introducing the new unlimited plan, Verizon took a few shots at T-Mobile US (NASDAQ: TMUS), which introduced an unlimited data plan last year. That plan is now the only one T-Mobile offers new postpaid phone customers.
Last year, T-Mobile added 8.2 million total customers, 3.3 million of which are postpaid phone connections. Clearly, its strategy of high-value plans is paying off.
Image source: Verizon.
Verizon's decision to offer an unlimited data plan is a complete about-face from just a few weeks ago. During the company's fourth-quarter earnings call, CFO Matt Ellis said, "That's not something we feel the need to do," when asked about unlimited plans. But with all the other major U.S. wireless services offering it, and Verizon's struggles to continue adding new subscribers, the move became increasingly necessary.
Verizon's price premium is declining
Verizon's new plan starts at $80 per month for a single line. That's well above competing offers from T-Mobile and Sprint, which charge $70 per month and $60 per month, respectively. T-Mobile's price also includes taxes and fees, making its effective price even lower.
Still, the plan pricing represents a decrease for some heavy data users on Verizon's network. Under Verizon's old plans, a family of four sharing a 24 GB data bucket would have paid $190 per month. That family of four can now get unlimited data for $180 per month.
Additionally, unlimited data plans remove the potential for overage fees, which padded Verizon and AT&T'swallets by about $600 million last year. Verizon started moving away from overages last summer when it introduced Safety Mode, which automatically throttled data down to 2G speeds when users hit their limit. Still, that was a service Verizon charged for.
The net effect could be a decline on Verizon's average revenue per user. On the other hand, if the unlimited data plan attracts a significant portion of new and existing subscribers, it could encourage some to pay more for Verizon service than they otherwise would have with a data bucket plan. How the balance plays out will be something to focus on for Verizon investors.
Cutting into operating margin
Verizon's new plan will likely continue a trend that started in the fourth quarter. Verizon's service revenue declined 4.9% last quarter, but cost of services increased 3.1%. Offering unlimited data, including the option to use a phone as a Wi-Fi hotspot, should cause cost of services to continue climbing in 2017.
As a result, the operating margin of Verizon's wireless segment will continue to come under pressure. Add that to the continued pressure on Verizon's service revenue, and it's evident Verizon's bottom line could take a significant hit. Analysts expect Verizon's earnings per share to remain flat in 2017 compared to last year.
But if Verizon's unlimited plan attracts new subscribers and helps Verizon return to net addition growth, it could outweigh the pressure on margins. Verizon warned investors that it doesn't expect service revenue to return to growth until 2018, but that was before it announced its unlimited plan. A strong response to the new plan could help Verizon return to growth sooner.
Additionally, Verizon is running a promotion offering free high-end phones to customers that switch to the new plan. Promotions like that generally put pressure on margins in the fourth quarter when carriers compete fiercely for new customers. Of course, the promotion will only produce short-term margin pressure, whereas the increase in data served will last indefinitely.
Competition from T-Mobile has been putting pressure on Verizon's subscriber growth, but its new unlimited plan is extremely compelling. While it could continue to put pressure on service revenue and margins, the negative impact could be outweighed by subscriber growth. Investors should pay close attention to those three metrics and how they ultimately impact Verizon's bottom line in 2017.
10 stocks we like better than Verizon CommunicationsWhen investing geniuses David and Tom Gardner have a stock tip, it can pay to listen. After all, the newsletter they have run for over a decade, Motley Fool Stock Advisor, has tripled the market.*
David and Tom just revealed what they believe are the 10 best stocks for investors to buy right now... and Verizon Communications wasn't one of them! That's right -- they think these 10 stocks are even better buys.
Click here to learn about these picks!
*Stock Advisor returns as of February 6, 2017
Adam Levy owns shares of Verizon Communications. The Motley Fool recommends T-Mobile US and Verizon Communications. The Motley Fool has a disclosure policy.