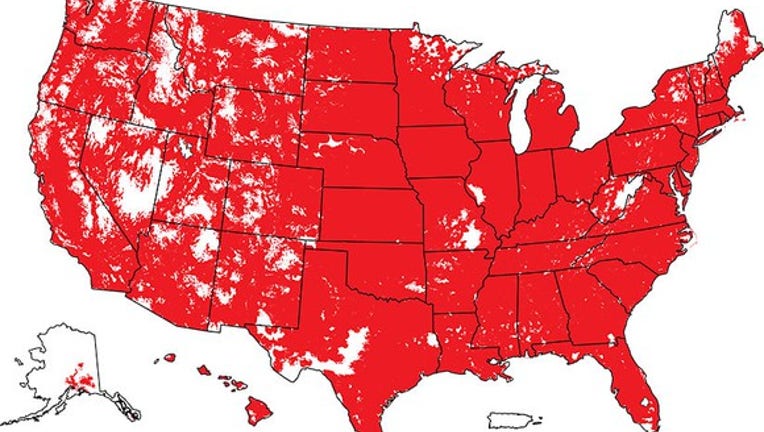 Verizon is leveraging its wireless network into new service offerings. Coverage map. Image source: Verizon.
Verizon Communications (NYSE: VZ) has been on a spending spree this year. Although the $4.8 billion Yahoo! deal captured the spotlight over the summer, after the $4.4 billion purchase of AOL the previous summer, Verizon has quietly brought its buyout count up to 10 for 2016.
On the surface, the targeted companies seem unrelated.However, the additions arehelping Verizon build out a media and IoT business add-on to its wirelesstelecom bread and butter.
What Verizon is purchasing
Verizon has shelled out at least $11.5 billion this year. Here's what the busy telecom giant has been up to in the way of acquisitions:
Data source: Crunchbase.
The XO Communications purchase helps Verizon solidify its lead in the telecom space and is still pending regulatory approval. Other than that item, the general theme in the past year and a half for Verizon -- stretching back to include the AOL purchase -- has been to buy companies outside its main line of business.
Specifically, the acquisitions have centered on two areas: multimedia and Internet of Things companies. Verizon is combining the Telogis and Fleetmatics companies into its Telematics business, a service that already provided consumer vehicle infotainment and connection services. That division is seen boosting the company's presence in the connected-vehicle area.
The Sensity Systems, LQD WiFi, and XO Communications purchases help the company leverage its already sprawling voice and data network into an IoT network. The smaller companies help Verizon build out a "smart city" service division, and the larger XO deal helps with high-speed coverage and is seen as a means for ramping up to a faster, more reliable 5G mobile network.
Finally, a media and entertainment outlet is at the heart ofthe biggest purchases the company has madein the recent past. Last summer's AOL buyout will be combined with the more recent Yahoo! purchase, once that is finalized. Volicon, Complex, and Vessel are all being added to what will one day become Verizon's multimedia division.
Creating a new source of growth
The U.S. wireless leader has been in a slow process of transition from a telecommunications-heavy company to a business that has a hand in multiple outlets. Why? In the past couple of years, growth in the top and bottom lines from telecommunications has sputtered.
VZ Revenue (TTM) data by YCharts
While battling it out with other wireless providers over market share will continue to be a priority, Verizon is alsomoving on and buying up new sources of growth. With connected devices becoming a rule rather than an exception, Verizon sees benefit in moving beyond just smartphones, leveraging its already extensive network to encompass connected "things" in general.
Americans also continue to trend toward online and mobile consumption of media. Again, Verizon clearly sees opportunity in leveraging its leadership as a data-service provider into an actual provider of the digital content itself.
What investors should consider
During last quarter's conference call, Verizon reported 10% revenue growth from AOL and 24% revenue growth from its various IoT services. Both segments are still very small when considering the nearly $128 billion in revenue generated in the past 12 months.
However, with the new purchases still to be completed and most of them still not being reported on financial statements, it will be worth noting how they add to segment revenue growth in subsequent quarters. The wireless telecom race may have run its course, but investors have new areas of opportunity to cheer on going forward.
Forget the 2016 Election: 10 stocks we like better than Verizon Communications Donald Trump was just elected president, and volatility is up. But here's why you should ignore the election:
Investing geniuses Tom and David Gardner have spent a long time beating the market no matter who's in the White House. In fact, the newsletter they have run for over a decade, Motley Fool Stock Advisor, has tripled the market.*
David and Tom just revealed what they believe are the ten best stocks for investors to buy right now... and Verizon Communications wasn't one of them! That's right -- they think these 10 stocks are even better buys.
Click here to learn about these picks!
*Stock Advisor returns as of November 7, 2016
Nicholas Rossolillo has no position in any stocks mentioned. The Motley Fool recommends VZ and YHOO. Try any of our Foolish newsletter services free for 30 days. We Fools may not all hold the same opinions, but we all believe that considering a diverse range of insights makes us better investors. The Motley Fool has a disclosure policy.